Restaurateur George Koikos Adheres to a Simple Recipe for Success
For 50 years, Georgio's has been a palate pleaser.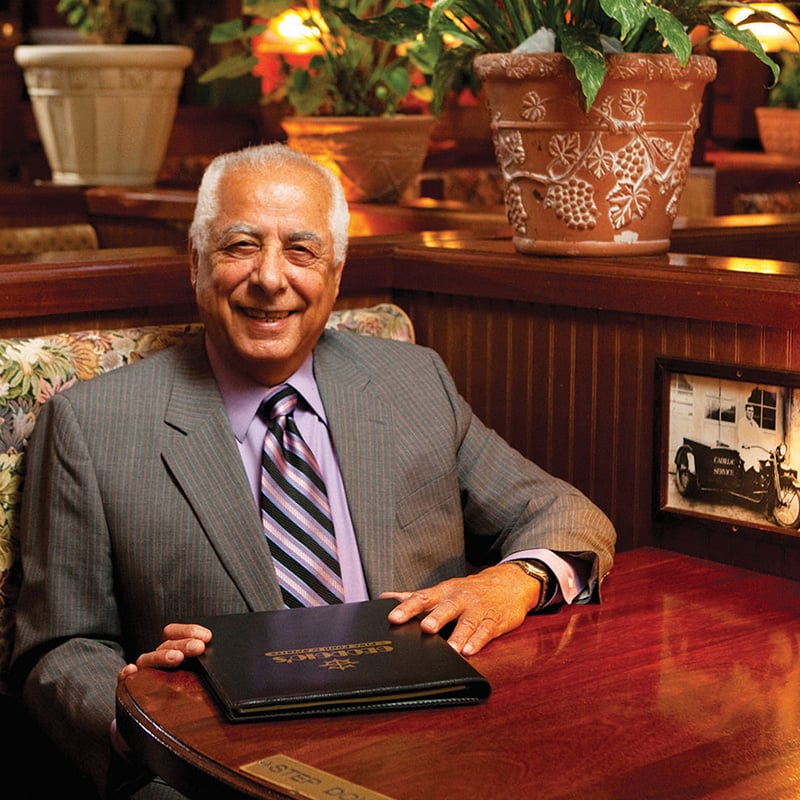 George Koikos is that rare person who is actually living the fabled American dream. Through hard work, dedication and family loyalty, he has thrived in the restaurant business for 55 years — and continues to succeed.
"Every night, my daughter says 'Go home, Dad, I'll close up,' and I say, 'You're sending me to jail?'" He laughs, but it's true: For Koikos, his work is his joy.
Koikos emigrated from Greece to the U.S. in 1966, after a decades-long period of war, volcanic eruptions and deadly earthquakes.
"After World War II, Greece had a civil war," he said. "Everybody was killing civilians. They killed my mother. It was a terrible situation.
"But we survived," he said of himself and his brothers. "We learned to be tough."
Jimmy Koikos, George's older brother, had already established himself as an American restaurateur by the time George arrived. He had a job for George at Jimmy's on North Monroe Street, and George worked there until he opened The Spartan in what was then known as the Duval Hotel. 
George lived in the Duval Hotel for seven years, the only employee there to do so. He met his wife in 1976, and they got married in Fort Walton Beach in 1977. From then on, she became the accounting powerhouse behind all of George's restaurants, including The Spartan, Country Inn Barbeque, The Surf and Turf and, of course, the crown jewel, Georgio's Fine Food and Spirits. 
[bctt tweet=""Take it from me, we live in the best country, and Tallahassee is the best kept secret in Florida." – Restauranteur George Koikos" username="TallahasseeMag"]
"I did all the payroll before computers," Karen says. "It was very time consuming. I'm thankful we have computers to do that now. But I'm not on my own now, either — I've got Leni."
Of all of George and Karen's children, daughter Leni took to the restaurant business the most.
"She's always been the one that's been interested in food and preparation," her mother said. "She's a people pleaser just like her dad. Every part of the restaurant, she can do."
Now the Koikos family focuses exclusively on Georgio's, which opened its doors in 1994.
"My dad says now he's on constant vacation," Leni says. "Most of his career he was working three shifts a day, breakfast, lunch and dinner, but now we're only dinner."
He makes a point of visiting each table every night at the restaurant, making sure all his customers know that he sees them as friends.
George's secret to success is really no secret at all: respect for his employees, commitment to quality and consistency have kept him and his restaurants going for half a century. His olive oil comes from groves in his mother's village in Greece. Georgio's staff receives meat, produce and fish whole, cut it themselves and boil all their stock in house.
A premium on quality has gained Georgio's a deservedly good reputation and attracted the kinds of customers who make for good stories.
"During the election of 2000 when they had the recount in Florida, all the politicians from both sides were in Georgio's waiting for the verdict," Leni recalled. "They did some of the taping for the movie, 'Recount' in the restaurant because it was that well known that that was where everybody was."
"We live in the best country," George firmly believes. "Don't let it fool you, take it from me, we live in the best country, and Tallahassee is the best kept secret in Florida."  
---
Classic dips such as tzatziki (yogurt, cucumber and garlic), melitzanosalata (aubergine) and fava (creamy split pea purée) are Greek meal mainstays. And the delectable taramasalata (fish roe dip) is a must. This creamy blend of pink or white fish roe with either a potato or bread base is best with a drizzle of virgin olive oil. The elixir of Greece, olive oil is used liberally in cooking and salads, and drizzled over most dips and dishes. Many Greek tavernas use their own oil.