Restaurant Servers Make A Tough Job Look Easy
These local servers have a few tips for you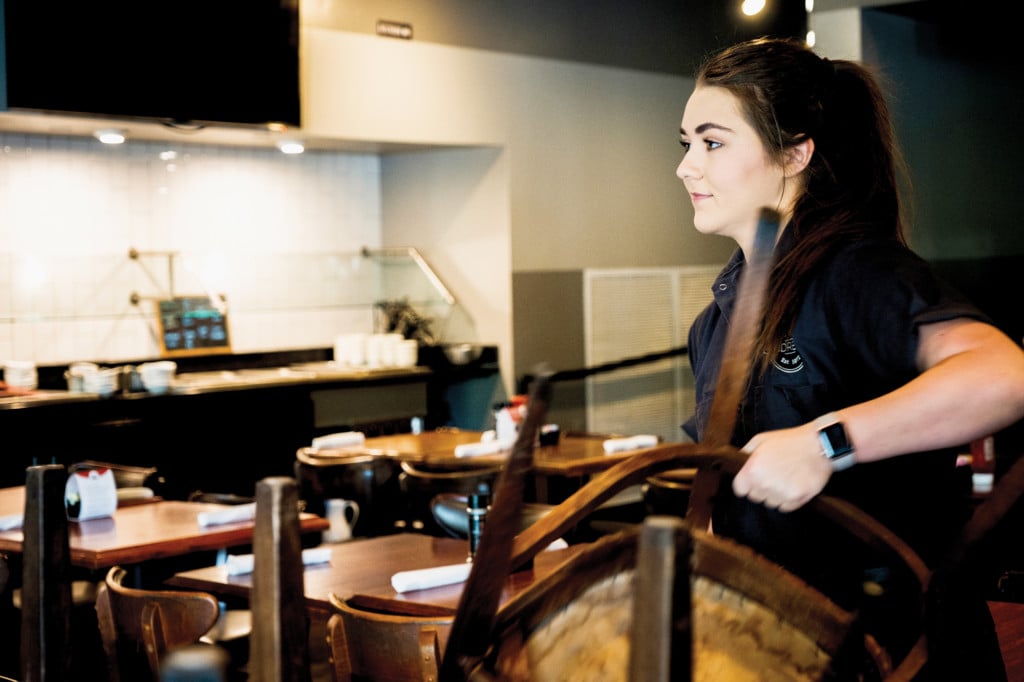 When you wait tables for a living, sometimes you're not going to be as happy as you appear to be.
A baby dumps a bottle of formula on you.
A customer asks: What's wrong with you — can't you get an order right?
Another customer tells you he has been sitting there for 3 minutes without a menu — c'mon!
Yet another customer leaves you a $5 tip on a $100 bill.
And you smile.
"It's almost like an extension of show business — I tell everyone that," said Leni Spears, general manager at Georgio's Fine Food & Spirits on Apalachee Parkway. "No matter what day you've had, put a smile on your face, bury it, put on a show."
It's stressful work. A 2015 article on Payscale, a website that specializes in compensation information, pointed to issues such as low pay, unreliable schedules, physical challenges, rude customers and, as a result, health problems.
"It's not meant for everybody," Spears said, "and I don't think the general public realizes how hard of a job it is."
Many say it all comes down to tips. The industry continues to observe 20 percent as the standard tip for acceptable service, although some say
25 percent is more like it.
Kim Peltier, a server at Texas Roadhouse on Capital Circle Northeast, says she usually gets 20 percent. She acknowledges that she finds a bad tip irritating but that "I just try to be grateful for the good tips that I have."
Some say a higher standard has become more appropriate given the practice of "tipping out," whereby a percentage of a server's tips goes into a pool that gets distributed to colleagues such as bartenders and hostesses.
At Georgio's, for example, the bartender gets 10 percent of credit card tips and the busboy gets what amounts to 5 percent of credit card tips, Spears said. So on nights when a busboy's working, servers "tip out" 15 percent of their credit card tips.
Never underestimate the importance of tips, servers say.
"Tips are what pay my bills," said Taylor Anderson, a server at Georgio's. "Tips are what keeps the roof over my head, what keeps the lights on, keeps food in my stomach, keeps my vehicle running, keeps clothes in my back. That's what we work for."
He added: "We're very fortunate in the state of Florida that servers get a very nice wage."
The website TSheets by QuickBooks ranks Florida the fourth-best state for tipped workers, based on an average tip rate of 18.21 percent and a minimum cash wage of $5.23 for tipped workers.
The best state: Connecticut, with an average tip rate of 18.58 percent and a minimum cash wage of $10.10 an hour. The worst state: Tennessee, with an average tip rate of 16.38 percent and a minimum cash wage of $2.13 an hour.
In January, Florida increased its minimum cash wage for tipped workers to $5.44 an hour, above the federal minimum of $2.13.
Tallahassee Magazine talked with servers at four Tallahassee restaurants about tips, customers, what they like about their jobs and how they make serving work for them.
Kim Peltier – Texas Roadhouse
A group of people had just left the restaurant without their doggie bag, which held a prime rib.
This was Texas Roadhouse, where you don't knowingly leave without your prime rib. Server Kim Peltier recog nized the emergency.
"I sprinted across the parking lot and found them," she said. Peltier does a lot of running — and dancing — at the restaurant known for its hourly line dance and Lone Star State ambiance. A fork on the floor? She runs to pick it up.
A restaurant guest who can't have sodium? She runs to tell the cook. A forgotten cell phone? Well, you know. "I have sprinted across the parking lot to give somebody their phone," she said.
Peltier, a Texas Roadhouse veteran of five years, only recently returned to her running routine.
Early this year, she underwent a second hip surgery. She says the company and her managers touched her with their support, inspiring her to run even more when she returned.
"Of course, it still hurts but nothing that ibuprofen doesn't help," she said in April of her hip. "People are like, 'You need a desk job.' No! The more you lie around and sit around, the more stiff you get. Sometimes, I'll be hurting and I'll go to work, and I feel much better, just from running around and all of the adrenaline."
She can hardly keep up with herself.
One recent evening, she rapidly approached the table of a journalist and his spouse for whom she'd already taken a food order. She started to laugh. "Oh, I almost greeted you again," she said, still laughing and shaking her head as she ran off to handle another table.
"You're supposed to greet somebody in a certain amount of time," she explained later of Texas Roadhouse policy. "I try really hard to make sure somebody's not just sitting there."
When she takes your order, she might briefly have a seat across from you, if available, and connect at eye level. You forgo the ribeye and order the chili. "Onions and cheddar cheese on top?" Peltier says without hesitation.
Sure, you say. You order the sweet potato. "With caramel sauce and marshmallows?" she suggests, eyebrows raised. "You'll love it. It's like a dessert." Bring it on, you say.
"I will offer everything," Peltier said later. Maybe even a hug.
Peltier recalled a time when an older man sat down at one of her tables. She sat down and started talking to him, she said. Then he started crying.
He explained that this was his first dinner without his wife, who had just passed away. "And then I started crying," she said. "I gave him my phone number and said, 'Any time you need any company eating dinner, I will come with you.' " Julie Biro, managing partner of Tallahassee's Texas Roadhouse location, says Peltier "exudes what it is to have face-to-face contact with a human being."
Peltier says she served as training coordinator before her hip injury and that she would like to go into management. "I care about people," she said. "I want them to have a great experience." — By Pete Reinwald
Taylor Anderson – Georgio's Fine Food & Spirits
No, of course — it can't be. That can't be a former "American Idol" winner waiting tables at a fine-dining establishment on Apalachee Parkway.
"Let me tell you a secret," the server tells you. "I've won multiple karaoke contests, and everybody thinks I'm Taylor Hicks because I've got gray hair and I can sing."
His name also happens to be Taylor — not Taylor Hicks, the winner of the fifth season of the hit television show "American Idol" but Taylor Anderson, the server in his eighth year at Georgio's Fine Food & Spirits.
Like a top-notch singer, Anderson says he strives for perfection. He can recite tonight's specials with confidence, tell you which wine pairs with what dish and give you his recommendation on what tastes especially great.
He says he does that through spending lots of time at Georgio's — dining there or spending a little time at the bar on a day off.
"How can you promote a product or tell your guests about it if you haven't tried it?" he said.
Anderson, 39, said he has been working in the service industry since his time at the University of North Carolina at Charlotte, where he majored in psychology. Incidentally, he boasts the same graduating class, 2003, as another former "American Idol" star, Clay Aiken.
About a decade ago in Tallahassee, Anderson said, he worked at a restaurant that closed, prompting him to respond to an ad for a server at Georgio's.
He says he's in no hurry to leave the industry or the restaurant, where he also works as banquets coordinator.
"Every day is something different," he said. "It's not the same mundane sit-behind-a desk-all-day long and punch in numbers or answer calls. I don't know what to expect when I walk through these doors."
Yet he can count on serving somebody he has gotten to know. Customers have made him a part of their lives, telling him about their marriages, new children and family deaths, he says.
He points out that he spends more time with customers than with his family.
"You see these people so much week in and week out," he said. "They see the real you, and you see the real them, and you develop this bond. And you become more than just customer and server. You become friends, and sometimes you become family."
As for the grumpy customers, he said, he aims to turn that frown into a smile. He has the personality for it.
Order the avgolemono soup.
"Say that three times fast," he responds.
Comment on the food's freshness.
"Our seafood, if it's on the plate, it was swimming at this time yesterday."
Tell him you're too full for dessert.
"OK, next time start with dessert and work your way backward."
Anderson calls customers "not only fair but generous" at Georgio's, where bartenders get 10 percent of credit card tips and busboys get what amounts to about 5 percent of credit card tips.
He says he can't afford to sweat any bad tips.
"If I get a bad tip, whatever, because I might have three other tables," Anderson said. "And if I let that affect me, that's going to affect my other tables. You're going to let you table affect everything for the night? Not me. I've got bills to pay." — By Pete Reinwald
Kieley Carter – Andrew's Downtown
When you work as a server at Andrew's Downtown, you never know who's going to walk in the door.
Dick Vitale, a popular basketball announcer for ESPN, could bounce in, for example.
"He came here and ate dinner one night before he was announcing an FSU game," server Kieley Carter said. "We were all in love and shocked, but we had to keep it together because all the customers were freaking out. You don't want to go to a restaurant and have your servers pawning over you."
Carter has come to learn that the restaurant's proximity to the Capitol means that she also could be serving politicians and dignitaries, as she did recently — a group of them at once, as a matter of fact.
For a server, that's an entirely different game. It took her 15 minutes to take orders for 11 people, she said.
"A new person would walk in the room, and they all have to stand up, shake hands, say hello, that kind of thing," she said. "It was a lot of pressure but also flattering. I was honored because there were 14 servers working that day, and I'm the one that they chose to work this party."
Carter, a 22-year-old Florida State University student, says she took this job for a change of pace — and to help pay hefty tuition bills. She loves the fast pace and unpredictability, she says.
She has discovered over the past two years, she says, that serving is all about reading people and understanding that people are reading her.
She acknowledges a psychology to tipping, down to the color of her pen, shade of her makeup or expression of her face.
"One day, I failed a test, but I had to go to work right afterward," Carter said. "You can't show that. It's not about me. I'm serving you. You just have to put on a face that everything's OK all the time, which gets pretty exhausting. But it's the job."
Though her job is to serve, the job has served her too. When she delivered class speeches last spring, she imagined she was talking to people at one of her tables. Once afraid of public speaking, Carter says she now can talk to strangers with ease.
Some of those strangers turn into regulars, and Carter recalled how she met one of them.
He was sitting on the terrace and told her: "I want to have a drink, but it's only 3 o'clock. Can I have two shots of Gran Marnier in a coffee cup?"
Carter says she knew immediately they would get along.
"I don't think I've ever met someone as kind as he is," she said. "You could be in the worst mood and he will turn it around."
She considers her colleagues her best friends, she says, and thinks everyone should wait tables once in their life.
"I've learned so much," she said of her job at Andrew's. "I wouldn't trade it for the world." — By Jordan Anderson
Jarrett Fillyaw –

Uptown Café
Walking through the ivy-covered door of Uptown Café, you encounter the smell of bacon and omelets as server Jarrett Fillyaw greets you with a smile and welcomes you into this Capital City lunch and brunch spot.
Fillyaw has been in the service industry since 2014, beginning at the Red Elephant Pizza and Grill on the north side of town. That became her first real full-time job and her introduction to the art of serving.
"It was difficult at first running around and trying to figure out how to multi-task the correct way," she said. "It took me a while to get where I was confident enough, but once I got there …
now it's just a breeze."
Since then, Fillyaw has worked in several Tallahassee establishments and has been at Uptown Café for a little over a year.
Fillyaw says service suits her. Tips on top of a fixed hourly wage provide a bigger income than she would find in most other jobs, she says.
"I like running around; I don't like just sitting in one place all day," she said. "I like having stuff to do new people to meet."
She runs around a lot, as Uptown Café always buzzes with business, particularly from the locals. The restaurant serves many state and hospital workers daily.
She enjoys encountering the new experiences that serving offers — getting to know the regulars and learning about things going on around town. She always has something to chat about.
Fillyaw appreciates the consistency of regulars. She knows that every morning when she comes in, around 6 a.m., a group of guys will always grab their coffees and hang around while casually shouting their orders across the counter.
Most of the time she has pleasant customers, she says, and rarely has bad experiences.
But she has had tougher days.
"Tipping is a double-edged sword," she said. "I've had some really rude customers that have actually ended up leaving a $20 tip when they didn't have to. You never really know until the end of it what you are going to get."
Fillyaw recalled a day when she worked at Centrale, in CollegeTown. It was graduation day, and the servers were slammed, as they say in the industry.
As she went from table to table taking orders, filling water, replenishing drinks, delivering meals and handling customers' tabs, Fillyaw did all she could to catch her breath.
Amid the rush, a man gave her a $100 bill to pay his $50 tab. When she returned with the change, she said, the man told her he noticed how hard she had been working on such a busy day. He told her to keep the change.
Fifty bucks.
Such memories and rewards make it worthwhile, she said, adding, "People who are patient with me and who can give me the time to run around are my favorite customers." — By Sarah Burgess