Residents Have Long Called Lake Jackson Home
Home Sweet Home, Then and Now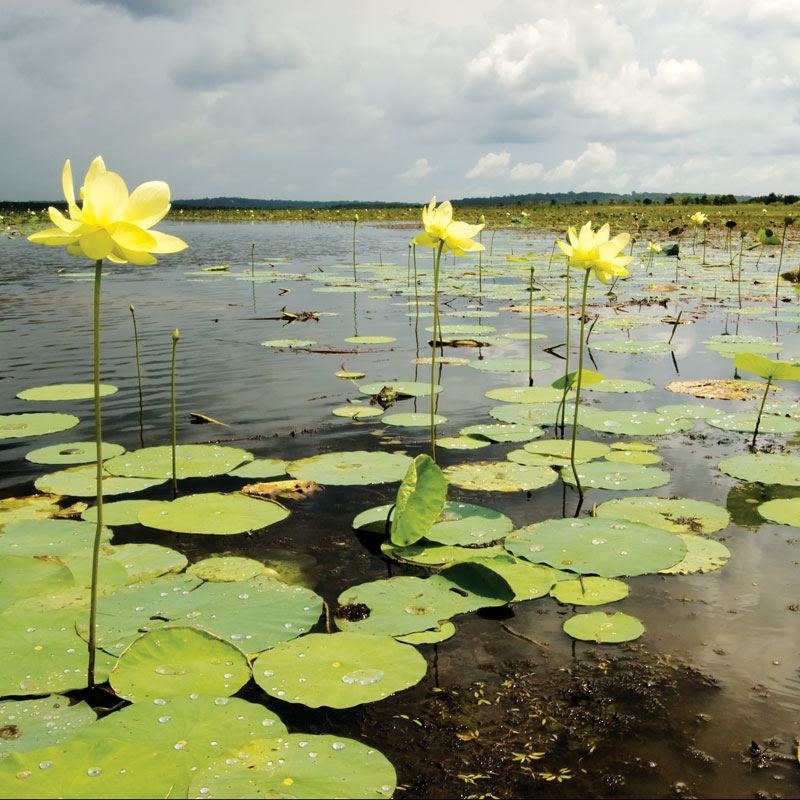 The fertile lands surrounding Lake Jackson have attracted inhabitants for eons.
Seriously — eons.
Beginning more than eight centuries ago, Native Americans who were scattered throughout the nation's southeastern region held the lake's banks in high regard as a religious epicenter. Referred to by archeologists as the "Southeastern Ceremonial Complex," massive mounds were constructed in tribute to a complex religious and political hierarchy.
Of course, things have changed since those early days. But history buffs and nature enthusiasts can still get up close and personal with the remnants of this once-flourishing society at the Lake Jackson Mounds Archaeological State Park.
Today, that same area is known for its rustic landscapes, winding roads and lakefront estates. Close enough to the hustle and bustle of the Capitol for a reasonable morning commute, yet far enough away to enjoy the many benefits of seclusion, Lake Jackson's current residents are privy to a coveted blend of nature and convenience.
Kathy McCharen has lived near Lake Jackson since the early 1980s in the Lake Breeze community.
Having relocated from another capital city — Washington, D.C. — McCharen was drawn to fresh, contemporary architecture but also craved a laidback atmosphere. As luck would have it, she found what she was looking for just off the lake's shoreline.
"I don't think there's a builder that built half a dozen or more homes — so they're all very different," McCharen said if the area's overall appearance.
Besides aesthetic variety, Lake Jackson also boasts an abundance of wildlife. Deer, foxes, rabbits and the occasional alligator all make frequent stops in the many pocket communities surrounding the lake.
"It's really neat telling people you have a family of bald eagles living behind you," shared McCharen. "Most of the people who live there, it's partly because of the natural setting. If you want a really manicured lawn, it won't grow well because of all the shade. But I think it's a really beautiful setting."
Renowned as much for its fluctuating water levels as for its beauty, Lake Jackson's water surface area is generally between six and seven square miles. Two large sinkholes situated just below the lake's shallow surface, each approximately 28 feet deep, are the cause of the changing levels.
Along with the lake's mysterious waters, developments like Lake Breeze, Lake Shore Estates and Pine Tip Hills are what characterize the northern Lake Jackson corridor's unique topography and attract a variety of inhabitants.
"Pine Tip Hills is comparable to other northeast neighborhoods as to size of lots, age and quality of homes," explained real estate agent Debbie Kirkland of Armor Realty of Tallahassee. Kirkland specializes in Lake Jackson real estate.
"[Buyers] also enjoy the central, 'in town' location compared to more remote subdivisions of Golden Eagle, SummerBrooke and Ox Bottom Manor," said Kirkland. "[It's] minutes to access Lake Jackson and close to all in-town services."
---
Volume and Views
Scott Holstein
Like many other listings on the market today, the property at 739 Rhoden Cove Road has experienced a dramatic fluctuation in value. In 2004, this home, with its beautiful lake views, high ceilings and 1.7 acres of expansive outdoor space, sold for $345,000 ($138/sq. ft.). In 2010, it was listed at $425,000. After a series of price decreases, it was removed from the market and reemerged in April 2013 at $325,000. In June 2013, it was reduced to $295,000 ($118/sq. ft.).