Renee O'Connor Set to Star in Shakespeare's Romeo and Juliet
You may remember her from the nineties classic Xena: Warrior Princess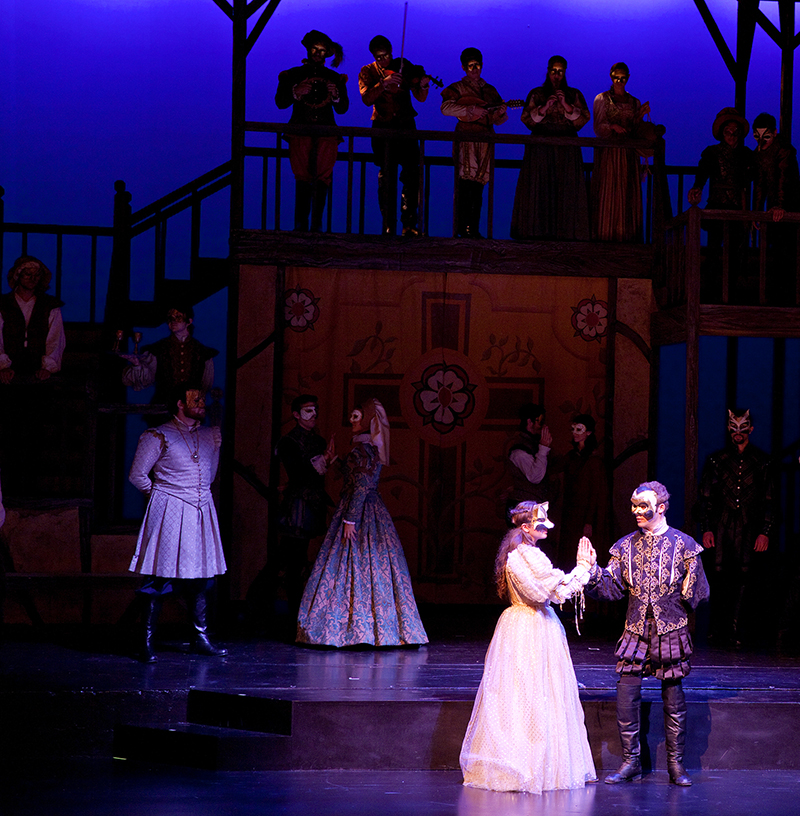 A rose by any other name would smell as sweet, but no other play about star-crossed lovers will ever match "Romeo and Juliet."
Shakespeare's beloved, tragic love story is coming to the Capital City Amphitheater in Cascades Park for free performances May 10-13 by the Southern Shakespeare Company.
Laura Johnson, the company's executive director, said the play is the centerpiece of this year's Shakespeare in the Park Festival, designed for all ages, and that festival organizers are bringing back the Renaissance Fair.
This year's festival will take place over four days instead of the usual three. "We had several close-to-capacity crowds last year, and we received feedback from participants and a number of attendees saying that we ought to expand the festival," says Johnson.
An additional day of performances also allows for additional festivities. "As this will be the first year we will perform Shakespeare in Elizabethan period style and dress, we thought it would be wonderful to bring the Renaissance Fair back to Tallahassee as part of this production," says Johnson. "The fair will surround folks with the sights and sounds, food and fun of a Renaissance festival and will also serve as a wonderful lead-in to the mainstage show."
This year's special guest artist for the Southern Shakespeare Festival is internationally known actor, director and producer Renee O'Connor ("Xena: Warrior Princess" and recently, "A Question of Faith"). O'Connor will perform the role of Nurse in "Romeo and Juliet."
"I'm really excited," she says. "I grew up studying Shakespeare and performing his works, so to be able to return to it and to play the role of Nurse is really meaningful to me.
There are a lot of layers to her character and textures and colors within those layers. I love her sense of humor and her depth of compassion, I love her bawdiness, I love that she is the confidante for Juliet when Juliet feels like she has no one to turn to, and I love the dilemma she faces when she realizes Juliet needs to step away from love and get with the program.
Nurse has this incredible sense of humor, and yet, there are very authentic moments of grief and despair in the play. Nurse worries for Juliet. So when you mix that with moments of bawdiness throughout the play, you get quite a dynamic character. She has a nice little character arc."
"Romeo and Juliet"  is, without doubt, one of the most beloved of Shakespeare's plays. Michael Richey, the former Florida State University School of Theatre professor who will serve as the guest director for the play, calls it "a story that is inclusive of essential life experiences shared by all of us: love, family, friendship, loss, forgiveness." He explains that its themes are universal and that they cross all societal boundaries.
"With swordplay, dirty-minded teenagers, lots of laughs and breathtaking poetry, 'Romeo and Juliet' has something for almost everyone to enjoy," he says.
"Romeo and Juliet" is one of Shakespeare's most well-known plays. According to O'Connor, it's also one of Shakespeare's most underrated.
"There's quite a bit of comedy in the play that most people wouldn't expect to see, and this shows the brilliance of Shakespeare's work," she says.
"Most people only recognize Romeo and Juliet, but there are so many wonderful characters in the play. We all know the play and outcome, so it's nice to be surprised by the work. That surprise comes through getting to know the many characters in the play and seeing and relating to all of their layers. That way, when the obvious ending happens, we feel like we've been on a journey with a group of people and fell in love with Romeo and with Juliet on the way. I know it's going to be a great production, and I hope that even people who think they don't like Shakespeare will come out to see it."