Renaissance Man of Tallahassee and a Regional Pioneer of Neurosurgery
Dr. Jim Geissinger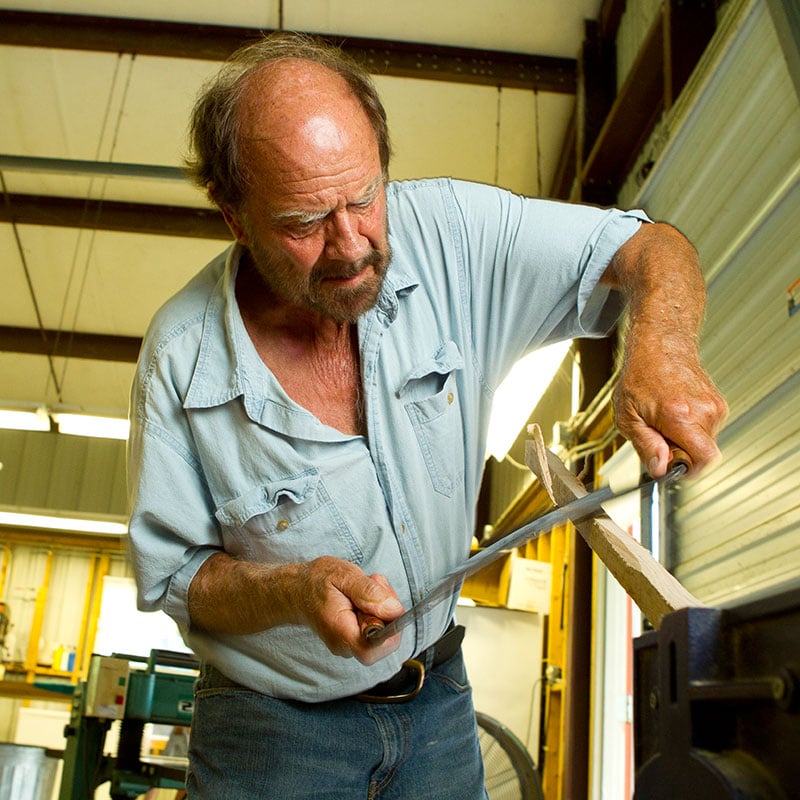 "His medical career was cut short, but he has not allowed that circumstance to deter his enthusiasm for medicine and other interests. I think he is an example for us all." ― Pathologist Chuck Manning, M.D.
Dr. James Geissinger practiced neurosurgery for more than a quarter of a century. As a surgeon, he saved countless lives. When he contracted hepatitis B from a patient during surgery and was forced to retire at the age of 55 — eight years earlier than he'd planned — he carried on and achieved success as a cattle rancher, and later as a skilled woodworker. These vocations are the kind undertaken in pursuit of a fulfilling life, and mastering each of them required tenacity and endurance.
He's a sturdy man — lean and powerful with strong arms and a great beard. His handshake comes with a trustworthy authority; and at 76, Geissinger is anything but old. He lives in Northshire, just north of Tallahassee up Centerville Road, in a big beautiful two-story country home that sits behind a row of beautiful columns at the end of a long driveway. Up in the country, with the green fields of grass and all those picket fences … land where a man can breathe, and it feels good.
It is not surprising, then, that Geissinger settled here when he did. It was 1995, four years after his premature retirement from neurosurgery, and his wife, Valencia, was fighting terminal lung cancer. She'd begged him to buy the house, and it seemed like a good idea — the kind of thing that might raise her spirits — so he did.
But with Valencia's tragic passing, the big, beautiful country home became a big empty house Geissinger dreaded coming home to. He began a daily routine of working from sunup to sundown on his cattle ranch in Monticello. And, to say the least, the 26-mile drive home was not something Geissinger ever cared to get a jump on. He'd always wanted to be a farmer — dreamt of becoming one since childhood, in fact. He'd also since childhood held onto the dream of having his own wood shop.
One grandfather was a community physician who cared for young Jim in wartime 1940s Pueblo, Co. His other grandfather taught shop at a local high school who farmed as a hobby. Jim saw the worth in his grandfathers' vocations and decided to make them his own; and thus, Dr. Geissinger has become a man of medicine, agriculture and art, and also of nature and sport — by definition, a true Renaissance man.
As a young man practicing medicine, Geissinger completed a handful of wood projects with impressive results. But, in the hectic no-free-time life of a neurosurgeon, hobbies, if not abandoned altogether, quickly find their place on back burners. When he retired from surgery, cattle ranching — an endeavor undertaken in the early '80s as a means of supplemental income — kept him sufficiently busy; but eventually the farm became more trouble than it was worth, and he sold it in 2001. Then Geissinger got serious about woodworking, which seems appropriate — because a surgeon with too much free time on his hands is apt to find a good way to put those talented hands to use. After all, a surgeon's hands are very special things.
To compensate for a natural hand tremor possessed by all humans, surgeons learn to time their every movement with the rhythm of their own heartbeat and breathing. Geissinger learned to do this at Northwestern Medical School in Chicago, where he earned his M.D. in 1963. It makes sense that a surgeon's hands would be able to turn out a museum-worthy collection of fine classical furniture, which many hours of total patience and precision were required to create; because a surgeon not only has the right hands for the job, a surgeon is also an artist — an artist trained to perform a painstakingly nerve-testing and virtuous art form.
When Geissinger got into woodworking, he built a wood shop on his Monticello property and filled it with professional tools and cutting machines. The wood shop behind his Northshire home is an exact replica of that original structure, and it's an impressive sight. Some of Geissinger's machines are so big, one can't help but wonder how he got them in there. One of his tools, a table saw, was discontinued by the manufacturer because it is so dangerous. But, not to worry, for Geissinger is highly skilled in this specialized art. His successful completion of a Windsor chair-making course given at the Windsor Institute in New Hampshire was like earning a post-graduate degree in woodworking. The ability to master such a craft can only be claimed by an expert artisan; and still, achieving such artistic prowess after practicing neurosurgery for over a quarter century can — as far as we know — only be claimed by Geissinger.
It is a rare person who becomes a doctor, rancher and artisan in one lifetime. It's a rare medical student who went into neurological surgery at the time Geissinger did. Med students are disinclined to pursue neurosurgery because it is very difficult and the odds of success aren't in anyone's favor. Even if you make it, there's no guarantee you'll last. But Geissinger took those odds head on, and anted up — betting on his own focus, fortitude and honest desire to practice medicine. It was hard, and at times it felt as though he wouldn't make it through. But Geissinger pressed on, and conquered the long days and longer nights at Northwestern — trying days and nights that never let up but intensified and continued through the rest of his career.
In his 2011 book, "Memoirs of a Neurosurgeon: A Perspective From The 'Lucky Few' Generation," Geissinger thoroughly conveys the industriousness that supplemented his surgical skills. From post-graduate training and service in the U.S. Air Force, to public and private practice, his career brought hours upon hours on his feet, in the books and on call. It was nose-to-the-grindstone, full-throttle, with no second chances — like a soldier at war, applying all acquired skills and knowledge to combat a relentless enemy.
On any given day, after laboring over a patient for many hours delicately operating on an aneurysm or an intracranial tumor, Geissinger lived with the possibility of being called out of bed and back to the emergency room. There, another patient's life might depend on his ability to perform, frequently after less than an hour's sleep. Some nights, he never got to bed, but guts and commitment are what make a doctor, and Geissinger is not short on either. Those guts helped him follow his calling all over America and finally led him to Tallahassee — the place that became his home.
In 1971, Geissinger joined doctors Frank Davis and Bryan Robinson — the first practicing neurosurgeon and neurologist, respectively, in the area — becoming the third partner at Tallahassee Neurological Clinic. Through tireless work at TNC, and with a slew of ongoing contributions to both Tallahassee Memorial Hospital and Florida State University College of Medicine, Geissinger has become a fixture in Tallahassee medicine.
"Jim's dedication, skill and integrity are a model for us all," said Dr. Terry McCoy, former president of the Florida Medical Association and chief of the medical staff at TMH. "He gave the best of himself and demanded the same of others. For Jim, the patient always came first. His legacy in this community is indelible."
Among other efforts, Geissinger was instrumental in bringing laser and stereotactic brain surgery to TMH. He established the Valencia B. Geissinger Endowment for Behavioral Health through TMH in his late wife's honor in 1998 and continues to lecture at FSU School of Medicine. Last year, the Capital Medical Society recognized Geissinger with the I.B. Harrison, M.D. Humanitarian Award. He also serves as a board member at the Bryan W. Robinson Endowment for Neurosciences — a nonprofit group dedicated to neurological research and education, established in remembrance of Geissinger's late friend and partner at TNC.
Aside from woodworking, Geissinger keeps up with hobbies like hunting and fishing. He married his third wife, Elaine, in 1999; and has four children, seven grandchildren and a number of stepchildren. But he spends a lot of his time in the wood shop. Most pieces take weeks to complete, and some take months. Among Geissinger's collection of handcrafted antique furniture are 12 custom Windsor chairs; a dark red mahogany gun cabinet; a Queen Anne porringer-top tea table; and a huntboard, for which he employed the ingenious art of wood-movement during construction. The beauty of each piece is matched only by the effort that went into it. You can't put a price on it, which is why his furniture is not for sale.
Many of Geissinger's pieces are tastefully placed around his house, and a few were given as gifts to friends. Dr. Charles Moore of Tallahassee — who edited and wrote the introduction for "Memoirs of a Neurosurgeon" — was the lucky recipient of a Windsor chair. Geissinger hopes one day his furniture will be on display in a museum.
Reading Geissinger's book, one is apt to realize what it takes to make it in America. It becomes apparent early on that privilege only goes so far and that limitations are intrinsic. There is no "helping hand." There might be plenty of well-intentioned hands but they're insufficient when compared to pulling onself up via the bootstrap. Geissinger wrote this message into his memoirs, hoping to reach young med students in need of a relatable tale. He hopes to get the attention of our entire country, which is not surprising — because, a physician by vocation, it is his nature to try and help the sick.