Remembering Our Youngest Patriots
When Mom or Dad is in the Military, Children are Called On to Serve, Too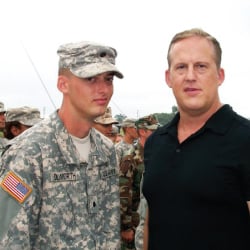 As we celebrate the 4th of July with fireworks, barbecues and red, white and blue paraphernalia, we must remember how important it is to be patriotic now as troops continue to fight for our country. Equally important is to remember that their fight is not just theirs — it is also their families'.
Military spouses and children are faced with a daunting task of moving and carrying on with daily life while someone very important risks their life for their safety, and ours as well. Spouses must run the house alone, and children must learn to be flexible and selfless. The life led by military children is certainly unique.
"Brat" is an affectionate term sometimes mistaken as derogatory by civilians. Yet, for military families it's an admirable term — symbolic of adaptability, worldliness and patriotism. From birth onward, brats absorb military structure, jargon and pride into their fiber.
According to the American Forces Press Service, more than 900,000 children have had one or both parents deploy. Those numbers are made up of "active-duty brats" and "suddenly brats." In record numbers, reservists have deployed to war, leaving behind civilian life — and their suddenly military families. Nearby or apart from military installations, support is essential for a hopeful journey.
Tallahassee's James Dilworth, born at Westover Air Force Base in Chicopee, Mass., has vivid memories of both positive and negative experiences as a military brat.
The hardest part of being a military brat, for him, was the lack of a strong, sentimental bond with his father, a colonel in the Air Force and B-52 pilot. Dilworth recalls being much closer to his mother, who ran the house when his father was away for weeks at a time working in the alert barracks on the base.
"I think that there's this distance that gets put between people," he notes, adding that his father's detachment might have been a protective precaution in case of the worst, or even just a result of all that his father had to see and do to protect his country.
For military children, there's little hope of growing up in the same neighborhood; Dilworth lived on five different bases before reaching college age. In exchange, however, military children get to see more of the world than many people see in a lifetime. Changing homes a lot also teaches military children how to meet people and socialize.
On average, military children attend six to nine different schools. With repeated deployments, navigating good-byes and reunions is a continual challenge, as are missed milestones such as birthdays, games, recitals and more. Sometimes, deployment results in a brat-related PCS (Permanent Change of Station) — requiring children to change homes and schools until their deployed parent returns.
Dilworth emphasizes that life as a military child is certainly not all doom and gloom. "I think being a military brat affords you some really interesting opportunities that the average person doesn't get," he explains. Dilworth's own experiences included working on base in the mailroom with his own secret clearance, living in and traveling through Europe as a teenager, and even playing basketball against Michael Jordan.
In addition to the experiences, Dilworth points out the positive character traits that can result from being a military brat: sociability, a high sense of patriotism and discipline. The discipline, he admits, can lead to tendencies bordering on meticulous perfectionism, but at the same time he acknowledges with a laugh that, "In some ways maybe they're what made me successful in business."