Remember AIDS?
Progress Against the Disease is Significant, But 25 Years Later, the Battle is Not Yet Won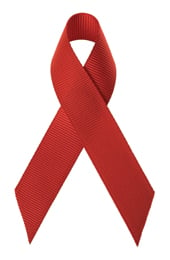 "You probably already know that there's a disproportionate impact of this epidemic on minority populations," said the authoritative-sounding voice.
I didn't know that for sure, but I assumed it to be the case.
Dr. Paul Arons, owner of that authoritative voice, continued.
"It's tremendously complex … we could talk for an hour," he said. As outgoing director of the Bureau of HIV & AIDS for the Florida Department of Health, Arons is quite familiar with the state of AIDS in the state of Florida.
The way the disease behaves in Florida, which is No. 3 in the nation for HIV/AIDS cases and deaths, mirrors its behavior in other highly transient locales such as California (No. 2) and New York (No. 1). Twenty years after it was first identified, AIDS still is concentrated with minorities, the poor and indigent, the addicted and the irresponsible.
How Long Has This Been Goin' On?
A big disease with a little name, AIDS has killed more than
30 million people worldwide since first being identified in the early '80s, though it may be decades older. Over the eight years or so after it was identified, AIDS chainsawed through several societal subgroups: gay men, intravenous drug users, the poor and minorities.
But when actor Rock Hudson died of AIDS in 1985, and teen AIDS activist Ryan White in 1990, it became clear the disease paid no heed to racial or cultural differences. Finally, after years of lobbying from a vocal AIDS community, the administrations of Presidents Reagan and George H.W. Bush increased funding for AIDS research to the National Institutes of Health from $200,000 to $400 million in 10 years.
In 1994 and 1995, nearly 4,000 people a year died from AIDS in Florida – the highest death tolls from the disease the state has seen.
"Now we've plateaued at about 1,700 deaths," Arons said. "The number of new case reports stays pretty much the same from year to year." But he's not satisfied. "We need to maximize what's available for prevention," he said, whether that means increasing distribution of microbicides for use during sex or instituting dirty-needle exchange programs.
But all this begs the larger question: Why, after 25 years, is AIDS still killing people in the United States? Why hasn't education helped eradicate it in Florida? Why haven't improvements in drug treatment stamped it out in counties served by AIDS advocacy organizations such as Big Bend Cares?
"Unfortunately, the way you get HIV is tied to human behavior, and we have had this challenge for years," said Melissa Walton of Big Bend Cares.
Death Sentence Commuted
The challenge Walton spoke of is twofold. The first, curiously, is related to behaviors of people in more superstitious cultures. In Kenya, traditional healers convince the infected that they can cure AIDS magically. In Uganda, popular wisdom says sleeping with a virgin will cure a man of the disease. But as sad as these beliefs are, they aren't much different from those held by many in the United States who think AIDS affects only people of certain racial or socioeconomic groups. Or that birth-control pills prevent AIDS. Or that while intercourse transmits AIDS, oral sex won't.
"They tend to think that HIV affects one particular group," said Brandi Williams, an Anonymous HIV Clinic counseling coordinator at Florida State University. "Everybody wants to feel like it's someone else's disease and not something they should be concerned about."
Which leads to the second challenge. In the early days of the epidemic, experimental therapies brought breakthrough medications such as AZT and the "AIDS cocktail."
"Although quite toxic, (they were) an indication that it was possible to lower the levels of the virus in infected individuals and improve the quality of life," Arons said. Eventually, treatments became so effective that drug regimes became simple.
"We're at the point now that people without resistance to the virus can (be treated) with as little as one pill," he said.
So, in essence, the death sentence went away. In the early days, Walton said that the two-week wait for test results kept people on pins and needles.
"They were pretty scared by the fact that people were dying," she said. "They were coming in and were very sick and there wasn't medication, but they (still reported) that they were continuing to have unprotected sex." And that was before treatment became so good. Now, Walton said, people see AIDS as a chronic disease like diabetes; it's treatable.
"It's getting to the point where people are saying, 'Well, you know, I can eat that piece of cake. It isn't going to affect me,'" Walton said.
Messages and Money
Remember the AIDS Memorial Quilt?
Started in San Francisco in 1987, the quilt ultimately would become a national phenomenon, growing to include 44,000 panels, each memorializing an individual lost to AIDS. Quilt organizers were nominated for a Nobel Peace Prize in 1989. The quilt has been displayed in its entirety in Washington, D.C., on several occasions, an incredible visual reminder of the disease's human toll. Portions of the quilt have toured worldwide, raising funds and awareness.
The people who contracted AIDS in the 1980s are middle-aged now. And some think the tools of the fight, like the iconic AIDS quilt, need an update.
"The quilt will always be like the Vietnam Memorial, but there needs to be something different," Walton said. In her experience, young people need less history and more testimonials.
"Having a Lifetime movie about a girl who finds out she's HIV-positive is important. And the media is doing really good with incorporating people who are HIV-positive into soap operas."
"A quilt might not have an impact on this particular audience," agreed FSU counselor Williams. "On our campus, to really make an impact, people need to come out and talk about how they
contracted AIDS and how things have changed in their lives. These are some of the things students ask about," she said.
But Arons believes the quilt still is an effective tool in 2007.
"There have been panels hung in the rotunda of the state Legislature during legislative sessions," he said. "So I think it is a very effective memorial. The AIDS quilt is a heartfelt tribute. Anyone who has ever made a panel knows it's a way to express a loss. It's not like handing out buttons or pencils with a message or something like that. It's a cultural institution."
Regarding institutions, Walton said that many AIDS advocacy groups haven't been able to keep their doors open over the last two decades.
"One of the downfalls of this epidemic," she said, "is it has been going on for so long and people are living for so much longer. It's not so much of a crisis as it was when funding first started coming out." Walton said that if an organization has a flat budget for five years, it either has to find a more creative way to provide the same services or it's history.
"Like everybody else, we've received budget cuts," she said, "but we've never closed our doors and we've never had to put anyone on a waiting list."
Raising the Flag
Despite what Arons calls "complacency" in the behavior of some AIDS patients, progress against the disease has been concrete. The improvement in drug treatment therapies is one example. Clinical trials is another.
"We discovered that a pregnant woman treated with AZT, in most instances, wouldn't transmit HIV to the fetus or the newborn," which has decreased incidences of neonatal HIV dramatically, Arons said. "There's been more than a 90-percent reduction of mother-to-child transmission from the high point in the mid-'90s."
"I know currently, at Florida State University, we've implemented Rapid Testing, which has definitely helped," said Williams. She said the fee-based program has reduced waiting times for test results from two weeks to 20 minutes. "Talking about AIDS in our community has helped and made a significant difference in the amount of people coming in and getting tested."
And it seems to be talking, above all else, that is making the most difference.
"When I started hearing about HIV and AIDS, my parents weren't real comfortable about sharing that information," said Walton. But she said that it will be just as important to share with her kids as information about homework or going to college.
"Make it something that's not so taboo," Walton said. "If you're OK going out with your girlfriend and talking about HIV and AIDS or STDs or condoms or choosing not to have sex, that's something you should be talking about just like you talk about anything else."
In a symbol of such openness, Big Bend Cares made itself more visible in 2003, opening a new office located "smack in the middle of the south side of town," Walton said.
"People certainly are paying more attention to who they're coming into contact with," she said. "People feel more comfortable talking about sex. Not just in the quietness of their home, but more with their friends. I just think we need more of it."