Reinventing Retail
The Retail, Merchandising and Product Development school at FSU stitches itself into Tallahassee's community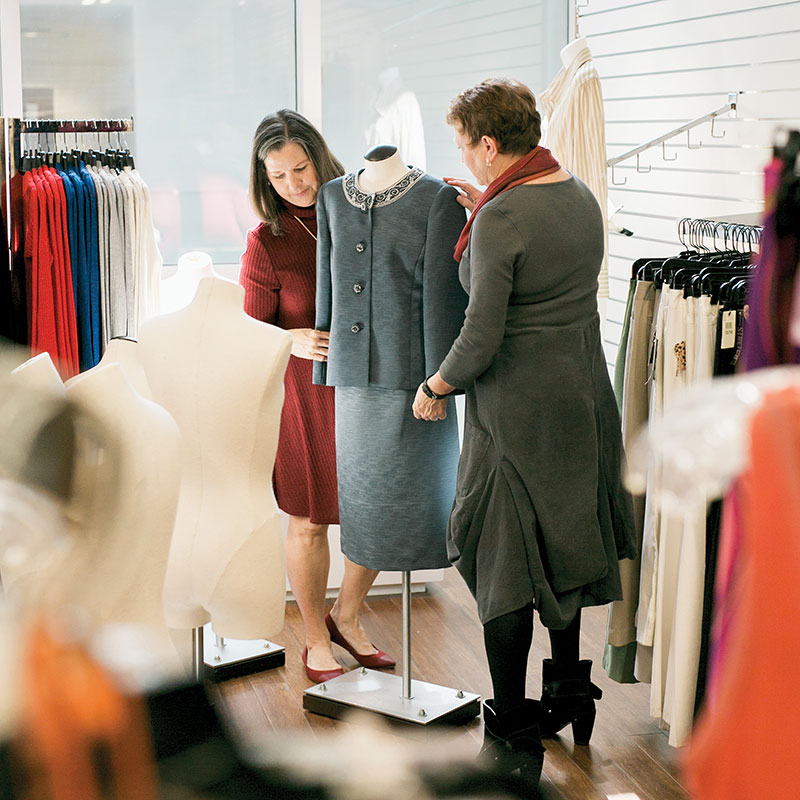 Fishnet tights under cutoff denim shorts, worn with a vintage Rolling Stones t-shirt. A tie-dyed crop-top revealing a sliver of skin above high-waist jeans. A pressed button-down, conspicuously paired with weathered Converse sneakers. In a ten-minute stroll across Florida State University's campus, it becomes apparent that the sidewalks are much like the runways, where what you wear portrays who you are — or at least what you want others to perceive about you.
The concrete jungle of New York City, the easy-breezy California coastline, the urban sprawl of Atlanta — In the U.S., these are the areas that tend to be regarded as "fashion forward." Tallahassee is, foreseeably, not at the top of that list; but the trend-setting students of the Retail, Merchandising and Product Development (RMPD) major at FSU are trying their hardest to put this city on the map.
"You can almost pick out our students if you sit somewhere on campus and people-watch," says Sherry Schofield, Department Chair of the RMPD school. "They are more fashionable, they are more upbeat and they are different. They have a drive that others don't, because they want fashion."
In a school of over 41,000 students, 500 of that number have chosen Retail, Merchandising and Product Development as their major. A miniscule notch in the total, but not one that goes unnoticed. With internships around the world and one of the few majors on campus that guarantees job placement immediately upon graduation, RMPD students are sewing themselves tightly into success.
"One in every four people in Florida work in retail," says Ann Langston, the director of the FSU Retail Innovation Center. "The beauty of the retail industry is it's very broad. There are plenty of positions and plenty of jobs, especially in Florida. We typically do one-hundred-percent placement — there is that much demand for retail."
Program graduates enter into the industry as store managers, buyers, stylists, designers, strategists, business owners, costume designers, product developers, fashion consultants, marketing coordinators and the list goes on. While store associates are valuable and needed assets, it frustrates many students who are currently in the major that the public perspective on their skill sets seems to limit them to that path.
"This major makes the world go round," Langston explains. "It's consumerism, because we are a buying society. If you look at anything, the retail industry has touched it."
Creative Curriculum
Retail, Merchandising and Product Development is a major that is housed within the College of Human Sciences. The mission of this department is to address the well-being of individuals, families and communities. The RMPD program contributes to this mission by thoroughly training each student in industry-relevant technology, product development methods, store operations, merchandising strategies, forecasting, consumer behavior, design principles, management and sales.
You may wonder how these skills contribute to you. Remember how you entered that particular department store and were helped, noticed and thanked, and the experience left you with a warm feeling toward that establishment? Think for a minute about how often you look in a magazine to see what your favorite celebrity is sporting. And don't forget the time you bought that beautiful dress right off the mannequin because it caught your eye. The students in the RMPD program are taught all of the ways to excel in making the consumer's experience valuable and enjoyable.
The first classes a freshman in the program takes are Textile Science and Intro to Fashion. It is imperative to know what garments are made of, how they are worn, fabric qualities, stitching techniques and the history of fashion. The design element of the program was eliminated in 2008, following the economic downturn, but students still learn all of the basics of assembling fashion pieces.
While classroom learning is essential, industry experience is of the highest value. There are several ways in which FSU's fashion department provides this experience: In 2006, the FSU Retail Center was created by a group of RMPD professors. In the following year, Ann Langston was hired to direct the center as well as fulfill her role of professor in the RMPD program. The primary purpose of the FSU Retail Center is to create partnerships between retail and retail-related businesses. This is accomplished through career fairs, retail summits and scholarships dinners that occur during the fall and spring semesters.
Beautiful stone bangles by Bourbon and Boweties adorn the wrists of women throughout Tallahassee and beyond, thanks to former RMPD major, Carly Ochs. Sold in Nordstroms and boutiques around the country.
Langston has done a remarkable job in executing the much-anticipated scholarship dinners, by inviting engaging and successful industry leaders to attend. Past speakers have come from companies such as SPANX, Clinique, HSN, Nordstrom, Macy's, Kohls and more. The highlight of the night is always the awarding of scholarships from generous retail mavens, including BCBG, Belk, HSN, Target, Macy's and the Florida Retail Federation.
Over the past year, the RMPD program has formed a partnership with the Business Department, which has led the FSU Retail Center to new heights. In an effort to showcase how retail interacts with multiple majors, the center recently debuted as the Retail Innovation Center.
"We are the only program like this in the state of Florida," Langston says. "Our new partnership with the business school will continue to move this program even further. Everything we do is done to progress our students further with industry knowledge."
A program called Mock Shop caters to the visual side of retail by allowing students to plan, set up and design a store. The students' ideas are then brought to life during the practicum course's final exam.
The Macy's Lab is a retail store with clothing donated through FSU's partnership with the iconic department store. A team of students has a few hours to create and execute a floor plan based on traffic flow, trends and consumer research.
"It's amazing to see the variety of ideas," Langston says. "You walk by after a few hours, and the store looks completely different."
One of the most valuable components of the RMPD program is the internship, which typically takes place the summer before the student's senior year. The internship is comprehensive and fully encompassing: It is composed of 40-hour workweeks that last for a 10-12-week period. Internships are located anywhere, from Tallahassee to the Big Apple to across the Pond, in companies such as Macy's, BCBG, Marie Claire, Burberry, Home Shopping Network, Conde Nast and Dillard's.
"We impact our community and the world just by having our students intern locally and globally," Schofield says. "We don't save lives — although some people say they would die of embarrassment if they had a bad look — but we certainly have an impact on how people feel. You know if you have a good outfit on, you feel better."
Organizations for the Students, by the Students
Like most buildings on FSU's campus, the Sandels Building is brick. But the inside houses some of the most unique, creative and inquisitive minds on campus. The classrooms throughout the campus instruct and inform, but even more learning begins once these minds converge outside of the university's walls. Ideas are uninhibited and the structure is liberal.
While the organizations related to RMPD have sponsors or advisors, the meetings, events and ideas are student-led. And while the clubs are primarily inhabited by RMPD students, the clubs are not limited to that major. For example, an engineering major with an impeccable sense of fashion or a math major with retail interests are welcomed just as warmly as are students in the RMPD program.
One club, the Black Retail Action Group (BRAG), encourages the participation of minority college students by providing resources and information in order to help the students reach their highest professional potential in the retail industry.
Another club, the American Association of Textile Chemists and Colorists (AATCC), has a chapter on FSU's campus as well as chapters in over 60 countries. Their mission is to provide personal and professional growth for students of all majors who are interested in retail, through field trips, guest speakers and production of an on-campus fashion show.
The spring fashion show is highly anticipated, as it provides students an outlet to showcase the skills they have learned in the classroom and on their own pursuits. AATCC teams up with the Collegiate Merchandising Association (CMA) to host a fashion show that is open to the public and is usually held at a local hotel. The clothing comes from partnering companies, such as Kohl's, or from local boutiques or the closets of students.
"The fashion show seems to consistently provide a way for our members to showcase and embrace their inner stylist," explains Eliza Mosman, the 2016 president of AATCC. "The show gives students the opportunity to gain experience in teamwork, styling and leadership."
While CMA and AATCC have many of the same goals and frequently partner for projects, CMA is the original and longest-standing fashion club on campus. It is also the owner of the longest-established fashion-based publication at FSU, Clutch Magazine. As of April 2016, the magazine celebrated 10 years and its 20th issue. Appropriately, each issue is designed much like the hottest-trending clutches of the season.
Carrie McNeil, owner of Cole Couture, has a close relationship with the RMPD department, since many of the program students have interned or worked at her boutique. Every year, she helps to mentor retail students and allows Clutch to borrow clothing for their photo shoots.
"One place I have particularly seen an impact is through Clutch Magazine," McNeil says. "They work hard and with good energy to bring a multitude of moving parts together to put out a really strong publication. The department goes above and beyond to connect the community with the program."
Throughout its pages, the writers, designers and photographers capture international trends and the culture of Tallahassee. No matter the medium, be it paper or fabric, these students are telling stories.
Swatch
I've never met Enara Nazarova, but upon entering the Starbucks where we are to meet for a conversation, I know without a doubt that she is the woman seated by the window. How do I know this? She is easily the most chic person in the vicinity. That and the stack of Swatch magazines on the table in front of her.
Nazarova was born in Turkmenistan but came to the United States for schooling. Her heart was set on NYU, but an unexplainable string pulled her in the direction of FSU. She is a lover of art, dance, theater, video and fashion. What she is not is an RMPD major. But her adoration for fashion led her to Swatch Magazine.
The self-professed tech nerd is an Information, Communication and Technology major who happened upon the magazine by chance when she was asked to model for the publication.
"I modeled for a shoot and saw how professionally the magazine was being run," Nazarova explains. "I became involved as a women's wear assistant and then became co-editor with my friend. It ended up being the most valuable thing I've done in college, and, in retrospect, is one of my most cherished experiences."
Swatch launched its first issue in 2010 as a product of AATCC and was only open to RMPD majors. In 2015, the magazine branched off and became independent — although it still deeply intertwines with AATCC and is heavily populated with RMPD majors.
"I wanted Swatch to be a safe place for students to express themselves and play around with aesthetics," Nazarova says. "As an editor, my job was to set us in the right direction and make sure we kept on the paved path."
And she did. The two publications of 2015 featured a redesigned logo, and page content was doubled, from 50 to 100 pages. The 30-person staff interviewed fashion personalities from around the world and conducted photo shoots worthy of the pages of Vogue. Local boutiques, such as Cole Couture and Narcissus, contributed fashion pieces for use in the shoots.
This year, Nazarova leaves the magazine in new — but capable — hands, knowing she has threaded a bit of herself into its future.
"If I can invent a feeling, that's the best thing I can do," Nazarova says with a smile.
Entrepreneurial Spirits
Bright baubles, bejeweled bangles and crystal creations. In recent years, the RMPD department has done a notable job of producing successful jewelry designers. You have undoubtedly seen the designs of Carly Ochs in the stacks upon stacks of exquisite stone bangles that cover the wrists of women everywhere. Ochs's brand, Bourbon & Boweties, had a humble beginning, with Ochs sitting at her kitchen table measuring band sizes around Solo cups. Now her bracelets can be purchased in boutiques throughout the country.
"I went out and knocked on the doors of five different stores — literally knocked — hoping they would sell my products," Ochs says. "I did zero press and no marketing. It was all word of mouth. I can credit a large portion of that success to Carrie McNeill at Cole Couture and many of the influential women in Tallahassee who have supported me from the beginning and have helped to shape the brand."
Ochs graduated in 2009 with a degree in textiles and consumer science. Unfortunately, the economy had just taken a dive and jobs were scarce. While working as a nanny to sustain herself, she began to learn the craft of jewelry making. Fashion was always her passion, but she found herself drawn toward colors and textures, which led to her fascination with stones. She never dreamed that women ages 15–95 would be sporting her kitchen-table creations.
"I have had such success in a short amount of time," Ochs says. "I still can't put the feeling into words, but there's no better feeling than knowing I'm influencing women around the world each day as they wake up and select a piece of my jewelry to pair with their outfit."
Much like Ochs, Briana Ali happened upon jewelry making by chance. One summer, Ali didn't want to sit around her house, but she didn't want to get a summer job. With an interest in fashion, she began making jewelry and selling it. In the following semesters at FSU, she was asked to come up with a business plan for one of her RMPD classes. Bohindie Stream, a jewelry company, was the result. But Ali's plans didn't stop at her class assignment.
"I started Bohindie Stream as a girl who just finished a rough freshman year at college and didn't have the answers," Ali explains. "Heck, I didn't even know how to make jewelry; but what I did know was that I wanted to create, and I discovered happiness in doing just that."
Through the support of friends and the RMPD department, she began selling her jewelry at the downtown market, at Railroad Square and in pop-up shops on campus. Today her crystals can be found at local retailers, such as Wonsaponatime Vintage. She has since gradated from FSU and has moved to South Florida, but her business is still going strong, with steady online sales and engaging social media.
"When I first moved to Tallahassee to attend FSU, I just saw it as a small town," Ali admits. "But I soon discovered Tallahassee has a great personality and diversity. FSU is a very liberal school with a lot of artistic people. I was exposed to amazingly talented students that I had the opportunity to collaborate with."
Busting the Seams
The students and professors who are studying and teaching retail are well aware that not everyone loves fashion or thinks it's important; but they are doing their best to tear apart the tough seams that society has stitched them into. These students are the future of the retail industry, and they are making their own patterns to influence the ways we shop, dress and even think.
"Millennials, especially creative ones, tend to get a bad reputation, but they've got so much positivity about them," Langston says. "They are innovative thinkers, because they refuse to be put in a box."
Like any passion, the love for the craft isn't superficial. It stems from the need to create and the desire to evoke feeling. It's the way a fabric feels under the fingertips, it's seeing a vision come to fruition through a beautiful store display and it's the sensation of sheer joy at being able to assist someone in finding an outfit that will uplift their mood.
"When I think about an important event in my life, I can tell you what people were wearing," Schofield says. "Fashion has always been there — it has always been in my life. It has always been who I am. I'm not the greatest designer or a huge success in that aspect, but I can use that same creativity and passion to build and create this program."
She pauses, smiles slightly and adds, "If I were to get a tattoo, it would be a sewing needle. I'm not there yet, but someday … maybe."