Refined and Subdued
Keith Bowers prefers classy to flashy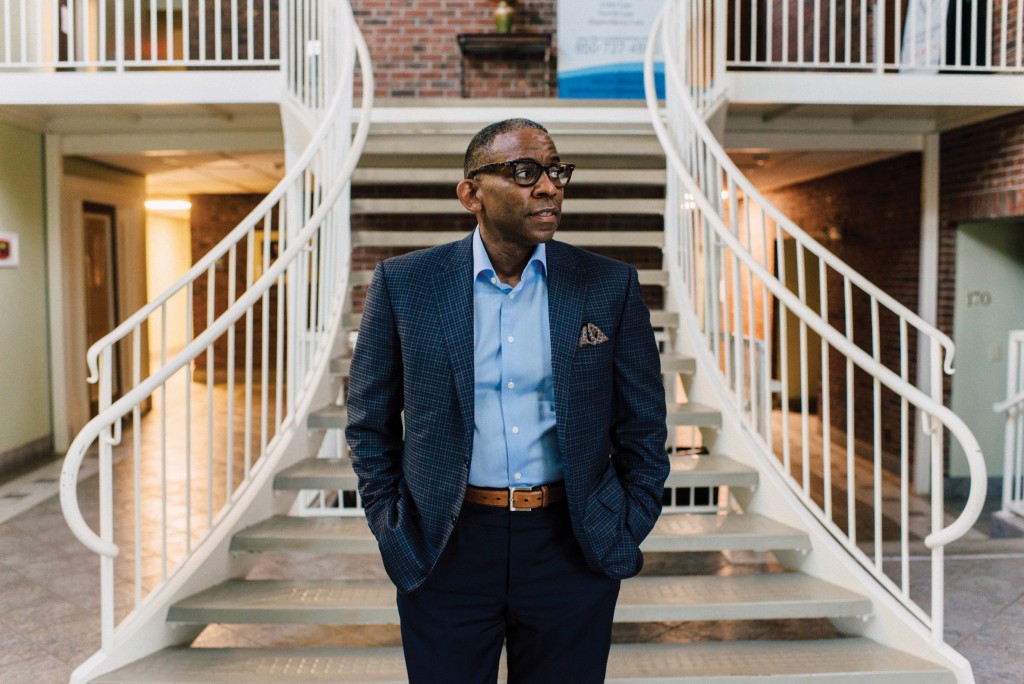 Keith Bowers is a deliberate clothes shopper. Studious, even.
When working to fill a hole in his wardrobe for, say, a certain sports jacket, he undertakes painstaking research intended to surface the best combination of quality and value.
"I am always looking for a bargain," Bowers said while in the same breath saying that he has long been loyal to luxury men's lines, including Canali, Samuelsohn and Jack Victor.
Generally, Bowers describes his look as "classic conservative," a style that does not mirror his politics, he would have me point out.
"Absolutely not," he said.
Refined but unostentatious, Bowers avoids flashiness. He may move from a meeting in a bank boardroom to a cocktail party or reception without changing clothes — maybe he peels off a tie — and always without attracting undue attention to himself.
Bowers is the regional director at the Small Business Development Center at Florida A&M University, an agency dedicated to "working with existing and startup small businesses to help them grow and compete in today's global economy." From that perspective, he is high on Tallahassee's future.
"We have a great opportunity to take Tallahassee to the next level with the collaboration we are seeing among the city, the county and our universities and private sector stakeholders," Bowers said. "Everything is aligning in ways that will move the city forward."
Bowers noted that Tallahassee has long been seen as a great place to raise a family and increasingly as a great place to retire. Keys to its economic success, he said, will be grooming, attracting and retaining talent.
"If we can see to that, Tallahassee is going to continue to thrive and be a very vibrant place," Bowers said.
"Here's a stance line that just came to me, Keith," I said to Bowers. "Tallahassee: A Great Place to Raise a Business."
"Hey, I love that," Bowers reacted. "I may have to borrow that."
"Consider it yours, as long as you give me credit."
"I will," Bowers assured me.
Of that, I have no doubt. He's that kind of good guy.
Bowers is married to Valerie Scoon, a successful documentary filmmaker, whose project, Daring Women Doctors, aired on PBS in 2020. She is currently at work on a documentary about the history of slavery in Tallahassee.
Does Bowers consult Scoon about clothing purchases?
"Not at all," he said without hesitation. "We have two completely different sets of tastes."
The couple has a son, Wynton, whose name reflects his father's passion for jazz music. Bowers tried to interest Wynton in the trumpet, but he prefers other instruments. A talented guitarist at age 14, he also plays the piano and steel drums.
"My dad always had jazz records, and I never thought to get into it when I was young," Bowers said. "Today, I collect a lot of older recordings from the days of the Harlem Renaissance in the 1920s, but Wynton Marsalis is the guy that started me down the path to jazz."
Bowers was born in Panama City and grew up in its Glenwood neighborhood. He graduated from Bay High School — "I wasn't the smartest kid in class, but I was probably the most talkative," he admitted — and moved on to FAMU.
He worked as a community banker and mortgage bond program manager before arriving at the SBDC.
When he isn't studying sock options and otherwise shopping, Bowers likes to cook. Even more so, he likes being involved in community work, something his mother inspired him to pursue.
"My mother planted the community service seed in me when I was very young and cultivated it and continues to cultivate it to this day," Bowers said.
Adell Bowers worked for 38 years at the state Department of Children and Families, where she placed children in foster homes.
"It was more than a job to her, it was her calling," her son said. "She was a lifeline for hundreds of families who found themselves at the low point of their lives. At 84, she still does whatever she can to help others."
Bowers is working to buoy both individuals and neighborhoods.
"Being able to participate in the revitalization of communities and investing time and resources in people who may not have been as fortunate as I was, that's very rewarding," he said.
He is working with Bethel Missionary Baptist Church, where he has attended services since he was a college student, on the redevelopment of Frenchtown. He helped bring about Carolina Oaks, a subdivision for first-time homebuyers.
Among public servants he admires, in addition to his mother, the Rev. R. B. Holmes, Jr., his pastor at Bethel.
"He's a trailblazer," Bowers said. "He has the vision and the credibility to bring about change. He's a mentor and a model community servant."
Bowers is sure to be taking good notes.