Reeling In Stealth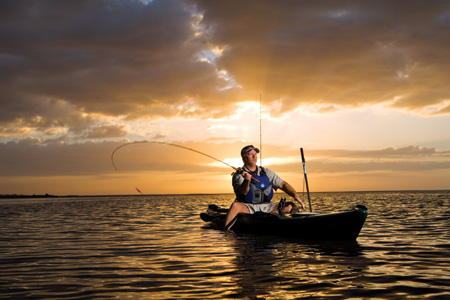 Kayak fishing can quietly get you to where the fish are biting, and you don't need to break the bank to pay for gasFishing the FlatsKayaks Make the Perfect Platform for Casting a Line
By Michael Wisenbaker | Photo by Scott Holstein 
You don't need to purchase a pricey power boat or chance wading into a deep hole to fish Florida's incomparable Forgotten Coast. Angling from a kayak offers an efficient and exciting way to reach more prime locations to pursue your prized quarry. Another big plus is that you have much less chance of getting stranded on a sand or oyster bar with a kayak. Should this happen, all you'll need to do is get out and drag your boat off the bar.
This type of craft, inspired by native peoples of the far north, allows you to easily traverse the shallow flats of Florida's eastern Panhandle. Until recently, kayaks didn't offer the designs or accessories needed to satisfy most flats fishermen. Today, though, many of these vessels come fully rigged with the latest technology and features for fishing. Rod holders, bait storage, compartments and straps for all sorts of things often come standard with these boats.
Despite these adaptations, not all fishing styles can be accommodated from a kayak. Dave Young, an avid local outdoorsman, describes what types of fishing he does from his craft along the Forgotten Coast.
"I love fly fishing, but 80 percent of the time I use spinning gear because fly fishing can be clumsy from a kayak," Young said. "For me, spin is the most efficient way to find fish. I move constantly. I troll while I'm exploring, and when I hook a fish, I stop and work that spot for a while."
Another advantage of kayaks is that they weigh much less than even the lightest boats with outboards. This allows kayakers to launch their craft wherever they want rather than having to go to crowded boat landings. Kayaks also can cross over the softest bottoms without risking stirring them up. The same can't be said of regular flats boats.
Yet another advantage: Kayaks maintain a lower profile because anglers sit rather than stand up in them, making them much less likely to spook fish. And kayakers don't have nearly as much noise from waves sloshing up against their craft. Lastly, it's possible to cross deep channels with a kayak – something that can't be done either by wading or push poling a conventional flats boat.
Kayaks, however, do have limitations. Sit-on-top varieties, the ones most often used for fishing, may be affected by high waves and strong winds. Also, in case of emergency, or if a squall blows up, it may take a lot longer for a kayaker to get to shore. And if a big fish decides to check you out – as a bull shark once did me when it nudged my craft off Bald Point – you have few options. Lastly, kayaks don't have as much storage space as flats boats – even though many offer far more features than ever before.
For the most part, kayaks should be at least 2 feet wide to be a stable fishing platform. Also, if you want to track serpentine creeks in the tidal marshes, your boat should be no more than 14 feet long. On the other hand, for fishing more open, exposed bodies of water, your craft should be at least 12 feet long so that the wind doesn't blow it around like a piece of flotsam.
As far as cost, a new fishing kayak will set you back anywhere from $500 to $1,800 – slightly more if you want one with a rudder. You will need to add another $80 to $400 for a decent paddle and $70 to $160 for a reliable life jacket.
Although you could save a little by buying these items from a large discounter, you're not going to get the benefit of your hometown dealer's experience and advice, nor are you helping your local economy. The gracious folks at Happy Ours Kayak and Canoe Outpost, Journeys of St. George Island, T-n-T Hide-A-Way and Wilderness Way all are consummate professionals. If money is tight, though, you might want to look into buying used boats or gear from one of your local entrepreneurs. In addition, the shops listed in the information box, as well as others, offer rentals. This gives you a chance to determine which boat (or boats) best suits your needs. Renting also offers you an opportunity to find out whether or not you will enjoy fishing from a kayak.
One of the greatest appeals of fishing from a kayak is that it allows you to become an integral part of your surroundings. Another benefit nowadays is that you won't have to pay three bucks or more for a gallon of gas to quench the insatiable thirst of a noisy outboard. All the fuel you'll need is enough food in your belly so that you can keep paddling. Kayak fishing doesn't pollute our priceless waterways, either. For those looking to meld two great sports, there is nothing better than fishing from a kayak along our fabulous Forgotten Coast.