Recalling the Recount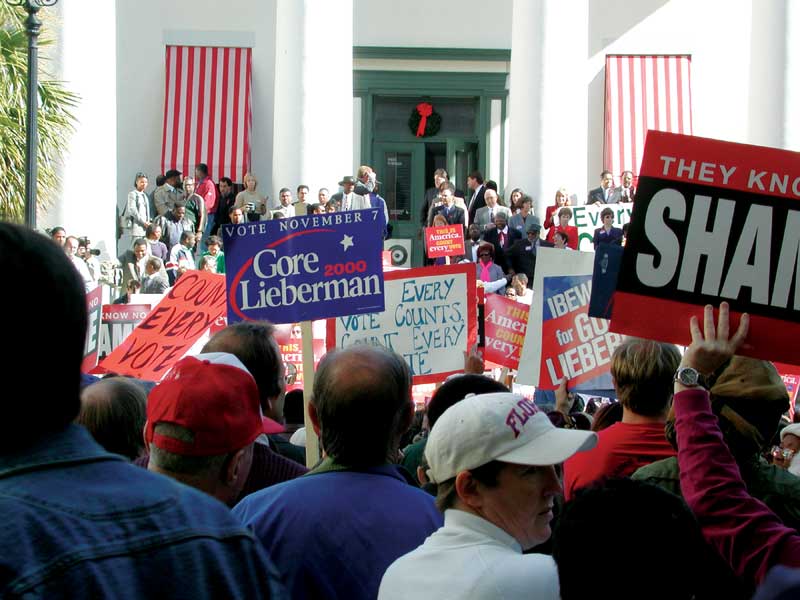 Locals look back at the troubles of the 2000 presidential election
Recalling the RecountLocals Look Back at the 2000 Presidential Election
By Jason Dehart
It had all the makings of a weird, made-for-TV drama. Or a Carl Hiaasen novel.
Here's the setup: A sleepy Florida capital gets invaded by bitter political enemies battling over election returns. Judges, lawyers, reporters, legal experts and pundits all enter the fray. Mass legal wrangling ensues over butterfly ballots, "hanging chads" and recounts. Locals scramble to make a buck or two. There's chaos in the streets. And then, at the height of controversy, the world stops as both sides go to a football game.
The only thing missing is a shadowy ex-governor named Skink.
But this isn't fiction – it really happened. In fact, the world held its breath during the 2000 presidential election's month-long period of controversy and legal battles, and Tallahassee found itself taking center stage. It was a chance to rub shoulders with the world's most powerful people and be a part of history in the making, as downtown merchants made the most of the windfall and locals made pilgrimages to the Capitol plaza to ogle the stars and try to get on worldwide TV.
Click to enlarge.
The Center of the Storm
"Tallahassee was the epicenter of the quake. It was the perfect storm. You couldn't predict that would happen," says Steve Uhlfelder, local attorney and former chairman of the American Bar Association's Election Law Committee. "And the town, surprisingly, without enough hotels or restaurants, did quite well."
"It was a complete zoo. Nothing like that has taken place ever and nothing like it (will happen again) in our lifetimes," says Bud Chiles, owner of the Governors Inn – where heavies such as Warren Christopher and James Baker stayed. "Leaders of both camps and their key lieutenants were staying with us, because of our proximity to the Capitol and the news trucks. It was just crazy."
"It was a pretty interesting time down here," says Jim Schalow of Nic's Toggery on South Monroe Street.
Schalow says the longstanding haberdashery did a booming business when newsmen and political players realized they were going to be here a lot longer than anticipated.
"We had political people and reporters and a lot of people come to Tallahassee with no notice," he says. "And when they came with no notice it pretty much meant they had no luggage, or maybe brought enough luggage for maybe two days. But they ended up staying here for what I think was four weeks, so a lot of guys needed some clothes when they flew in."
They also needed to eat, too. Tallahassee favorites such as the legendary Silver Slipper, Po' Boys Creole Café and Cypress were popular watering holes.
Silver Slipper owner Bill Kalfas remembers Al Gore attorney David Boies and a colleague returning to his establishment nightly to consume world-class fare.
"It was fun to watch them. They worked hard at it. Creatures of habit. You'd think someone from New York would be arrogant, but (Boies) was a wonderful person, an extraordinary man and obviously smart," Kalfas says. "At the time, the '97 vintage of Chateau Saint Saupoge was the No. 1 brand in the world, and he and his partner had two bottles and two fillets (along with asparagus and a Greek salad) and went over their notes in the same room, Room 51, every night for a month. It was fascinating."
Meanwhile, the strangers gave at least one new business an unexpected bump.
"I will have to say that it was instrumental in probably getting us over the hump the first year," says David Gwynn, executive chef and co-owner of Cypress Restaurant, which had just opened that April. "We didn't even advertise. Word of mouth really got us established within all the groups that were coming in. We had all kinds of different press corps come in."
"So many people came in, so many chiefs of staff, so many governors, so many political people that I couldn't even keep count," says Gwynn's wife and business partner, Elizabeth.
Although a historic time, David Gwynn says they didn't actively seek autographs from the famous people that ate at their restaurant.
"I mean, we enjoyed the business, but it was also one of those bittersweet things, too," he says. "You could see the stress in some people's faces, but it was also nice to be able to provide a place for them to be able to just chill out for a little bit."
However, a leather-bound guest book meant to record Cypress' first patrons wound up recording the names of several famous Election 2000 visitors. There are names of reporters from The Washington Post, The Wall Street Journal, The New York Times, CNN, CBS News, NBC News and Gannett News Service. Bush partisan Karl Rove's name is clearly visible in bold ink on one page.
Jon Sweede, owner of Po' Boys Creole Café on College Avenue, says he jumped at the chance to serve the incoming news crews that first week.
"I think I was the first guy downtown to take menus and tell the satellite trucks that I'm ready to deliver, but did I ever think it would go from 10 trucks in a day to 200 trucks in a month? Not a chance," he says. "A week later I saw competitors jumping on my satellite trucks, which is no problem. I was happy with the week I had.
"That was remarkable. It absolutely skewed any November-December I ever had," Sweede says.
On the Air
While some locals kept the masses of reporters, pundits and politicos fed and clothed, others were sought out for their legal expertise. Uhlfelder in particular made several on-air appearances as a consultant primarily for ABC News, but he also did a little work for NBC and Fox. He says he was on TV almost every night, delivering 7- to 10-second sound bites.
"They looked at me as being kind of objective because I had been chairman of the ABA Election Law Committee; I was a Democrat who was friendly with Gov. (Jeb) Bush, so I was sort of balanced in my views," he says. "In many ways I was useful to them. I was a lawyer who could comment on the legal aspects but also because I knew people in town. I had most people's mobile numbers."
Uhlfelder says he couldn't help but get caught up in the political intrigue and media machinations.
"I don't think I got four or five hours of sleep in six weeks," he says. "It was one of those things you get a chance once in a lifetime to do and you get so intense you forget everything else."
He even managed to sneak an ABC News camera into the President's Box at Doak Campbell Stadium – where the annual Florida-Florida State football rivalry played that year. Uhlfelder says many of the big players in the election controversy could be seen sitting together in that box, including Secretary of State Katherine Harris, some Supreme Court justices, and even Gov. Jeb Bush – who had previously kept a low profile.
"So on ABC News the next morning, on the talk show, they led off with some of the shots from that game, and showed all the players in the battle were at the Florida-Florida State game," Uhlfelder says.
While it may have seemed strange to the rest of the world, the game was simply a matter of priorities to the folks in Florida. Many reporters – and powerful political figures – were kicked out of their hotel rooms in favor of the visitors with longstanding reservations for that weekend.
"You got to get your priorities right," Uhlfelder says with a grin. "The world stops when the Florida-Florida State game goes on."
On Public Display
Uhlfelder wasn't the only local on-air personality. As the public face of the Florida Supreme Court, Craig Waters was the center of attention whenever he took the podium on the courthouse steps.
"My very public role on worldwide television as a spokesman for the Florida Supreme Court came about in a way that most people do not understand," Waters says. "It was not really planned, but evolved as a simple matter of necessity."
Waters says that when the international press descended upon Katherine Harris's office, security officials locked down the Supreme Court building. It was an action he disagreed with.
"I was furious. To my mind, this created an impression of a lack of openness that would make us look bad," he says.
Waters says he expressed his concern to Chief Justice Charles T. Wells, but that Wells didn't want to go against his chief of security.
"So he suggested that I simply go out and talk to reporters regularly," Waters says. "At first, this literally was just me standing out on the front steps talking to a few reporters, often one at a time. But at the controversy escalated, the number of reporters grew so large that we had to resort to more formalized messages."
Eventually a lectern became a necessity, at least for the news crews. Security officers scrounged one up from the basement for reporters to put their microphones on, he says. But the weight from all the mikes made it top-heavy.
"Our security officers warned me not to even touch it, for fear it would fall over on live television," Waters says. "From then on, the announcements I made became more and more formal, the video and audio began to be pooled, and eventually I wore a remote microphone attached to my tie."
Incidentally, the same lectern he used was borrowed by HBO for its primetime movie "Recount," which aired this past May. But producers "polished it up so well that it looked brand new," Waters says.
Being such a public figure was difficult at times, he says. It had a big impact on his normal activities – at one point he couldn't go out in public without an armed security officer.
"Friends and family shopped for me, brought me food and so forth. I had received some threats, but there also was a disturbing tendency for people to stop, stare and point," he says. "This continued for about six months after the cases were all concluded."
One of the oddest occurrences didn't even happen in Tallahassee, but rather at an outlet mall in Baldwin County, Ala. Standing in the store, Waters says he looked out through the plate glass window and saw a large group of people staring and pointing at him.
"They were clearly not happy," he says. "For a while I contemplated asking the manager to let me out the rear exit."
Back in Tallahassee, restless crowds continued to give him pause for concern. At one point he was urged to wear body armor during a news conference. That episode was "much shortened and much dramatized" in "Recount," he says. In the scene, the actors playing security officers offer Alex Staggs, the actor playing Waters, a bulletproof vest right before he walks out to announce the statewide recount on Dec. 8.
In reality, "While waiting for the time to go out, a police officer said that I really ought to consider wearing a bulletproof vest due to the restless nature of the large crowd gathering outside," Waters says.
But Waters declined the invitation for a couple of reasons. One, it wouldn't fit under his suit coat, and two, wearing body armor openly didn't seem right.
"This was not the image of trust and respect I wanted to project, so I quickly rejected the idea," he says. "I did not learn until later that police snipers were actually stationed on the roofs of nearby buildings when I made this announcement."
An Outsider's Impression
Calling the 2000 presidential election "one of the best news stories I ever covered," New Yorker staff writer and then-ABC legal analyst Jeffrey Toobin spent "almost the entire 36 days" of the recount in Tallahassee.
He would return shortly afterward to do research for "Too Close to Count," a no-holds-barred book he wrote about the events that was used as a resource for "Recount," which was nominated for 11 Emmy awards and won three, including best made-for-TV movie. Toobin is now senior legal analyst for CNN.
Toobin recalls that he had run in the New York City Marathon on the Sunday before Election Day: "I was still kind of sore when I got to Tallahassee. I was there for so long I got over being sore and used to really enjoy taking runs around the Florida State campus. In fact, one time I snuck in, probably illegally, to the football stadium where they kept the Heisman trophies and the national championship trophies. I have a great memory of studying the hardware that Coach Bowden had accumulated."
While he was convinced "Florida had a lot to be ashamed of" in the election debacle, Toobin did compliment the state's Sunshine Law – "we had absolutely great access to the courts" – but saved his highest praise for Second Circuit Judge Terry Lewis, who made several rulings relating to the recount.
"I thought he showed the best judgment, the calmest hand and the most integrity of anyone on any side in the process," Toobin says. "I thought he was a real superstar."
Toobin did have to give up his room during the election brouhaha for the Florida State football game. A room, he is quick to note, that was not at downtown's Doubletree Hotel. He referenced that fact when he returned to Tallahassee this year as the featured speaker at the library's annual fundraiser.
"I said I finally achieved my dream of getting a room at the Doubletree," he recalls. During that fateful month in 2000, "it was the hardest hotel room (to get) in the United States, if not the world."
Rosanne Dunkelberger contributed to this article.