Real Men Cook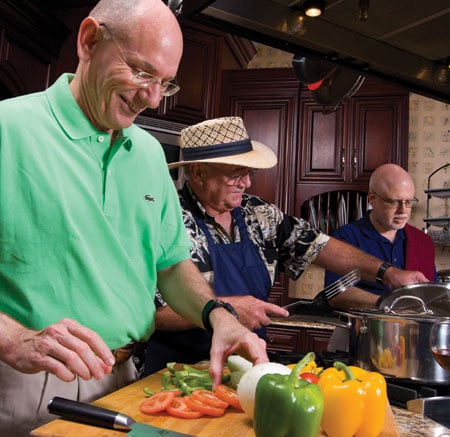 No longer content just to watch the grill, today's men are mixing it up in the kitchen
Real Men CookNo longer content just to watch over the grill, today's men are mixing it up in the kitchen
By Travis Timmons 
We know all too well the alpha male chef, the explosive culinary genius, who creates unique platters while towering over and shouting orders to the staff. It's an iconic figure, currently embodied in Gordon Ramsay of Fox's reality TV show "Hell's Kitchen." Not so familiar is the image of the average American male – a dad, husband or son – preparing elaborate meals in his home kitchen. Or meals at all, for that matter.
But it's a fact. Men are cooking – and not simply presiding over the barbecue grill. They are cooking for their children and families, making elaborate meals, even baking and preparing food for dinner parties. Nowadays, when we go to a friend's house, the male host may have cooked the entire meal. Enroll in a cooking class, and you might find that half or more of the students are men. And at specialty stores, you will see male customers looking for exotic ingredients for their recipes.
From movies such as "Sideways" to the prevalence of terms like "metrosexual," it is more and more culturally acceptable for men to be interested in more than just beer and burgers. Today, being a connoisseur of food and wine is not only accepted – it has become an essential element of high status. Men who cook are "in"; men who don't know their arugula from their elbows are "out."
Robin Lewis, co-owner of the Tallahassee store Someone's in the Kitchen, and Ken McCracken, a sales representative at Brown's Home Kitchen Center, are on the front line of this phenomenon, providing high-end kitchenware to both women and men.
Lewis said men now cook for their kids more often, while "single guys cook to impress."
"It's not all about going to the restaurant anymore," she said.
Scads of Gadgets
The stereotype of the man tinkering in his well-stocked garage full of shiny tools – many purchased "just in case" – has been around for decades. Is the kitchen becoming the new garage? 
According to McCracken, the big difference between male and female shoppers is that "typically, the male customers come for a specific item, then leave, whereas the lady shoppers will come for a specific item, then shop around some."
Lewis observes a difference in attitude in her male customers. Men especially "want quality cookware," she said. "They are willing to spend for quality."
"I like working with guys because they are more apt to take my word for something," Lewis joked. "Guys are tolerant on being told about quality."
McCracken and Lewis both said they notice that the spending habits of male customers reflect a commitment to and an investment in cooking.
Men have favorite items.
"The No. 1 item is the thermometer," McCracken said. "I think people are more conscious about getting temperatures just right."
Lewis said favorite items are seasonal. For instance, since fall is lobster and crab season, many clients will buy a big All-Clad pot. In general, she noticed, "men love nice cutlery."
Join us now for a chat with three Tallahassee men who have found their niche in the kitchen.
The Joy of Cajun Cooking
"Cooking is my first love, besides women," joked Joe DeVeer. "I'm married to a beautiful bride," he quickly added. "But I cook a different meal every night."
A "colorful gent" from Opelousas, La., DeVeer's passion for cooking dates back to his childhood.
"I love to eat," he said.
As a boy, DeVeer paid attention to the cooking of his extended family.
"Everybody cooked," he said.
After spending time in the military, DeVeer worked as an oyster opener at his mother's restaurant in New Orleans. He eventually settled down in Tallahassee to operate his pool repair company, It's Pleasure Time.
Among family and friends, DeVeer is renowned for his Cajun cooking.
"Cajun cooking is very special," he said. "It's like making love – you got to get it just right!"
DeVeer's favorite dishes are Cajun: red beans and rice, jambalaya and mirlitons (stuffed chayote squash).
"That's a bad boy right there," he said of the mirlitons.
DeVeer has a spacious custom kitchen, thanks to the help of his wife, who is a designer. The kitchen features a commercial Montague oven, a 50-bottle wine cooler, two sinks and two refrigerators.
"I've got more cookware than Brown's sells," DeVeer laughed. "I've got so much cast iron the house is leaning over."
DeVeer's philosophy is having the right tool for the right job, so gadgets abound.
Although his kitchen contains many specialty items and first-class appliances, DeVeer's cooking philosophy is more laid back.
"I eye it up," he said. "I know what's right from experience."
Precise measurement of ingredients and strict recipe-following are not for DeVeer.
"I don't do all that," he chuckled. He uses recipes as a foundation, then modifies them to taste.
"My wife loves me to cook for her," DeVeer said, "but not the spicy stuff." 
Cooking also is pleasurable for DeVeer, who does it simply for enjoyment and for the satisfaction of sharing with others.
"Everyone likes to eat," he said. "When we eat the things that are tasty, it just makes life better." 
Techniques and Gear
Lealand McCharen handles securities regulations as a senior attorney in the Florida Office of Financial Regulation. He began practicing law in 1984. Before that, McCharen was in the restaurant business for 10 years, working as a waiter, restaurant owner and everything in between.
"I worked my way through law school by restaurant work," he said. "I learned a lot about cooking techniques through my experience in the business, especially cutting, chopping and seasoning."
McCharen's experiences influence what he cooks now, which he described as "American and European-style cooking. Lots of grilling, sautéing, roasting and deep frying."
Cooking techniques are McCharen's foundation. Cooking, he said, is "a matter of technique, which is very learnable. Everything becomes quicker and easier, like dicing an onion. By knowing the technical terms, when I read a recipe, it's easy for me to see the steps."
Anybody can master techniques, since "cooking involves muscle memory," McCharen observed.
McCharen's kitchen is stocked with the basics.
"I have a collection of good knives, a small and large food processor, and different sizes of pots and pans," he said. He occasionally buys specialty items. When a friend gave him a shoulder of venison that needed to be "larded," McCharen purchased a larding needle at Brown's.
He is careful with his purchases, though: "I try not to load up on one-job kitchen gizmos."
The kitchen is a place of marital joy for the McCharens.
"I do 85 to 90 percent of the cooking," he said. "My wife is a great cook, too. But she's fine with me doing all the cooking." Cooking features prominently in their relationship, ever since McCharen cooked poached salmon fillets with cucumber dill sauce as a first meal for his future wife.
McCharen's cooking philosophy is to the point: "Cooking is a lot of fun," he said. "At the most basic level, everybody eats."
He also connects cooking with his masculinity.
"For me, it's a guy thing," he said. "There are tools, gadgets and techniques in cooking. You can collect things. There's a lot of gear. Men love this about anything."
Gadgets and Desserts
John Harris is a government consultant with the law firm Grey and Robinson, dealing with alcohol and tobacco regulations. He learned to cook at a very young age.
"My grandma was a great baker," Harris said. "She's the one who interested me in cooking."
No wonder, then, that Harris developed a fondness for baking, especially desserts. Cookies are his favorite items to bake.
Harris is a self-taught cook. He likes to watch food shows, especially Emeril Lagasse's, and reads Cooking Light.
"I thumb through a number of other cooking magazines, too," he said.
He receives much of his inspiration to cook from the chefs he meets around town, thanks to his alcohol and tobacco regulating job.
For all his baking needs, Harris loads up on kitchen gadgets from Someone's in the Kitchen.
"I particularly enjoy the gadgets; our kitchen just has so many of them," he said.
Harris has many fun tools and utensils: silicon pads to put on his All-Clad cookie sheets, dry and liquid measuring cups, and even a remote control thermometer for his grill that lets him see the grilling meat's temperature from the comfort of his kitchen.
He loves his gizmos because, as he said, "I'm a well-equipped person." Harris' philosophy is to stock up on gadgets – just in case.
"You never know when you'll need it," he said.
Harris has a "normal kitchen with two stoves." His favorite appliance is his KitchenAid mixer, especially helpful for dealing with thick dough. But "I've been eyeing the new Viking mixer," he joked.
Recipes serve as the foundation for Harris' baking. However, since he is a diabetic, Harris often finds himself reducing the recipe's sugar content, or blending white and whole wheat flour.
Like DeVeer and McCharen, cooking leads to no gender-role conflicts for Harris and his wife.
"We both do the cooking," he said.
Cooking attracts Harris because of the final product. He loves "something that turns out great." Sharing dessert is another incentive for Harris when he knows that "people are enjoying it."
Anita Doberman and Lori Hutzler Eckert contributed to this article. 
Advice for Male Cooking Rookies
"Don't buy cheap stuff. Buy a few really good quality pieces: a few pots and pans, a good set of knives." – Robin Lewis
"Cook everything on low heat and taste-test everything." – Joe DeVeer
"Learn the basics. For guys, it's like anything. Like in golf, you learn techniques. All this knowledge is prettily easily available nowadays. There's nothing that should be intimidating." – Lealand McCharen
"Buy good equipment, especially All-Clad cookie sheets for baking. Get a good mixer, like the KitchenAid, and use silicon mats to prevent baked goods from burning." – John Harris
Joe DeVeer's Red Beans and Rice
1 pound (at least) Register's Hot Sausage, sliced into ¼-inch pieces    
1 hambone or diced ham from a whole ham
1 can Del Monte Mexican style tomatoes
1 large yellow onion
1 yellow pepper
2 stalks diced celery (optional)
2 cups water
4 cans Joan of Arc dark kidney beans
1 can Hot Original Rotel diced tomatoes
2 bunches green onions   
1 red pepper, diced in ½-inch pieces   
1 orange pepper   
1 cup Uncle Ben's long grain rice   
1 loaf sourdough French bread   
garlic powder, butter
Cook the sliced sausage in a pan and drain off the grease. Combine the sausage and beans in a large pan. Put in the ham, tomatoes, green onions, yellow onion, bell peppers and celery (if desired). Cook on low heat for about 45 minutes until the beans make a roux. In a separate pot, bring the water to a boil, add the rice and cook on low heat for 20 minutes. Slice the bread into 1-inch slices, butter, sprinkle on the garlic powder and bake in the oven until toasted. Serve the bean mixture over the rice. For leftovers, warm up the beans in the oven on a low heat.
John Harris' Oatmeal Cookies with Lower Sugar
and More Fiber
½ cup room-temperature butter (he likes to use Irish or European butter)
½ cup light brown sugar
1 egg that has been out of the refrigerator for about 15-30 minutes
¼ cup shortening
½ cup granulated white sugar
¼ cup distilled water
1¼ teaspoons vanilla
Mix the above ingredients in a mixer until smooth and creamy. Set aside.
1 cup white flour
½ teaspoon baking soda
¼ teaspoon nutmeg
1 teaspoon salt
½ teaspoon cinnamon
Mix the above ingredients together then add to the creamed mixture above.
3/4 cup Stuart Pecan Pieces (chopped in half)
1 cup raisins (optional)
3 cups Regular Quaker Oats (not quick oats)
Mix the above ingredients together then add to the cream and flour mix and stir, don't mix. Drop an oversized tablespoon or scoop of mixture onto an ungreased cookie sheet and press down with a fork. Use parchment paper or a silicone cookie sheet liner. Bake at 350 degrees for 12-15 minutes and let cool a few minutes after removing from oven. Makes about
5 dozen cookies.
Lealand McCharen's Greek-Style Broiled Flounder
2 flounder fillets (about 8 ounces each)   
1 bunch parsley
1 teaspoon dry oregano
2 ounces feta cheese
1 tablespoon olive oil
1 onion
1 teaspoon dry thyme
1 roma tomato
Preheat oven broiler. Chop one-half bunch of the parsley, dice half of the onion, mix the parsley and onion in bowl, add the oregano and thyme, and crumble in the feta cheese. Next, chop the roma tomato and it put in a large, ovenproof skillet with a tablespoon of olive oil. Sauté the flounder fillets over medium-high heat until the edges start to change color to white (about three minutes). Place the skillet about 6 inches under the broiler. Broil the fillets until done (about another two to three minutes; fillets are done when the flesh flakes easily). Remove skillet from oven and place each fillet on a plate. Divide the parsley and place on top of each fillet. Top with crumbled feta and chopped tomato. Serve at once. A good wine to go with this dish, especially in our hot summers, would be a crisp California sauvignon blanc.