Reading Changes Lives
Seminole History Shines in Local Author's Picture Book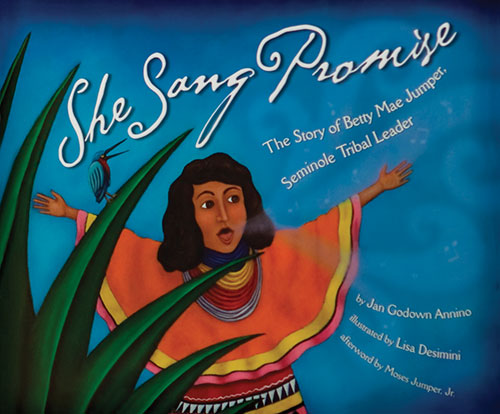 Local author Jan Godown Annino firmly believes people's lives are shaped by what they read as children. "It's what we do for young minds at the earliest of ages that can set their course for life," she says. It's a belief her personal experience affirms, albeit in an unexpected way.
When she was 15 years old, her mother cut out a newspaper article about Betty Mae Tiger Jumper, who had just become the first female to serve as leader of the Seminole Tribal Council. The fateful snip of the scissors allowed Annino to recognize Jumper years later during a happenstance encounter at a Native American festival.
Now she has penned a children's picture book entitled "She Sang Promise" ($17.95, hardcover) about Jumper's remarkable but little-known accomplishments. "I feel honored as an outsider to bring this story to children," says Annino. "[Betty Mae Tiger Jumper] just has such achievement, and yet she still deserves more awareness."
As readers flip through the 42 pages of lyrical prose and beautiful folk-style illustrations, they will discover a real-life heroine who is as exciting as she is admirable. Children will listen with delight as Jumper embarks on a variety of adventures — from growing up in the Florida wilderness to wrestling alligators at a tourist attraction in order to help support her family.
They will also hear how, much like Annino, Jumper was greatly influenced by an adolescent reading experience. At the age of 13, having never been taught to read or write, Jumper decided to go to school after watching a friend laughing at a comic book.
One of the very first Seminoles to receive a high school diploma, Jumper returned to her tribe as a qualified nurse and went on to establish the first tribal newspaper, write three published books and receive an honorary doctorate from Florida State University. She has also been inducted into the Florida Women's Hall of Fame and honored with the Florida Folk Life Heritage Award and the first Lifetime Achievement Award from the Native American Indian Journalist's Association.
Perhaps her story, like the newspaper clipping and comic book, will one day be a powerful source of inspiration for another young person. At the very least, Annino believes that, by reading the book, kids will learn a great deal about and from an important historical figure. "This is the story of a real Seminole and we just don't come across that," she emphasizes.
Betty Mae Tiger Jumper will celebrate her 87th birthday this April. "She Sang Promise" has been vetted by the Seminoles' Ah-Tah-Thi-Ki Museum and endorsed by esteemed Florida historian Dr. Michael Gannon.
---
Meet the Author
MARCH
12 Friday 7 p.m. Launch, Barnes & Noble, Tallahassee Mall, N. Monroe St.
15 Monday 7:45 p.m. Children's Books Talk, New Leaf Market, Apalachee Pkwy.
16 Tuesday 11 a.m. Book Talk, Tallahassee Senior Center, N. Monroe St.
20 Saturday all day Festival of Books/ Tallahassee Writers Association Annual Conference, FSU's new Turnbull Center, Pensacola St.
22 Monday 6 p.m. Leisure Learning, Tallahassee Senior Center N. Monroe St.
27 Saturday 1 p.m. Downtown Books, 67 Commerce St., Apalachicola