Raving About Reptiles
Tallahassee residents opt for scales over feathers and fur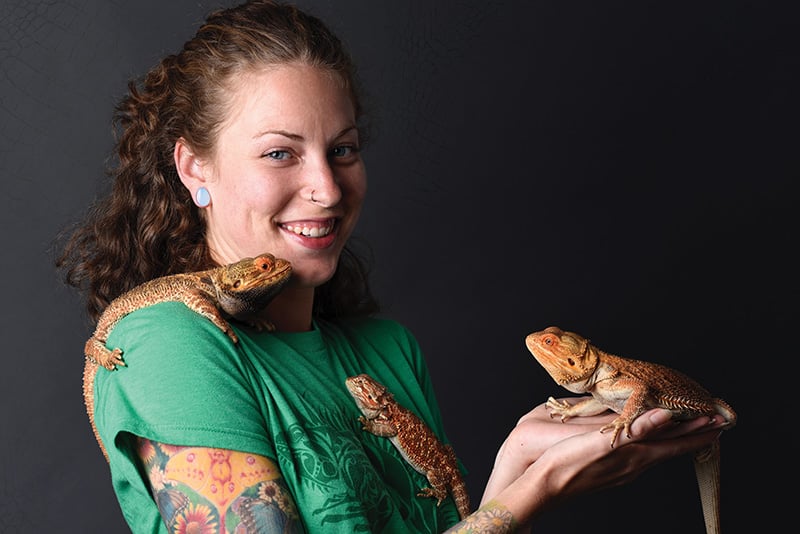 Her brother, Quin, 7, was equally as confident as he held Iris, his Brazilian rainbow boa. "Her forked tongue is really cool," he said.   
"For kids, snakes are a perfect pet," said Selva and Quin's dad, Mickey Damelio. "They don't smell, and they have no fur. Persephone is fine if she's held, and if she was never held again, it wouldn't bother her."
The Damelios are among the growing number of families raving about reptiles. 
"The interest in reptiles is incredible," said Vanessa Lane, who owns geckos and snakes and is an assistant professor of wildlife ecology and management at the Abraham Baldwin Agricultural College in Tifton, Ga.
Snakes, in particular, have many fans. But that wasn't always the case. The maligned animals have faced an image problem since time immemorial. For starters, there was that sneaky serpent that tempted Eve with an apple in the Garden of Eden. Modern culture hasn't always been kind, either: How can we forget the horrific basilisk in the second Harry Potter novel or Samuel L. Jackson with all those scary "Snakes on a Plane"?
Yet snakes are just one type of cold-blooded creature that is getting a warmer welcome. Tortoises and lizards — particularly bearded dragons and geckos — are also in demand. 
In 1996, an estimated 2.5 million U.S. households owned one or more reptiles, according to The American Pet Products Association, a not-for-profit trade group for a multibillion-dollar industry. Ten years later, in 2016, the group reported that an estimated 4.7 million households had a reptile in it.
Reptile enthusiast Paul Hale, who is an information technology analyst at the state Department of Agriculture, has one answer: "They awaken your imagination," he said. "As kids, we read fairy tales about dragons and things of that nature. So when you're a five-year-old and you see a 'dragon,' you're amazed."
Hale owns several reptiles and amphibians, including various snakes, lizards, a blue-tongued skink and an axolotl salamander. He's also one of more than 800 reptile lovers who have become members of a Facebook group that Damielo started four years ago, called Tallahassee Herps and Exotics.
In this group, "You'll find people who have everything from cute little geckos all the way to cobras and big monitor lizards," said Damelio.
"It's a little reptile community," said Zoe Allaire, another enthusiast. "People are able to sell or give away reptile supplies (and) help rehome animals."
Members also share photos revealing creatures with intricate patterns, vibrant hues and distinctive features. There are chameleons changing color, snakes shedding skin and even a turtle pursuing a bright blue ball. Bearded dragons — especially the babies — also get lots of exposure.
"The market is flooded with dragons," said Allaire, who has three of them and works for a bearded dragon breeder. "They're just cool animals." 
They are, literally, cool. Reptiles react to the temperature of their surroundings. When they get too warm, they go into the water or shade to cool off. When they're too cold, they'll hang out in the sun. And Allaire likes to hang out with them. "The sunlight is good for them, and I enjoy it."
The dragons will "crawl right up to you," added Allaire, who also owns a dog and a cat, plus a seven-foot-long boa constrictor named Rocky Balboa. "They nuzzle and do their body wiggle."
With so much interest in the community, Damelio and other enthusiasts from the Facebook group have recently formed the Tallahassee Herpetological Society, which focuses on education, conservation and "the enjoyment of reptiles and amphibians." 
In many ways, the reptile world has opened up to novices, thanks to the Internet and everyday reptile enthusiasts who are willing to share their tips. At one meeting at the University of Florida Institute of Food and Agricultural Sciences (UF/IFAS) Leon County Extension Office, Damelio led a discussion on the "Basics of Bio-Active Keeping," in which he spoke about some techniques for creating "living" enclosures for the animals using isopods (crustaceans), other insects, plants and soils. 
"Personally, I like animals that are in functioning mini-ecosystems," said Damelio. "For me, the animal is just one piece of the whole environment." 
Damelio keeps dart frogs and geckos in landscaped tanks at his office at Florida State University, where he is a faculty member in visual disabilities in the College of Education. The snakes stay at home. The Damelios also have dogs Irie and Lucy, a kitty named Aslan and an African grey parrot named Condi.
"As a kid, I grew up on five acres with dairy cows, steers, rabbits and pigs," said Damelio. "We'd catch snakes in the yard. I was never afraid of them."
Abbee Diaz, a junior studying biology at Valdosta State University who is also a member of the Facebook group, said he learned to like reptiles growing up in the wooded areas of Northeast Tallahassee. "I would see snakes, and the way they moved really fascinated me. I wanted to study more about them," he said. "When I moved to college, I decided to get my first snake" — a rat snake that he received from a soldier being deployed to Afghanistan.
Diaz also has two box turtles that he rescued in South Carolina. "The turtles follow me around the apartment," he said. "People think reptiles are dumb animals, but they're not." 
Other members of the Facebook group also expressed that their pets are frequently underrated, misunderstood or worse — which is unfortunate when you consider that the Florida Panhandle is, according to the Florida Fish and Wildlife Commission website, "blessed or cursed with a rich diversity of snakes."
According to Tallahassee author Bruce Means, president of the nonprofit Coastal Plains Institute and Land Conservancy, the Panhandle is a premier biodiversity hotspot, rich in a variety of animals and plants. No area of its size in the United States or Canada has more species of frogs or snakes, and it ranks about third in the world for turtle species. 
Six of Florida's 44 snake species are venomous: the Eastern coral snake; the Southern copperhead; the cottonmouth; and the Eastern diamondback, timber and dusky pygmy rattlesnakes. However, the Wildlife Commission reports, "Most Florida snakes are harmless and beneficial and remove extra rodent populations. Even the venomous species are not particularly dangerous unless stepped on or otherwise provoked." 
Yet "there has been an antipathy toward reptiles," said Means, whose new book, "Diamonds in the Rough," is about the Eastern diamondback rattlesnake. "There are people who have a lifelong fear of snakes or creeping, crawling animals. Young people are easily imprinted with fear of things like bugs or spiders or whatever by parents. It more or less stays with people most of their lives unless they make a special effort to get over it."
He said that antipathy has decreased over the past few decades, as the public has become more educated and knowledgeable — especially with more televised nature shows focusing on reptiles. Still, when a cobra escapes someone's home or headlines focus on pythons living in the Everglades, fears intensify. 
In March, a two-foot-long suphan cobra escaped from the home of an Ocala man licensed to handle venomous reptiles. At the time, the snake was under the watch of an apprentice who was not yet licensed to handle them. Florida requires anyone who possesses venomous snakes to be licensed, pay a fee of $100 and meet caging requirements. They must also prove that they've received at least 1,000 hours of experience for each type of reptile they own and submit to yearly inspections. Currently, there are about 300 individuals and facilities in Florida licensed by the FWC to own venomous reptiles/conditional species. Forrester Chance Gwaltney, of Wakulla County, is one of them, licensed to keep venomous snakes, including a few rattlesnakes and a four-foot cobra, all bred and raised in captivity. 
Gwaltney said that most problems involving snakes "are caused by a small number of people who acquire snakes illegally and end up doing something stupid that shines a bad light on everyone else." A former placekicker and punter for the FSU football team (1998–2003), Gwaltney has been an advocate for reptiles since he was a child, and his dad caught and nearly killed a hognose snake. Gwaltney talked his father into letting him keep it. Its saliva can cause swelling, Gwaltney said, but it's not toxic for humans.
Although Gwaltney loves his venomous reptiles, he never underestimates their power. "I respect them, and I know what I can do and what I shouldn't do," he said. "I've never been bitten, and I don't plan on it."
While venomous snakes make up a small portion of the pet population, their impact does trickle down to all reptile owners, said Hale. "You've got the more dangerous realm of reptiles — venomous snakes and larger pythons — and when anything happens with them, it starts trickling to lower realms. … There's no danger involving harmless snakes, but there's a perceived danger."
Antipathy and fear can also lead to cruelty, said Mike Jones, curator of animals for the Tallahassee Museum. "We've been hard on reptiles," he said, noting that many of these animals venture onto the road and are run over. "They don't realize it's a highway. We don't seem to respect that kind of life. When you think a little box turtle can live 125 years, that deserves some recognition." 
Along the cypress-edged lake at the Tallahassee Museum, visitors can catch a glimpse of green anoles and other colorful lizards, aquatic turtles and the burrows dug by gopher tortoises. The museum also has a reptile section that includes the nonvenomous red rat snake, grey rat snake and pine snakes, plus three venomous snakes: the cottonmouth water moccasin and the EaStern diamondback and dusky pygmy rattlesnakes. 
For years, an attraction to reptiles was considered a "guy thing"; but that's not the case anymore: Female visitors to Tallahassee Museum also enjoy seeing the museum's reptilian residents. In fact, women are some of the most passionate fans of reptiles.
"I used to catch snakes in the backyard," said Lane, who grew up in the Catskill Mountains. 
Her pets include ball pythons ranging in size from babies to about four-and-a-half feet, two Texas rat snakes, a leopard gecko and an African fat-tailed gecko. "People think owning a reptile is a weird thing, but it's not."
Still, ownership comes with responsibilities. "A ball python can live 20 years, so if you buy one for your kid, and that kid goes to college, it may go, too," Lane said. "Or are you, as a parent, willing to take care of that animal for its life?" 
Nicole Wiedemann, a Tallahassee entrepreneur and the mother of an eight-year-old boy, has gradually added more reptiles to her family's collection of pets, including a crested gecko named Ziggy, a bearded dragon named Teal'c, a yellow-bellied slider (turtle) named Morla and, in spite of her dread of feeding them their diet of mice, two corn snakes named Eric and Kilgore.
"Reptiles are easy to keep in an apartment, which is why they're becoming more popular with students," said Carol Hoover, owner of Carol's Critters, which stocks rows of tanks filled with reptiles that cost anywhere from $25 to about $400. She personally owns "a bunch of snakes," three dogs, horses and birds.  
Hoover noted that landlords generally accept a reptile and won't charge a pet fee (students should check first), as they might for a dog or cat.
 "Reptiles aren't for everybody," Hoover said, but "they're fun. They're different."
Observed Mickey Damelio, "There are just so many reasons to love and keep reptiles and amphibians. As many reasons as there are people keeping them, I'd imagine."  
---
Update
Tallahassee Magazine was contacted by Mara Gambineri, communications director at the Florida Department of Health, who read this article and would like to add: 
While exotic pet ownership has become increasingly popular, the potential germs associated with these pets are not always considered. Germs including bacteria, viruses and parasites that live in and on these animals can pose a health threat when transmitted to people. One of the most common germs carried by amphibians and reptiles is Salmonella. Salmonella can cause illness in people including diarrhea, vomiting and fever. This infection can be life-threatening for young children and people with weakened immune systems.
Here are some tips to keep you healthy if you choose one of these pets:
Wash your hands thoroughly with soap and water after touching or feeding reptiles and amphibians, handling the area where reptiles and amphibians live and move, and touching water from the terrarium or aquarium of the reptile or amphibian.
Help children wash their hands properly after handling reptiles, amphibians, and their habitats as well. 
Do not let children younger than 5 years handle or touch reptiles and amphibians or their terraria without supervision. 
Don't keep terrariums or aquariums for amphibians and reptiles in a child's bedroom.