Raise Your Glass
Local Toastmasters Help Make Giving a Toast as Easy as Pie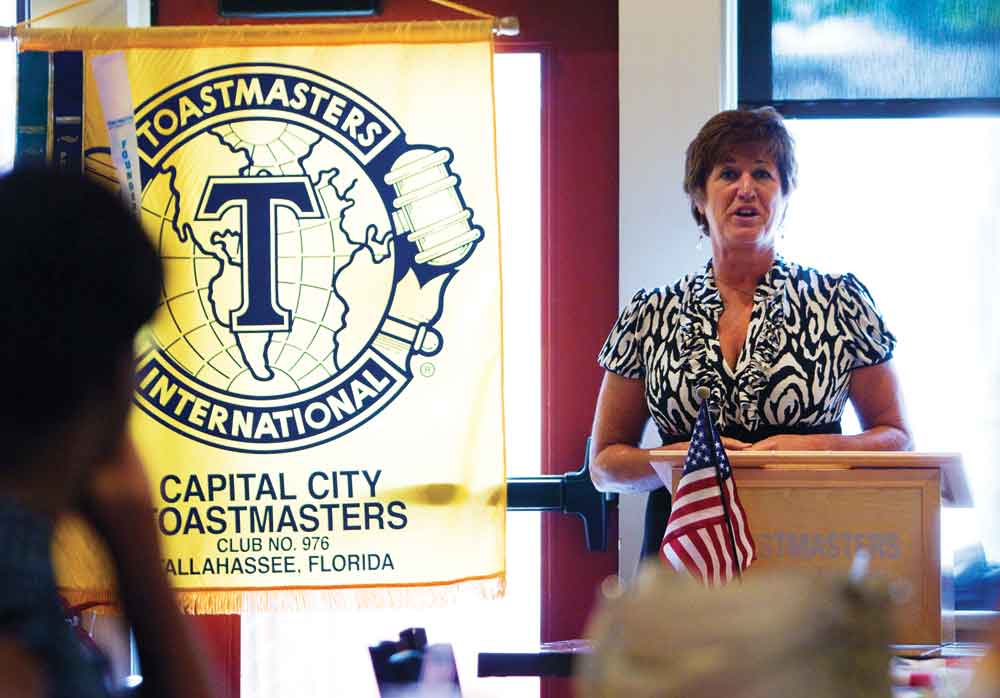 Jerry Seinfeld just might have said it best: At a funeral, most people would prefer to be the one in the casket instead of the one giving the eulogy.
Public speaking is second only to flying on the Self Help Collective's Top 10 list of fears.
As it turns out, giving a speech — even a less than stellar one — won't kill you. But, if you are among the 40 percent of Americans who think being chosen to speak in front of an audience is a fate worse than death (since death ranks a mere No. 6 on the list of fears), a local chapter of Toastmasters International may be your savior.
All over town, people from all walks of life, from students to professionals to doctors and lawyers, are meeting with the same goal in mind — becoming better speakers and leaders.
"The mission of a Toastmasters club is to provide a mutually supportive and positive learning environment in which every individual member has the opportunity to develop oral communication and leadership skills, which in turn foster self-confidence and personal growth," says Melissa Floirolli, former president of the SouthWood Toastmasters and the organization's Division H governor.
The Toastmasters held their first meeting in the basement of a YMCA in Santa Ana, Calif., in the 1920s and chapters have sprung up worldwide in the ensuing 87 years.
Tallahassee got its first taste of the Toastmasters in the 1950s and now 22 clubs have meetings in the area to give members relief from the sweaty, shaky anxiety attacks that can accompany speaking before an audience.
"I didn't want to be afraid when I got up to speak, especially in professional situations," says Shirley Bull, who has been a toastmaster for 20 years.
Bull is a member of the Capital City Toastmasters, who meet every Thursday at Chili's restaurant on the Apalachee Parkway. She works with the Agency for Workforce Innovation and says Toastmasters has helped her personally and professionally.
As the toastmasters like to say, communication is not optional. Whether verbally or nonverbally, we communicate
constantly — and the ability to do so comfortably and effectively in professional and social situations is invaluable.
Each club meets once a week for an hour, usually during lunch, in office buildings and restaurants throughout Tallahassee. The relaxed settings allow for comfortable expression and firm, but constructive, feedback.
These meetings are not to be mistaken for the conventional classroom. There are no permanent instructors. Instead, each week a new "toastmaster" presides over the meeting and those attending critique one another.
The toastmaster hosts the meeting and gets the opportunity to refine his or her speaking skills without preparing a speech. Newbies aren't usually chosen for this position until they get a few meetings under their belts.
Although the Toastmasters' most important mission is to help members and guests learn to feel comfortable while giving an effective speech, their meetings focus on more than that. Attendees are also expected to improve their grammar and vocabulary. Most club meetings begin with a word of the day that all are encouraged to inject into their speeches and responses.
Although only two members deliver prepared speeches in most meetings, everyone else isn't off the hook. Everyone who speaks during the meeting is given time constraints and expected to improve their skills.
After the prepared speeches, it's time for Table Topics, the part of the meeting that gives each person the opportunity to try their hand at impromptu speaking. Even new members and visitors can get their feet wet and speak a little without the pressure of a full speech. Only the "topicsmaster" knows the subjects beforehand. It's their job to choose people at random to speak for one to two minutes on topics that can range anywhere from why their favorite dessert tastes so good to the latest political uproar.
This is all a part of the educational aspect that the club promotes. The topicsmaster learns preparation skills, while the Table Topics speakers better their communication skills for the many situations where dialogue cannot be preplanned.
But don't let the fear of being called on during table topics keep you from attending your first meeting. All toastmasters move and grow at their own pace. Visitors may decline to speak if the topicsmaster calls on them.
After all speakers have had the chance to give their speeches, long or short, it's evaluation time.
All the toastmasters take on the task of helping one another improve. Delivering an engaging speech is important, but the "grammarian" also makes sure everyone uses proper vocabulary, while the "ah" counter keeps track of how often speakers use verbal fillers like "um" or "so."
Many anxious speakers use these fillers as a crutch when their nerves leave them at a loss for words. This is all meant to make a speaker aware of the habits that could ruin an otherwise great speech.
Another important part of the speech-giving process is time management. No matter how interesting your topic, if it takes an hour to get through a speech that was supposed to be 15 minutes long, the audience is lost.
This teaches the speakers to manage their time properly so no speech is too long or too short. Don't worry, the timekeeper won't cut you short but will make you aware if you have issues with staying within the time allotted for each speaker.
Similar to learning to play a sport, building the confidence required to speak comfortably in public takes work. Improvement comes with time.
Most Toastmaster clubs have only about 20 members, and you can visit as many as you like before choosing the one that fits you.
If you're the kind of person in need of instant gratification, this is where you'll shine. Most clubs give out weekly awards for the best speaker at the end of each meeting.
No matter what your career path may be, lessons learned in the weekly Toastmasters meeting can be useful.
Amy Williams, a two-year member of the Toastmasters and new president of the Capital City club, says she joined the Toastmasters because her job required her to give presentations and speak to audiences in many different situations.
Williams now works for Florida Fish and Wildlife and, after changing her career path, she continued her Toastmasters membership and recognizes the transformation she has made not only as a public speaker but as a professional.
"It really helps me with networking, leadership, time management and professionalism," Williams says.