Railroad Square Trio Works to Revive the Almost-Lost Art of Letterpress Printing
Making an Impression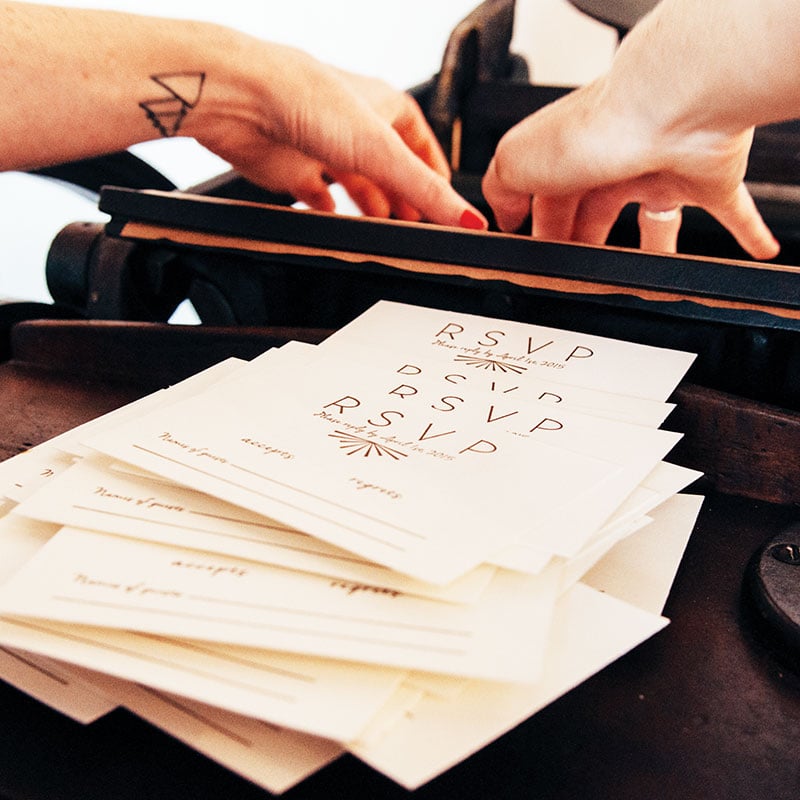 With a laptop computer and a cheap inkjet printer, it's possible for anybody to design his or her own business cards, flyers, invitations and more and then print them out in the colors of the rainbow … all on the quick and cheap.
So why do Mika Fowler, Alicia Osborne and Sheri Nilles spend inordinate amounts of their time (sometimes literally) cranking out printed pieces, one by one, on outdated old cast iron presses?
Why, indeed.
"This is a local process, and it's also is so much more," said Osborne, who, along with Nilles, creates wedding invitations, business cards and other letterpress-printed pieces in their business, Paper Works Press. "It's tactile … personally, I love to know the process that things went through when I order something or when I get something as important as a wedding invitation."
Most customers willing to pay a premium price for their work are looking for quality paper, a hand-crafted look — and that bit of embossing that shows up in their printing process.
"It's interesting because (embossing) is what people want when they get letterpress; they want to see it in the paper," Osborne said. "But technically this is a mistake." In the craft, printers looked for a "kiss print," where the platen barely hits the paper and pulls away. "That was considered the proper way to print," she said, and what people seek now "probably (has the old-school printers) turning in their graves."
The Craftsman
>
Mika Fowler
ALICIA OSBORNE PHOTOGRAPHY
Fowler makes his living as a photographer, and he set up shop in a small section of a Railroad Square warehouse to create his art pieces. But one of his first jobs was as a newspaper pressman. When the now 59-year-old started at the Rocket-Miner in Rock Springs, Wyoming in 1975, the newspaper was printed using a modern high-speed press. But down in the basement was an old hot-lead linotype machine and a platen press used for doing odd-job printing.
"There was a guy who would come in who was in his 70s at the time, and he would sorta kinda train me" in traditional typesetting and printing, Fowler said.
He couldn't get out of the pressroom fast enough when he was younger, but later started acquiring printing equipment, put the apron back on, and returned to his ink-stained roots. Today, walking into Fowler's studio is like taking a sensory journey back to the mid-20th century.
It's chock-full of presses, multitudinous flat-drawer cabinets of type, and other equipment, including a terrifyingly dangerous-looking commercial paper cutter. Even the materials used to service the machines are antique: a tin dispenser for the turpentine, an old oil can (think Tin Man from "The Wizard of Oz"), cut-up pages from phone books used for cleaning up.
"The only technology Mika has in here is a (cell) phone," joked Nilles.
"I want a landline but I can't find a wall phone with one of those real long cords on it," Fowler explained.
The place smells inky. When running, the presses are surprisingly quiet. The largest, a 1947 Dodson of Atlanta, that in a past life printed parking tickets in Tennessee, has a motor, but it gives off a pleasant whir that doesn't drown out the jazz music playing softly in the background.
In the corner sits another platen or "clamshell" press, a 1911 Chandler & Price that Fowler bought from a funeral home in New Port Richey. It was used to print obituary information on the back of commemorative holy cards. Fowler's latest acquisition is a Challenge proof press, used by newspapers to print out page samples for proofreading before a plate was made.
"This one was in a middle school; it had been sitting, neglected, for probably 20 years," he said. "I went up to Asheville and bought it a couple months ago."
>
ALICIA OSBORNE PHOTOGRAPHY
Not motorized, each paper to be printed is attached to a barrel, then hand-cranked over the type. Like the other presses, if you want to add a second color, you clean off the ink, replace the type, make sure it's lined up properly ("registered" is the proper term) and run it through the press again. "This," Fowler explained, "is very slow printing."
Printmaking is being taught in many colleges now, and there is a demand for offset printing equipment, such as mini portable clamshell presses that can print pages about the size of a wedding invitation or small book.
"The price of them has skyrocketed. This," Fowler said, showing his own tabletop press, "was a $50 paperweight 16 years ago that will now sometimes (sell for) $2,000 or $3,000."
Searching Craigslist, eBay and printing websites, Fowler was able to acquire his equipment for considerably less.
"I don't know what this says about my future, but in every instance, somebody died," he said. "A big press, somebody wants it out of the garage, they'll give it to you for a couple hundred dollars." In many cases, people gave him trays of type, spacers and dingbats they had no use for, but didn't want to just toss out.
Creating elaborately layered photos that are then individually printed out using photopolymer plates is Fowler's first love, but he does spend time on developing a traditional printing business, often producing small things including cards with a bit of a bite. (His Christmas card reads "Dear Santa, I'm writing to tell you I've been naughty. And it was worth it, you fat, judgmental bas#$%*") and a set of Tibetan Tonglen slogans, 59 meditations ("Don't transfer the ox's load to the cow." "Be grateful to everyone." "Don't ponder others.") to help Buddhists practice compassion.
Quarterly, Fowler holds daylong "Introduction to Letterpress" workshops, covering topics such as press operation, composing lead type and how to print on a polymer plate. It's how he came to meet Osborne and Nilles.
The Apprentices
Osborne, 31, was an art student at Florida State University when she told Nilles, 34, about the workshops and invited her friend to come along. Shortly afterward, the pair would both get engaged, so some of their first work was each other's wedding invitations.
"That was kind of our practice to see if we could do it and … test out our designing chops," said Nilles, who has been working with her business partner for three years. "We got really into it."
In one concession to modernity, the two don't physically set type like their mentor. Rather, they create designs on a computer and send them out to be made into polymer "plates" (they work like and resemble rubber stamps) to be used in the actual printing. This gives them the flexibility to incorporate artwork into their designs.
For one printing project, "the bride's father's did a drawing of the house they were getting married at, and we were able to press that on their invitation, which was very personal and special," said Nilles.
>
Alicia Osborne
ALICIA OSBORNE PHOTOGRAPHY
"We're never going to do the same design twice," avows Nilles. "We might take pieces here and there, elements from different things, but we'll never take the same design and plop in someone's name. They're all very much designed to the person … We really sit down and ask you what you want and look at examples together, and we get something that's really personalized."
When asked if they were getting rich off their craft, they answered in unison, "Oh no!"
Both have day jobs. Osborne is a professional photographer, and Nilles is an art and organic gardening teacher at SAIL High School who creates ceramics on the side.
One afternoon, the pair was creating 500 business cards for a friend who owned an event planning business. Osborne was just finishing up the front side, sliding the card-sized papers into a form, watching as the rollers inked up the plate and the press clamped down to transfer the ink to the paper, then quickly snatching out the printed card and putting in another blank.
The process for each individual card is quick — and a little bit dangerous. There is a short time window between presses, which can be slowed down or speeded up depending on the skill of the operator.
"When there's two of us here we work together; one's eyeballing and one's feeding," explained Nilles. "If anything goes crooked or if Alicia takes a little too long to put something in, I can flip it off real quick and kind of watch the speed. This is how we printed for the first year."
The two were practically giddy, exclaiming "Oooh, pretty" when the first few cards were imprinted on the flip side with a bronzy ink Nilles had created a few minutes earlier by mixing gold and red.
"Sheri and I will toot our own horn here," said Osborne. "We are really good at mixing colors. We can match whatever color you have in mind pretty well."
But the elation faded as Osborne noted that the ink on the cards' flip side hadn't completely dried and had ever-so-slightly smeared. They decided to wait a day and finish up. "We get real anal here," admitted Osborne, while scrutinizing the barely discernable smudge.
Between design, ordering paper, getting plates made and drying ink, it can take 10 days to two weeks for a project to be completed.
"People are like, 'Can I grab it next week?' And I'm like, 'Well, I wish,'" said Nilles. "It's a little tricky because there are so many steps involved."
The pair has contemplated the fact that much of their painstaking work is ephemeral, and ends up thrown away.
"It's hard," Osborne admitted. But, referring to her own wedding invitation, "I know where it came from, I still have one and my parents do."
In his online Flickr account, Fowler refers to his protégés as "my trusty printers, devils, sidekicks, associates and all-around lovers of letterpress." He joshes with them, chiding the young women for referring to printing tools as "doodads," "smushers" and "doodlelollies."
"Mika is always on our case because we never have the right terms for things," Nilles said.
But the sometimes sardonic Fowler wrapped up his commentary with a sentimental observation: "One of the things I love about sharing my craft is that I know these young women will carry my lessons and continue the craft of letterpress for decades to come."