Quincy's Drink of Choice
Dozens of the small town's families struck it rich by purchasing Coca-Cola stock — and hanging on to it for decades.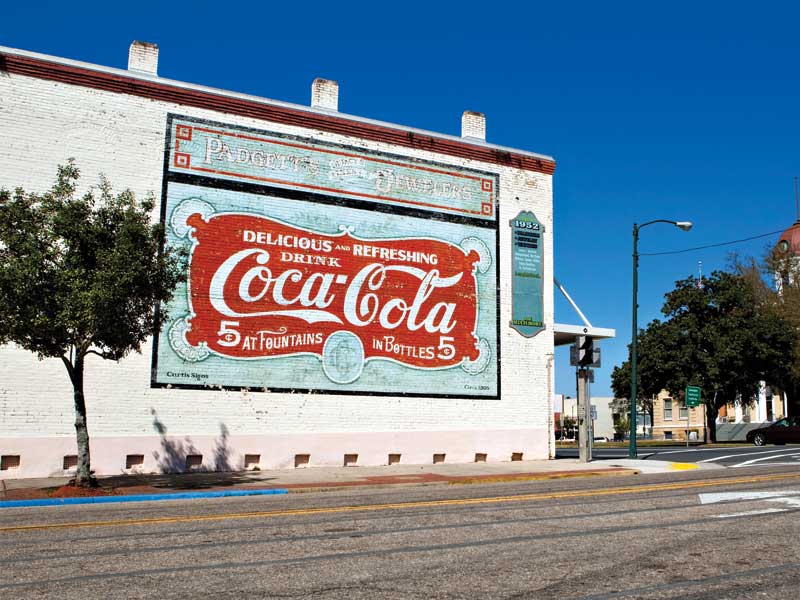 On the main square in Quincy, near the Gadsden County Courthouse, stands a coffee shop called Miss Helen's, a land surveying office, a hair salon and an art gallery.
Along the white brick wall of Padgett's Jewelers on the south side of the square is an eye-catching mural of an advertisement for Coca-Cola. "A delicious and refreshing drink. 5¢," the mural reads around Coca-Cola's Spencerian-script trademark.
The mural is a remnant of an era in which Quincy was home to more than two dozen millionaires who became wealthy by investing in Coca-Cola stock just after the Atlanta company went public in 1919.
In Quincy, population 7,000, the story of the "Coke millionaires" is well known. The tale is mentioned in history books, in Gadsden County Chamber of Commerce promotional materials, and in major publications dating back to 1968, ranging from the statewide business magazine Florida Trend to the conservative newspaper The Washington Times and Germany's Der Spiegel magazine.
But underneath this tale of unlikely millionaires is a town that, like so many others, struggles with poverty and a stagnated population.
Though their history is well documented, many facts are still missing about the Coke millionaires. And like many small-town mysteries, unresolved questions about the families have bred division. For instance, while most of the remaining Coke millionaires are white and maintain upper-middle-class lifestyles, the rest of Gadsden County remains overwhelmingly black and poor. The millionaires poured money into downtown revitalization projects and other philanthropy efforts. But there is ample evidence that the riches bestowed on Quincy amplified the division between the haves and have-nots, a division that dates back to the city's earliest days as a popular location for plantation farms that used slave labor.
A Stock Tip
The Coke millionaires' story begins with M.W. "Mr. Pat" Munroe, a Quincy banker.
Munroe was the son of Scottish immigrants who moved to Quincy to farm between the 1830s and 1850s. Most farmers at that time focused on tobacco and cotton.
Like many Southern communities, Quincy struggled to regain its footing in the aftermath of the Civil War. Prior to the war, Gadsden County was one of the wealthiest and most politically influential counties in Florida. Its assets made up
8 percent of the state's total, even though it had less than 1 percent of Florida's land, according to Florida A&M University history professor Larry Rivers.
The Civil War dismantled the county's plantation farming system, which had provided much of its wealth, according to "Gadsden: A Florida County in Words and Pictures," a 1976 book written by Miles Kenan Womack.
"The postwar search for a money crop led to the revitalization of the tobacco culture. It was also to become Gadsden County's first big industry," Womack wrote. Farmers grew shade leaf tobacco, a type grown under tents that protect it from direct sunlight. The tobacco is used as the outer wrapper to cigars.
In the midst of this turmoil, Munroe was born in 1860 and grew up during Reconstruction. He has been described as a tall man — 6 feet, 3 inches — who wore glasses and a bow tie and chewed tobacco in enormous quantities. He had 18 children with two wives.
"(Reconstruction) was a period that broke the spirits of many men, but it served as an era of opportunity for Mr. Pat," a 1968 Florida Trend article notes. Munroe became the president of Quincy State Bank and convinced farmers they could diversify out of bare subsistence farming by growing shade tobacco.
Munroe had ties with W.C. Bradley, an Atlanta businessman and one of the leading stockholders of the Trust Company. When Coca-Cola decided to put itself up for sale for $25 million in 1919, Bradley's Trust Company was one of several buyers, Florida Trend reported. "So Bradley was in on it — and so was Mr. Pat — when the three banks decided to issue 500,000 shares of new Coca-Cola common stock," the article read.
The shares were priced at $40 and Munroe loaded up on the stock, also urging local widows and farmers to invest. Eventually, the stock price would rise and the stock would split, making many Quincy residents rich.
To give a sense of the stock's value, a single share of Coca-Cola stock bought in 1919 for $40 would be worth $6.4 million today, if all dividends had been reinvested.
Of course, probably no one got richer than Munroe himself. Upon his death, the Florida Trend article noted, he left $1 million to each of his 18 children.
A Legend Fades
It's unclear how many families ended up investing in Coca-Cola and becoming millionaires. Some articles say it was about 24 families, while other news accounts claim there were as many as 67.
A Bloomberg News article from 1996 says that at the time, the Quincy millionaires owned 7.5 million shares of the stock, valued at $375 million.
"No one would dream of selling — or of letting their heirs sell," read a 1988 article in Coca-Cola's in-house magazine, Journey. "They put it in their wills," former Quincy State Bank president W.C. "Bud" Branson told Journey. "They say, 'You can sell anything else, but not the Coca-Cola stock. It's been too good to us.'"
One matter is indisputable: Quincy was a small city with some very rich residents.
Some articles say that more Coca-Cola stock was held in Gadsden County than anywhere else in the country, and one article reports that at one time, Quincy residents owned 68 percent of the stock. But Phil Mooney, the archivist and historian for Coca-Cola, is skeptical of such claims. He is quick to bat down other common local legends, including the one reported in a 1987 New York Times article that claimed Coca-Cola used a special messenger to travel from Atlanta to Quincy in order to collect proxies before the company's annual meeting.
Mooney said Coca-Cola is familiar with the story of the Coke millionaires, and he says these various exaggerations that have become local legend still don't undercut one fact: There are many in the Quincy community who have been long-term shareholders of Coca-Cola stock.
"On a per capita basis, considering the size of the community, it's a very significant event," Mooney said. He declined to provide more information about the number of shareholders, or their names, citing privacy concerns.
Over time, the power of Coca-Cola began to wane.
As the original investors passed along the stocks in their wills, their children, or grandchildren, either chose to cash in some of those investments or move from Quincy.
The investment affected the culture of the community in many ways.
"Growing up, we didn't have Pepsi products," said David Gardner, president of the Gadsden County Chamber of Commerce, who was raised in Quincy.
A Touchy Subject
One of the most well-known Quincy millionaires who remains a resident of the community is Julia Munroe Woodward, M.W. Munroe's daughter. A call to her home ended abruptly. "That's an old story, and I'm not interested in talking," she said, before hanging up.
Woodward, who is in her 90s, has been telling this story almost all her life, and showed hints of exasperation even in articles from the 1980s. "Daddy died in 1940, and it's amazing that people still inquire about it," she told Florida Trend in 1986. Another Quincy resident advised a reporter not to describe the families as "Coke millionaires."
"They don't like it," she said.
It is difficult to know who in town is a bona fide Coke millionaire and who isn't. Many still believe in buying and holding, which means they haven't lived a millionaire's lifestyle despite their vaunted net worth. It's a common misconception that the grand, historic homes that populate Quincy's downtown are products of the Coke money. In fact, tobacco farmers built most of the houses before Coca-Cola went public.
A reason for some of the sensitivity may be because majority-black Gadsden County is one of the poorest in the state, ranked near the bottom of all Florida counties when it comes to health care, education, income levels and other benchmarks of growth.
Gadsden also is the only county with a black majority in the entire state. Federal statistics show that the median income in Quincy, the county seat, is $29,393, with 17.4 percent of households making less than $10,000 a year and only 0.6 percent making more than $200,000 a year.
A conversation about the Coke millionaires with state Rep. Alan Williams, a Democrat who represents parts of Gadsden and Leon counties, quickly turns to Gadsden County's challenges. Using terms that one might use to describe a Third World country, Williams ticks off Gadsden County's wish list.
"We have a lot of water infrastructure issues," he said. "A good portion of the county is rural in nature," he said. "Adding a sewer is important to their livelihood, because then you provide jobs."
There also is no hospital in Gadsden County, although a four-bed hospital is scheduled to open in June.
"If someone has a cardiac arrest and has to be transported to Tallahassee, there's a strong chance they won't survive," he said.
Coke millionaires have certainly done their part to help Quincy.
But some changes are cosmetic. They helped restore the Leaf Theater and convert it into a performing arts center. They upgraded Centenary Methodist Church and helped install the dark green, old-fashioned streetlights in the historic downtown area.
Julia Munroe Woodward, especially, is said to have helped local residents with charitable efforts.
Still, sagging wood-frame houses with peeling paint and debris-filled front yards sit less than a mile from Quincy's revitalized downtown. Not far away is the cheery Coca-Cola mural on the wall of Padgett's Jewelers that beckons visitors to partake in a 5-cent Coke.