Quia Atkinson's Creations Light Up Faces
The artist finds inspiration in ideas furnished by her clients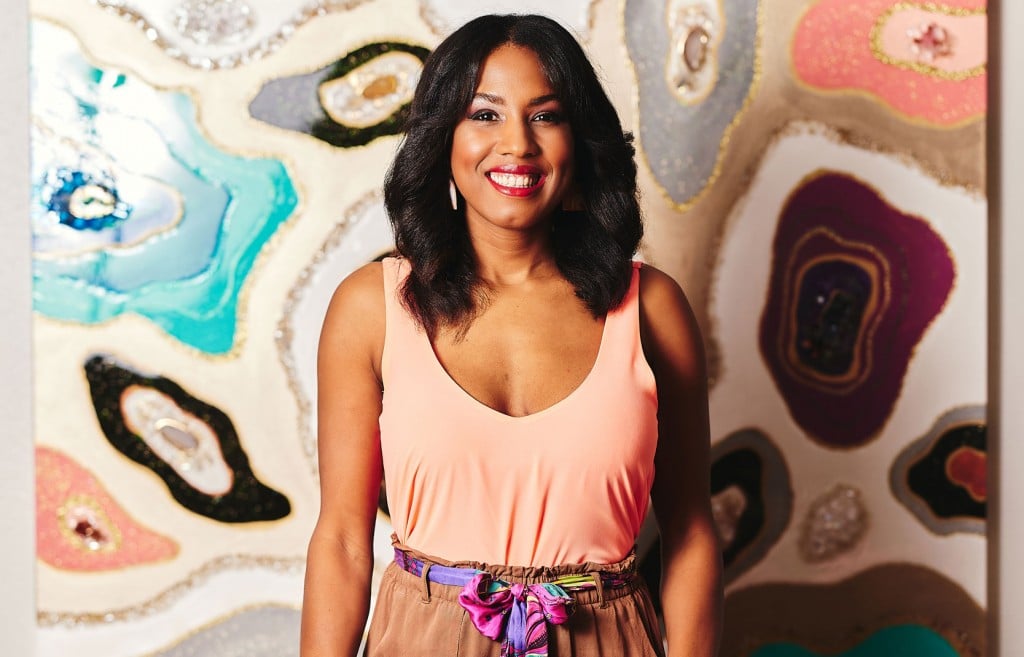 The pandemic has caused slowdowns and shutdowns for so many, particularly those in the arts, but Quia Z. Atkinson has bucked the trend.
"It was slow in March and April, but since then it's been nonstop," said Atkinson, a Tallahassee artist who specializes in three-dimensional, mixed media paintings and decor. "People are going crazy trying to renovate their homes and do stuff indoors because that's where they are. They're painting rooms and overhauling their spaces and that includes buying new art."
But to her fans, Atkinson's work means more than an addition to their homes. She conveys a spirit as dynamic as the vivid colors and sparkling gems that enliven her paintings.
"Her vibrancy, her positive outlook, her artwork itself — the colors and the way they explode off the canvas are what caught my attention," said Jim Taylor, president and founder of Auto Data Direct in Tallahassee. "She's such a positive person. Her kindness shows up on her canvases."
Atkinson sold her first painting, titled "Blue Storm," to Taylor in 2016. And when he was set to retire in September 2020, his employees asked her to create another picture for him. "Just a beautiful piece," said Taylor.
"I love that I'm creating something that makes someone happy just by looking at it," said Atkinson. "That's the biggest gift, the biggest takeaway from what I do."
She's not one to ignore suggestions from her clients, either.
"My clients are such an inspiration," Atkinson said. "I like to bring their ideas to life."
Atkinson's repertoire includes decorative items like coasters, cheese boards and luxury trays, priced from $60 to a few hundred, as well as paintings that vary in size from minis to large, three-piece installations, ranging from $150 to about $8,000.
Aside from her striking hues, Atkinson's work is known for embellishments like gold leaf, crystals, gems and crushed glass.
"Once I found resin, it enabled me to knock it out of the park," she said. "It added that luxurious look that I love for my work."
Atkinson began focusing on her artistic abilities about seven years ago, reviving a love of art that first surfaced when she was a little girl.
"I liked to draw things, but I never thought I was talented enough to think of it as a career," said Atkinson.
She started doing sketches of Disney characters as a child, one way she amused herself during travels with her parents, both U.S. Marines, and her two siblings.
"I went to 11 different schools from kindergarten to high school," said Atkinson. "I lived in Pennsylvania three separate times, in three different cities. We'd move every year-and-a-half to three years."
The family resided in several countries, from Rabat, Morocco, to Oslo, Norway, experiencing many cultures as well as life in varied U.S. locations, including Manhattan, Illinois, Virginia and Florida.
Her family faced trying times when her younger sister was diagnosed with brain cancer at age 9, while they were living in military housing in Pennsylvania. Atkinson was 13 at the time and her brother was 12.
"That pretty much turned everything upside down," she said. "After surgery, my sister was paralyzed on her right side. She had to learn to write and walk again."
Her sister, who survived her illness, is "definitely my hero. When I think about complaining, I think about what she went through at 9 years old. I never ever remember her complaining or whining. She was a miracle child, and now she's a miracle adult."
Atkinson and her family moved to Virginia when she was in high school. With a military scholarship, she attended Florida A&M University, where she earned a degree in health care management, and stayed in Tallahassee.
"I've lived here longer than any other city," said Atkinson. "It's home."
When she went out into the job market, she put aside her artistic bent until she began renovating her house.
"I painted one canvas," said Atkinson. "Then I could not stop painting. Painting became this thing I really loved to do. It was an outlet for me."
After selling her first painting to Taylor in 2016, she launched QZ Design Gallery — the Z stands for Zhamer (pronounced Shamere). For now, the artist works in the home she shares with husband Morgan Atkinson, son James, 16, her daughter Camryn, 15, and step-daughter Olivia, 9.
Atkinson also teaches art classes in her home, though due to the pandemic, she's reduced class size to one or two students at a time.
Aside from painting and family, she is also passionate about helping others. Atkinson donates art pieces to be auctioned for local fundraisers. And influenced by her parents' efforts to help orphans in Morocco, she has become an ardent supporter of an orphanage in Jinja, Uganda.
"I'm a regular contributor of what they need — if the kids are out of shoes or beans or mosquito nets. I want to visit them one day and lay my eyes on every one."
Closer to home, Atkinson said she has found her niche after years of searching.
"I've found what I love to do in regard to the media I use and the look I'm going for," she said. "People now tell me they can recognize my work when they walk into a room. That feels really good."