Quarterback Christian Ponder Brings a Little Dallas to Tallahassee
Doggie Daddy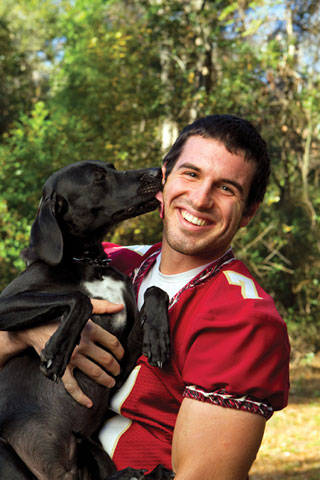 With a little time on his hands, a three-bedroom house and a big, leafy backyard all to himself, Christian Ponder was looking for a new best friend to spend time with.
But the former Florida State University quarterback had a few requirements.
This new friend needed to be young, lovable, obedient and into running. And he or she had to be a good sport about being locked in a cage most hours of the day and only going to the bathroom outside. What he really needed was a dog.
"I thought it was a good idea to get a dog while I had the house and the big backyard he could roll around in," Ponder explains. "(The dog) could keep me company."
After reviewing what was available through classified ads, Ponder decided to head down to the Tallahassee-Leon County Animal Services Center on a Friday afternoon in July.
While peeking inside the cages he noticed an adorable black Labrador retriever puppy with watchful brown eyes. This puppy was sitting quietly, in contrast to the hyperactive dog he shared a cage with. Ponder knew this dog belonged to him.
But a friend talked Ponder out of getting the dog that day and told him to sleep on it.
At 10 a.m. the next morning, Ponder came back to the shelter to get his dog, whom he planned to call Dallas, after his hometown. After paying $100, Dallas was his.
At first, Ponder says, it was an overwhelming transition.
"He was supposed to be sleeping in (his crate) at night and he would cry a lot," he says. "It was like having a baby, you had to get up all the time."
Like most young parents, he has learned a few lessons the hard way.
Feeling sorry for keeping Dallas in a crate while he was gone, Ponder decided to let his dog roam free in the bathroom for the afternoon. After all, what damage could he do?
While Ponder was gone, Dallas chewed into the pipe underneath the bathroom sink, letting water gush out. His next target was the bathtub, where he managed to turn the faucet on. Then he attacked the doorknob and somehow locked himself in.
"The bathroom was flooded and everything," Ponder says, laughing.
He's long since forgiven Dallas, who clearly worships his master. Dallas obediently sits when told to do so, occasionally needing an extra nudge from Ponder on his behind.
Ponder says his summer schedule before his final season was light so he was able to focus on bonding with Dallas. "As a puppy, when he was really small, I got to spend a lot of time with him."
Now the two are best friends, going on morning runs together and playing fetch at a nearby park. Ponder says he's grateful he got him from the shelter. "The animal shelter is a great place to go," he says. "They've got great dogs and it's a good deal."