Q & A: Delmar Smith
Florida's Oldest Barber Has Been Taking a Little Off the Sides For 75 Years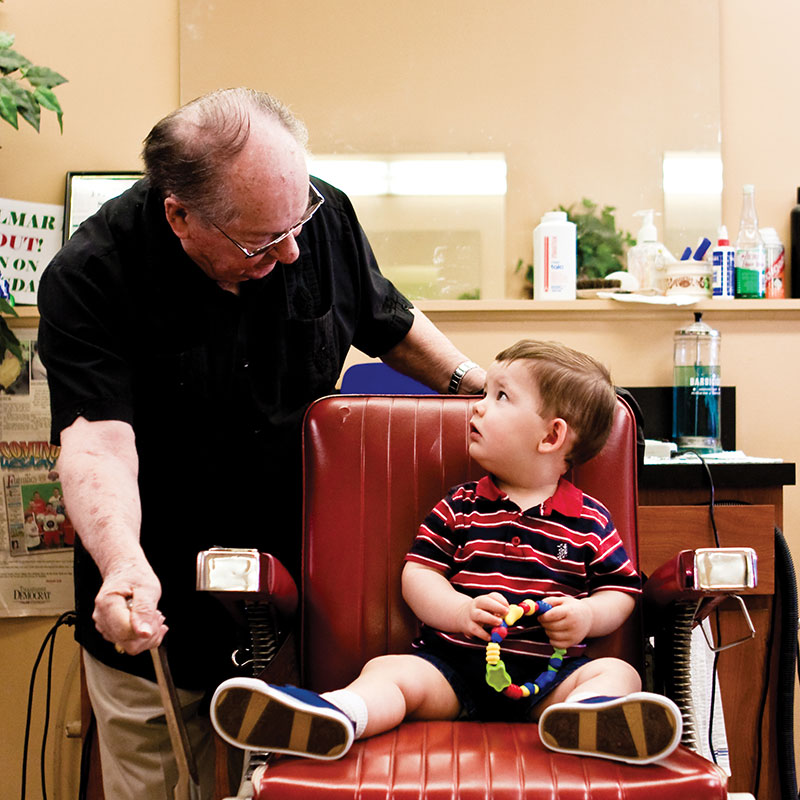 Most guys vaguely remember their first haircut at the barber. The only physical reminders might be a saved lock of hair and a Polaroid of us wrapped in a cape, sitting in the chair with a terrified look, bawling our eyes out. Even now, we still carry a small fear of the hairdresser taking too much off the top or, perhaps, slipping and clipping an ear. We search to find a consistent enough haircut that makes us willing to sit and wait for a specific barber, "our" barber, every time.
Delmar Smith has been that special barber for legions of customers spanning several generations. At age 95, he is the oldest licensed, practicing barber in Florida. Although many of his old customers have passed on, most who go to him for a cut keep coming back.
With hands as steady as a rock, the plainspoken nonagenarian explains to Tallahassee Magazine writer Andrew Butler why he keeps snipping away, despite being decades past retirement age.
---
Ellis Design & Photography, Jody Cenac Ellis, photographer
TM: How long have you been a barber?
DS: Since 1935, so for 74 years.
TM: What made you want to be a barber?
DS: When I was 20 years old, working on my daddy's farm in Georgia, a farmhand saw an ad for a barber school in Jacksonville (Florida Barber College) and applied to go there but was denied because it was a white-only school and he was black. My brother cut the hair in the family, and he heard the hand talking about the school, and so he thought he would give it a try. After he left, there was no one left to cut my family's hair until I coaxed my little brother into letting me cut his, and I've been doing it ever since.
TM: Did you ever consider a different job?
DS: I had just finished high school so I wasn't sure, but I knew I didn't want to be a farmer.
TM: How did you end up in Tallahassee?
DS: In 1935 I left my daddy's farm to go to the Florida Barber College, and on my way back to Georgia in November, I visited my sister in Tallahassee and never left.
TM: What, if anything, has changed in your equipment over the years?
DS: I pretty much use the same equipment. I've still got a belt (to sharpen razors) from the '50s and three or four pairs of clippers somewhere around here. The only real change is the vacuum clipper. I didn't like the change at first, but it makes things a whole lot easier.
TM: Has your technique changed over time?
DS: I changed my technique about half a dozen times. In the '60s, people liked their hair long, and there was the flattop, too. I put in a styling shop downtown in '69 and had that for a while before I sold it. (Fashion) changes around every few years, but I don't do too many different things than I used to.
TM: Is there a specific diet or regimen that keeps you healthy and your hand steady?
DS: No, I eat what's put in front of me.
TM: Is there anything that helps keep the job feel fresh, or do you prefer the routine?
DS: I prefer the routine. I only work one day a week now, so it's not so bad.
TM: What makes you keep cutting hair?
DS: I enjoy doing it, but I don't need the money anymore. I don't know what I'd be doing if I wasn't cutting hair.
For those in need of a fresh cut, Smith works at Chester's Barber Shop on North Monroe Street every Tuesday.