Pyrotechnicians Gather to Put the 'Wow' in Your Fourth of July Fireworks
Painting the Night Sky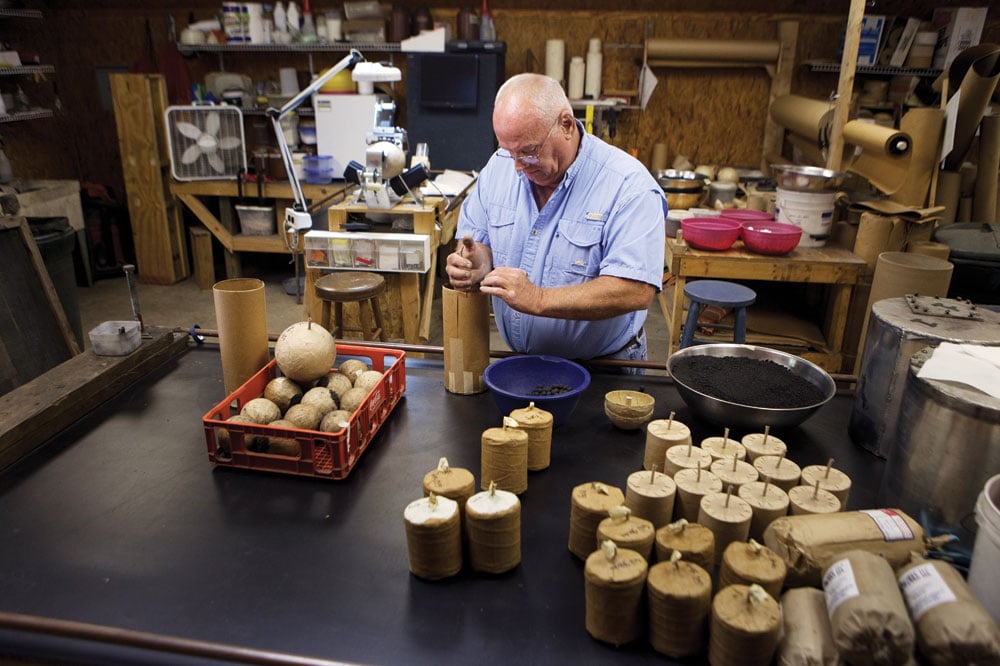 Isolated in a sparsely wooded field off a barely discernable trail, the small windowless cement shed with white-stenciled lettering on its red-painted steel door clearly warned of explosive materials inside.
In the midday sun, three serious-minded individuals worked quietly and rapidly, extracting boxes of brown-packaged combustible materials from the shed's dim interior and carefully loading them onto the bed of a pickup truck for transport. The three were intent on delivering the materials to a nearby staging area, visible through the trees on an adjacent field. Here, small groups of men worked diligently, digging narrow trenches, wiring firing mechanisms and putting into place mortars, rockets and blast shields, preparing for the coming engagement.
Not military recruits, would-be terrorists or battleground re-enactors, these are amateur and professional fireworks aficionados, preparing for the staging of a grand finale display. Members of the statewide Florida Pyrotechnic Arts Guild (FPAG), these individuals have been gathering nearly every fall for the last 20 years in a remote farm near the Leon County line in Jefferson County for three days of fun, learning, product demonstrations, business deals, friendly competitions and spectacular fireworks displays.
Participants will tell you the annual gathering — equal parts festival, business meeting and trade show — affords them an opportunity to indulge their love of pyrotechnics: handcrafting and setting off fireworks; meeting and exchanging ideas with like-minded people, some of whom are masters in the field; acquiring new skills and techniques in the art of fireworks-making; learning about the latest products and innovations in the industry; and getting to see some of the best firework displays anywhere.
And it all takes place in a remote, bucolic country setting where city lights don't mar the night skies, the explosions don't disturb neighbors and participants are free to pitch their tents or park their RVs and camp out.
Although the three-day gathering in Monticello is nowhere near as large, old or well-known as the weeklong convention that the Pyrotechnics Guild International Inc. holds each summer in the northern states, it's not uncommon for the Monticello gathering to draw hundreds of fireworks lovers and their families from around Florida, other states and even other countries. And the event accounts for hundreds of thousands of dollars in business transactions and showcases some of the field's cutting edge designs, techniques and technologies.
The pyrotechnics industry has its origins in ancient China (when a cook combined charcoal, sulphur and saltpeter to create gunpowder), and in 2009 alone generated $945 million in revenues in the United States, according to the American Pyrotechnics Association. With passionate adherents worldwide, practitioners of the art add sparkle and pizzazz to everything from birthdays and wedding parties, to indoor rock concerts, amusement park shows and outdoor celebrations such as the Fourth of July and New Year's Eve.
At the Monticello event, one is likely to encounter notable industry figures such as Tom DeWillie, a pioneer of indoor pyrotechnics and founder of Luna Tech, which once provided the special stage effects for such music acts as The Animals, Ted Nugent, Pink Floyd, Kiss and other rock bands; Jim Widmann, inventor and manufacturer of a computerized shell pasting machine that may well revolutionize the process; and Tom Rebenklau, renowned in the industry as a rocketry wizard. Not to mention countless fireworks manufacturers, retailers, suppliers, industry regulators and enthusiasts from all walks of life.
Convention attendees will tell you they are learners at heart and that their creations are largely labors of love. Indeed, they will dedicate innumerable hours designing and fashioning fireworks that, if the devices perform according to plan, will have a lifespan of minutes at best and bring them no reward other than the "wows" of the audience and the joy of knowing that they did it.
How many hours exactly? Rebenklau, who modestly describes himself as a hobbyist, but whom everyone else acknowledges as a master in the field of rocketry, smiled. He estimated he had spent approximately 300 hours on the rocket display that he was even then fine-tuning for Saturday evening's grand finale. And what was its life's expectancy?
"It should last about seven minutes, if all goes according to plan," Rebenklau said.
Artists in their own right, fireworks operators aim to awe and entertain with their artistry, which in their case takes the form of spectacular, choreographed bursts of lights, colors and sounds, played out against the backdrop of a night sky.
We're talking symphonic explosions and brilliant pulses of multicolored lights that in turn set off whistling streaks, shooting stars, glittering sparkles, spinning wheels, crisscrossing streamers, cascading waterfalls of fire and other stunning audio-visual effects that elicit appreciative "oohs" and "ahs" from audiences. The names of the effects are descriptive in themselves: peony, chrysanthemum, dahlia, willow, palm, spider, fish, horsetail and time rain, among others.
The true art, however, lies in the timing of the fuse-induced explosions and how the aerial shells and rockets break and spread their contents — actions predetermined by the pyrotechnicians, based on the arrangements and combinations of chemicals and metals, such as oxidizers, reducing and coloring agents, binders, regulators and more — that they mix into each "star" or clump that goes into a cylindrical or spherical shell. The mixture not only gives each display its unique signature, it also gives the entire enterprise an element of danger, which can result in dire consequences if the ingredients are mishandled, and which explains the government's heavy regulation of the industry, especially post 9/11.
But mix the ingredients just right (many of the formulas are closely guarded secrets, not unlike family cooking recipes), and the result can be quite satisfying audio-visual feasts.
Pyrotechnicians are not unlike the alchemists of old, except that where the latter failed to convert base metals into gold, pyrotechnicians generally succeed at taking common everyday items such as cane, paper and strings and transforming them into results that are quite stunning and mesmerizing.
W.O. Bullock is just such an artist, as well as being a licensed pyrotechnics manufacturer and the man who hosts the FPAG fall conventions on his family's 150-acre farm in rural Jefferson County. Because Bullock is a licensed manufacturer, the Bureau of Alcohol, Tobacco, Firearm and Explosives, which regulates the industry, permits the activity on his property.
Besides being building inspector for Monticello and Jefferson County, Bullock is owner/operator of Pyro Works, a Monticello-based pyrotechnics company that annually stages Monticello's highly rated Fourth of July fireworks show and also produces shows in other north Florida communities and as far away as the Caribbean on occasions.
Like most pyrotechnics enthusiasts, Bullock's fascination with fireworks dates from boyhood, when his father bought him his first firecrackers and sparklers. A traditionalist, as Bullock calls himself, he likes to make his gunpowder from scratch and hand manufacture his cylindrical and spherical aerial shells (which he produces in halves), using the papier-mâché method of layering one application of paper over another until the desired thickness is achieved. Extremely time-consuming and methodic as this process is — it can take weeks to make a single shell — Bullock says he finds the exercise personally satisfying and somewhat therapeutic, like a form of meditation.
Before sealing the halves together, Bullock will pack each shell with the appropriate mix of gunpowder, chemicals and metals, using for his measurements and combinations either a personal or an industry-standard formula that is supposed to assure the desired audio/visual effect. Although many formulas are secret, particularly among the bigger companies, a lot of the information gets shared nowadays, especially given the nature of the Internet. Even so, the results tend to be unique.
"We could be given identical amounts of ingredients and formulas and, like in cooking, we would still derive different effects," Bullock says.
He calls pyrotechnics an evolving field, and one that has certainly come far from its humble origins. Indeed, it's that evolution and the endless possibilities of effects, in combination with the constant innovations in the industry, that keeps pyrotechnicians' interest lively as they strive to develop new products and effects that define them personally or score big in the industry — or, at best, do both.
As in other fields, it's often the case that hobbyists contribute the innovations because they are willing to experiment, Bullock says. Unfortunately, it is also often the case that hobbyists don't document their experiments, which means the results can't always be readily duplicated.
Bullock says he is, at heart, an entertainer.
"I find pyrotechnics mystifying," he says. "It's something I enjoy doing, and I also enjoy other people seeing the fireworks and being mesmerized by them. That audience feeling is conveyed to me. It's like a singer doing a performance and getting a standing ovation. If it's done right, everybody applauds, and you know it."
He will also tell you that, not unlike many a stage performer, he gets deathly ill with nerves right before each show. True, he depends on a host of trained volunteers to assist him with the setup and the firing of the fireworks (the preparations alone can take a good day or more for a 30-minute display), but he ultimately answers for the show, good or bad, he says. And once the fireworks start, there is no calling back a mistake or doing a retake if something goes awry. At best, he may have seconds to react and correct a potential mishap, by manually overriding a particular segment in the series of preplanned and sequential firings that he controls via wires from a remote switchboard.
In terms of safety and error elimination, the electrical firing system he currently employs is vastly superior to the old-fashioned method of individually igniting the fireworks by hand, Bullock explains. His hope, however, is eventually to be able to upgrade to a computerized firing system. Not only do computerized systems assure almost flawless performances, they also afford the fireworks operators the luxury of being able to sit back and enjoy their own shows.
For sheer spectacular state-of-the-art fireworks displays and cutting edge developments, few shows can top the FPAG grand finales, where some of the best professionals in the field compete to impress and outdo each other.
A little girl at last fall's grand finale show possibly best summed up the display: "Mama, it's a fairyland."