Puzzled by Office Potlucks?
Dazzle Your Coworkers With Recipes that are Unique, Healthful … and Delicious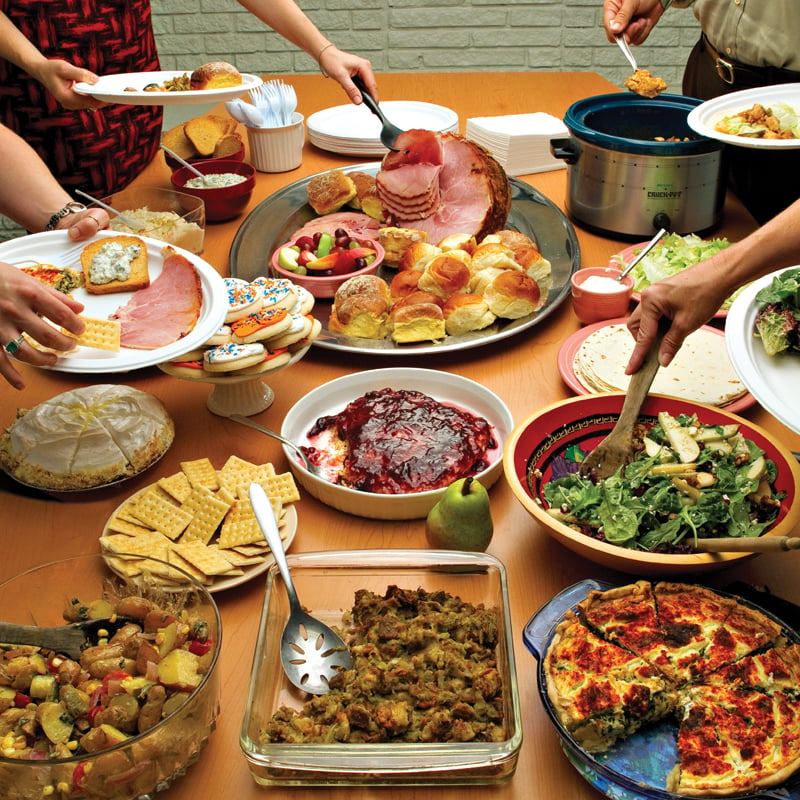 The sign-up sheet for the office holiday potluck meal is on the wall. Candice, queen of workplace cookery, is bringing her always-popular, super-rich, triple-layer Hummingbird Cake. Stan signed up for plates and napkins. The boss is kicking in for a spiral-sliced ham.
That leaves the rest of us casting about for the "perfect" potluck offering. Do we want to create something impressive? Bring a crowd-pleasing dish that's scooped up first? Or provide a healthful alternative in what's sure to a sea of fat-filled casseroles?
Meanwhile, the office environment creates challenges and limitations on what to bring. Many workplaces don't have full kitchen facilities, so there's a line at the microwave waiting to heat up the cooked dishes. And there can be a long time lag between when the item is heated and when it gets eaten.
After reaching out to Tallahassee Magazine readers via Facebook, we've assembled a collection of office-ready recipes and strategies for having a successful office potluck.
Dalay "D.J." Johnston is the owner of Your Secret Pantry, which offers do-it-yourself meals and side dishes as well as catering. In fact, a huge part of her business at holiday time is selling side dishes such as broccoli and cheese casserole and mashed potatoes. Through her work, she knows what works in the office environment.
For those who want to keep it simple, a fruit tray is a good idea. "It's easy to do and stuff doesn't have to be warmed up," she says. "When I do catering, my fruit trays always go first before the vegetables." Popular fruits are berries, pineapple and watermelon.
Shrimp trays are "impressive and not a lot of work," or consider appetizer meatballs, Johnston suggests. "Meatballs are a nice little hors d'ouvre and you can make (them) in any kind of sauce."
If your dish needs oven time, Johnston advises bringing your toaster oven from home.
"Plug it in right by your desk (and) you're going to be all set," she said. "I thought about that because that's always how I cook all my dinners instead of warming up my huge oven." (Shameless Plug: All Your Secret Pantry side dishes fit in a toaster oven.) But if your food is pre-cooked at home, a cooler can actually keep hot food hot.
Johnston advises home cooks to not go overboard — just make a single recipe of whatever dish they want to bring, even if the office has many workers. With so many people bringing food, there's always plenty.
With the overabundance of food at office lunches, it's popular to leave the leftovers out to so coworkers can "pick on" them throughout the afternoon.
Avoid that temptation, counsels Johnston. "I'm sure nobody wants to hear that, because that's what people do," she says. "When food remains in the temperature danger zone for longer than four hours, microorganisms can grow to levels that could cause someone to get sick," The "danger zone" for potential bacteria growth is between 41 and 135 degrees, according to the caterer.
Hot foods should be kept at a temperature above 135 degrees, she says, which can be accomplished by using a chafing dish and Sterno. Disposable versions are inexpensive, but you must keep a pan of hot water between the flame and the food or it will burn.
Potluck hits are often amalgams of weird ingredients that somehow taste good together. We're sharing two: Krystal Burger Stuffing and Raspberry Cheese Spread. The former is a dressing made up of chopped up Krystal burgers (the closest restaurant to Tallahassee is in Moultrie, Ga., so your chances of bringing a double are slim) and the latter combines cheddar cheese, onions, pecans, mayonnaise and raspberry preserves to create a spread that's a delicious appetizer.
While overindulgence is usually a potluck theme, Shannon Colavecchio asks that we bring a different attitude when we belly up to the buffet this holiday season. A manager at Moore Consulting Group, she coordinates the in-house wellness program at her office, is a certified personal trainer and instructor at Sweat Therapy Fitness and writes a fitness blog (badassfitness.com) that includes advice and healthful recipes.
"I think people often think potlucks have to be this all-you-can-eat buffet of comfort foods like casseroles, macaroni and cheese and pot roast," Colavecchio says. "I'm a big advocate of balance, so there is room for those things. But why not make the dish that everyone talks about — something unexpected or something that is healthy but doesn't scream 'Eat your veggies!'?
"Instead of macaroni and cheese, make a couscous salad with feta, garbanzo beans, cucumbers, olives and roasted red peppers," she says. "Even traditional casseroles like the Campbell's green bean casserole can be lightened up by using fat-free cream of mushroom soup and skim or 1 percent milk instead of the regular soup and whole milk."
She's also a fan of Crock Pots. "The slow cooking means that very little fat needs to be added to make a moist, delicious dish. Chili is great for that, and it serves a crowd."