Putting Their Lives Into Pet Care
Call it more than a pet project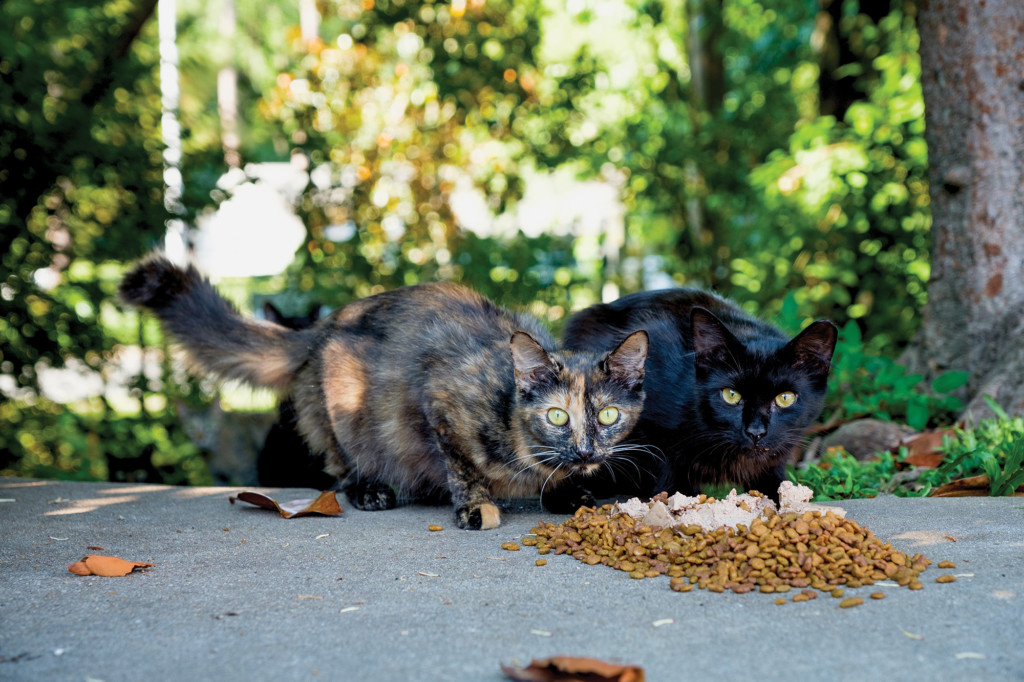 It's that compassion. It's that connection.
"It's that look in the eye. It's that purr," said Tallahassee resident Jo Ann Alford.
Alford, president of the It's Meow or Never nonprofit organization, summed up why she puts so much time and energy into relieving homeless cats and kittens of suffering.
"The love of the animal," she said.
In the U.S., there's a lot of that going around, perhaps more than ever. Surveys and a proliferation of animal-rights and animal-rescue organizations point to growing awareness and action on behalf of dogs and cats in particular.
Pet ownership continues to grow nationally, and more people are humanizing their cats and dogs, according to a 2017-18 American Pet Products Association survey. That includes buying gifts, throwing parties and "feeding their pets as they do themselves," including an increase in organic or grain-free options.
Tallahassee is showing the love. Coffee shops that target cat lovers and embrace homeless felines are opening, and restaurants are welcoming dogs with Fido-friendly outdoor areas. Visit BringFido.com, and observe all the Capital City's coveted five-bone restaurant ratings.
"We've got a very engaged community that loves animals," said Lisa Glunt, executive director of Leon County Humane Society.
That's perhaps most apparent in the people and organizations devoted to saving the lives and relieving the suffering of animals, particularly cats and dogs.
People are fostering animals through the Leon County Humane Society and the City of Tallahassee Animal Services, for example, in an effort to save them from euthanasia and to get them into permanent homes, often through social media. They're actively feeding and caring for homeless dogs and cats in the wild, and they're helping to find homes for them.
"I think it's certainly a fair assessment to suggest that people's outlook on animals seems to have evolved over the years," said Jeff Doyle, animal control supervisor for the City of Tallahassee.
In 2018, the city-run shelter took in 5,206 animals, all but 106 of them dogs, puppies, cats and kittens and most of them strays. The annual intake number has held at around 5,000 over the past few years, well down from a decade ago, when the shelter typically took in 10,000, Doyle said.
He attributed that in part to social media, which he said "gives people an opportunity to rehome an animal without bringing it to a shelter."
Naturally, the number of animals that the city shelter euthanized through last year — 1,388 — also reflected a downward trend.
"We want to exhaust all reasonable efforts to save an animal, and space can be a challenge," Doyle said. "As you can see, it is sometimes a reality but not as frequent as a decade ago when you were dealing with twice as many animals."
Officials and advocates attribute that in part to efforts of nonprofit organizations and volunteers to spay and neuter dogs and cats, particularly homeless ones.
Take Alford's organization, It's Meow or Never. The Tallahassee-based volunteer group promotes adoption and fostering of cats and kittens and care for feral cat, or community cat, colonies in and around Tallahassee.
The group also emphasizes the practice of Trap-Neuter-Return, or TNR, which animals-rights advocates say fights overpopulation, reduces suffering, decreases shelter populations and cuts the need for euthanasia.
"Our mission is to end suffering," Alford said.
Community cats live in colonies with other cats and kittens who were born in the wild or who have been lost or abandoned. They seek refuge in abandoned buildings and cars, the American Society for the Prevention of Cruelty to Animals says, and they face infection, disease and starvation. Almost half of kittens born outdoors die in their first year, the ASPCA says.

Alford says her group manages about 40 such colonies in the Tallahassee area. The colonies number from three to four cats to more than 40, she said.
To each colony, she said, the group assigns a caregiver who every day provides food and fresh water and who, from November through March, maintains makeshift shelter that includes something soft such as blankets or hay for the cats to sleep on. The cats receive worm and tick medicine every three months, she said.
The group also spays and neuters cats in the colonies and, following common practice, clips the tip of one of the cat's ears while it's under anesthesia for spaying or neutering. That signals to caretakers and advocates that the cat has been spayed or neutered and doesn't need trapping and capturing again.
The organization doesn't clip cats that it thinks it can socialize and put up for adoption, Alford said.
She said the organization spayed or neutered 1,145 community cats in 2018.
Once spayed and neutered, Alford said, colony "ages and dies, and then that colony's gone. Our goal is to make sure they don't repopulate."
City of Tallahassee Animal Services says the practice also stops the stresses associated with mating, including fighting.
"Anecdotally, I think we are seeing fewer kittens and puppies" brought to the shelter, said Doyle, of Tallahassee Animal Services. He said that indicates "a spay and neuter element in our community."
Nonprofit groups are making it easier. The Tallahassee Animal Shelter Foundation says it provides vouchers for no-cost spay or neuter surgery, and a Tallahassee-based organization called Be the Solution offers vouchers that provide spay and neuter surgery at reduced costs.
Be the Solution says participating veterinarians perform the procedures at a fraction of the cost "because they, too, are committed to ending pet overpopulation." Since 2007, the organization has spayed and neutered more than 25,000 pets, it says on its website.
Yet the homeless pet population remains a concern. Glunt, of the Leon County Humane Society, cited estimates of around 20,000 community cats in the Tallahassee area.
Her organization prioritizes getting animals into foster homes and eventually into permanent homes, she said, and through late last year it took in a record 850 animals, many of them older or with special needs.
She also said the organization has noticed more unneutered dogs coming into its facility, "I would say more recently, in the last year or two."
"So you're inclined to ask why," Glunt said.
Big Dog Rescue, a Tallahassee-based organization, says it spays and neuters all dogs in its program, including little ones, as part of its mission to rescue as many dogs as possible from "abuse, abandonment, euthanasia or other dire circumstances."
Big Dog Rescue takes dogs from animal shelters in Tallahassee, Wakulla County and elsewhere "after their time is up" and puts them in foster homes, said Sheree Brown, the organization's secretary. The group took in about 300 dogs in each of the past two years, perhaps slightly more than in previous years because of Hurricane Michael and other weather-related events, she said.
Tallahassee includes its share of stray dogs — the city shelter took in more than 1,500 including puppies in 2018 — though stray or community cats and kittens far outnumber them.
"I think there are far more people willing to help a dog than help a cat," Brown said. "That makes me sad as an owner of both, but I think that's a general feeling."
But cats have plenty of heroes, including Tallahassee resident and pet sitter Jackie Chelette. She calls trap-and-return "a more humane way of controlling the community-cat population, rather than what was done before, which was considered trap-and-kill" because cats would be taken to a shelter and most likely euthanized.
Chelette said she and her husband have managed a feral-cat colony in the Tallahassee area for about eight years. The colony once grew to about 25 cats because people were dumping unwanted cats there.
Chelette said she and her husband adopted two of the cats and, with the help of the Leon County Humane Society and the City of Tallahassee animal shelter, have found homes for many of the others.
"They're like throwaways, and they deserve a better life than that," Chelette said. "They need to have somebody help them."