Putting Pedals to the Mettle
Tallahassee, with its canopy roads and technical trails, wows bicyclists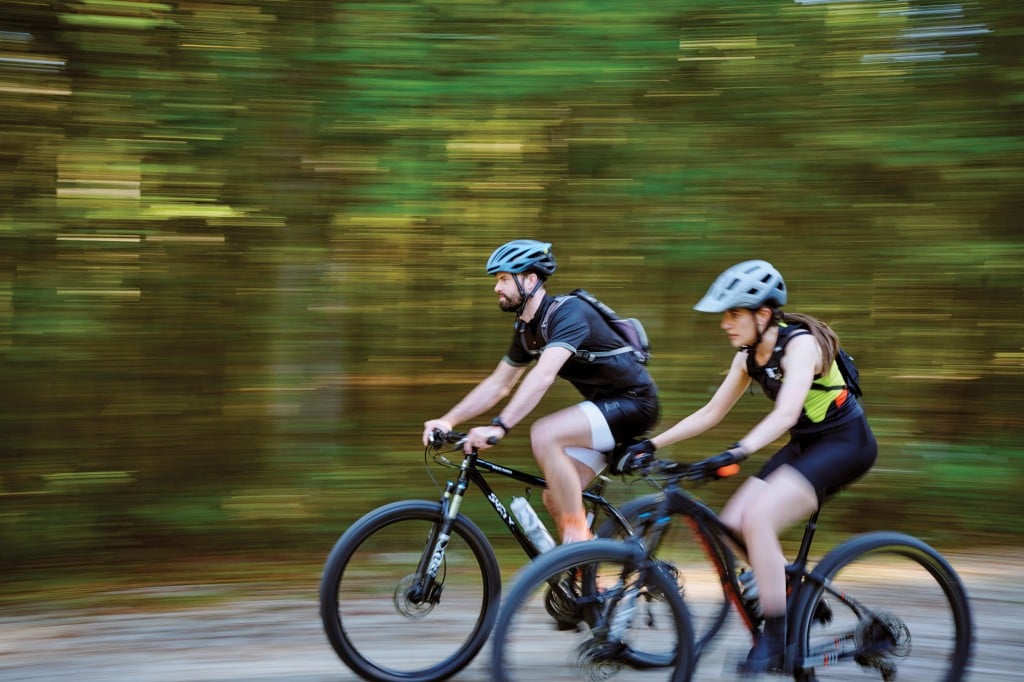 With dozens of trails, thousands of riders and multiple clubs devoted to the sport, Tallahassee is home to a thriving cycling community whose members find the activity makes for healthy bodies and minds.
And, there's this: Tallahassee's most devout pedal heads say it's just plain fun.
Groups including Capital City Cyclists and the Tallahassee Mountain Bike Association host numerous free and open weekly rides for people of all ages and experience levels.
As the president of CCC, Jim Mann knows why cycling inspires devotion. He is one of two octogenarians who takes part in the club's weekly "Riding Not Working" gatherings. A peloton of retirees, including Mann, complete 36-mile rides as a way to stay social and active.
Mann has been a cornerstone of the Tallahassee cycling community since 1986 when he joined CCC. He leads or organizes numerous meets, including October's Spaghetti 100, which attracts about 300 riders and features five on-road and off-road courses.
Since his retirement in 2004, Mann has biked from San Diego, California, to St. Augustine; Key West to Bar Harbor, Maine; and Astoria, Oregon, to Yorktown, Virginia.
"I don't get tired of it," Mann said. "If I'm off my bike for a week or two because of weather or
minor illness, I get pretty antsy to get back on. Frankly, as far as trying to stay on the right side of the grass, cycling has done a lot for me."
It's true, cycling has been proven to keep your ticker ticking. A 2017 study published in The BMJ, a peer-reviewed medical trade journal, concluded that cycling significantly reduces the risk of developing or succumbing to cardiovascular disease. The study also suggested that regular cycling could reduce the risk of cancer. And, a 2019 study from the Public Library of Science found a clear correlation between cycling and improved cognitive function in older adults.
Tallahassee is home to mountain bikers, road cyclists, triathlon trainers and those who simply use their bikes to run errands.
John Tan was in the latter category until about 10 years ago. A quality assurance analyst for Brandt Information Services, he decided he wanted to improve his health, so he grabbed his old bike and a few friends and started checking out the trails.
"Over time, I picked up the desire to ride all of these different trails that we have in town," Tan said. "That's how it started for me, and I think that's how it starts for a lot of people. Once they've had a chance to ride the trails, they're hooked."
The St. Marks Historic Railroad State Trail, J.R. Alford Greenway and Alfred B. Maclay Gardens State Park mountain biking trails are some of his favorites.
While Tan enjoys cycling alone, he also sees it as a great way to meet and connect with friends. Tan goes out with a small group at least once a week, when the weather permits, and has also connected with other cyclists through social media fitness apps such as Strava.
Melvin Jones, a solution consultant with SeeUnity and self-styled "data geek," first got interested in cycling some six or seven years ago through co-workers. At the time, a trip up the office stairs left him out of breath. Something had to change.
"I would always try to work out at the gym," Jones said. "I would go for a month or two, but it would end up boring me. With cycling, I didn't feel like I was exercising even though I was getting my butt kicked out there."
What started as a quick three-mile ride around the neighborhood on a used bike quickly evolved into an obsession, with Jones hitting the roads and trails around Tallahassee several days per week, often riding 30 or 40 miles at a time.
Jones likes to mix things up, too. Sometimes he powers through obstacles to challenge endurance, balance and speed. Other times, he goes out to explore or simply unwind. During the rainy season, he uses his off-road bike to find forest trails and pick chanterelle mushrooms. When work is challenging, he spends his lunch break pedaling through mental blocks.
"I know I'm training my mentality as well," Jones said. "I depend on the physical training to help me push through difficult situations at work or in relationships. It really comes full cycle for me."
For many, drive to ride intensifies mile by mile.
While the term "runner's high" is familiar, the intoxicating bicyclist's high also releases helpful chemicals with an added element: speed.
Jim Mann
President of CCC
"I don't get tired of it. If I'm off my bike for a week or two because of weather or minor illness, I get pretty antsy to get back on. Frankly, as far as trying to stay on the right side of the grass, cycling has done a lot for me."
John Tan
Quality Assurance Analyst
"Over time, I picked up the desire to ride all of these different trails that we have in town. That's how it started for me, and I think that's how it starts for a lot of people. Once they've had a chance to ride the trails, they're hooked."
Melvin Jones
A Solution Consultant
"I know I'm training my mentality as well. I depend on the physical training to help me push through difficult situations at work or in relationships. It really comes full cycle for me."