Purposeful Documentarians
Three committed youths confront social inequities with action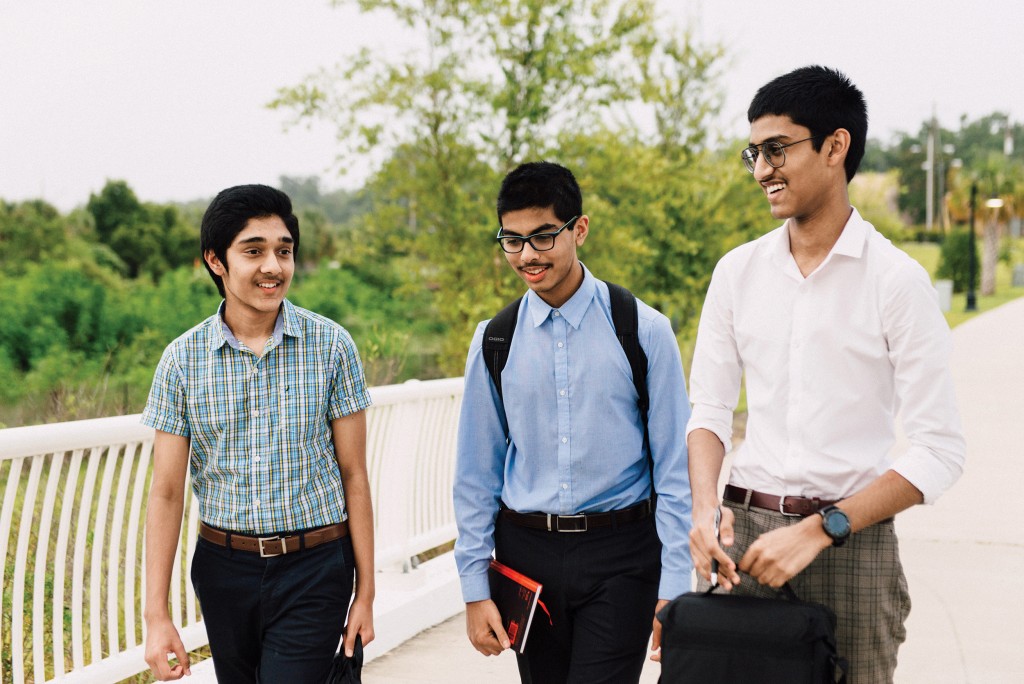 Tallahasseeans have absorbed a lot in the last year — a pandemic, economic reverses, social unrest and Mother Nature's reactions to climate change.
Young people, whose aspirations, experiences and scholastic lives have been dramatically affected by all of this, are properly concerned about the world they will inherit. Among them are some who do not content themselves with electronic distractions and will not let only "grown-ups" handle what they see as communal problems. For example, a small band of Rickards High School students is working toward solutions to daunting problems facing society today.
Generation Z Media comprises a trio of tech-savvy 16-year-olds with a passion for all things digital — and a social conscience. Ananda Chatterjee, Ishan Vepa and Roshan Mettupalli, all Tallahassee youths whose personal résumés are burgeoning with awards in math, science, violin and chess, are young men aware of their own good fortune and the opportunities they have enjoyed. Their realization of what other members of their generation do not have became the impetus for the creation of Generation Z Media.
"If we, as young people, so privileged in life, with access to so many resources, don't do something, then we are part of the problem," said Chatterjee, whose awareness of opportunity disparities "keeps him awake at night." So much so that he almost forgets to mention his own striking accomplishments, including his trip to Berlin last year as a participant in the International History Olympiad or his third-place finish in a statewide Model U.N. competition.
He has played violin with the Tallahassee Youth Orchestra for the last eight years and recently released a violin recording that has been played for residents at Allegro Senior Living.
Beyond those achievements, Chatterjee is laser-focused on learning, organizing, and producing media and action that will help alter the lives of people whom he sees as just like him, minus the opportunities.
Mettupalli describes himself as a "techie." His parents are software engineers, and he loves math and science. He competes in the Science Olympiad, and can't get enough chess. He sees the Generation Z project as a means to help others not as fortunate as he is.
"That is our only reward here," he said. Thinking about some of the initiatives the group has already begun, the Youth Poverty Documentary, the Immigrant Awareness Project, and recent fundraisers and food drives for those impacted by COVID-19, he said he keeps in mind the foundation for all they hope to do — "the Founding Fathers' emphasis that we are all created equal."
Vepa says that "all things STEM" are what excites him. His mother, a registered nurse, and his father, a computer programmer, are technically skilled. Yet, Vepa, with those same digital talents, said it is the social outreach that inspires him at Generation Z.
The nearly professional production quality of the Youth Poverty documentary, which features interviews with youths, as well as community leaders like Talethia Edwards, director of the Greater Bond Community, and Freddy Branham, executive director of Echo Outreach Ministries, was the result of hours of interviewing, editing and technical production done by the three Rickards students.
The second documentary film completed by the trio is the first in its Immigration Series.
Generation Z's website introduces it this way: "Many members of our team are proud to be the children of immigrants. Immigration and identity are some of the issues that our generation is most passionate about. This short documentary focuses on the experiences of a South Asian community in Tallahassee."
Chatterjee said both he and his father have been targeted with disparaging comments dating to when Ananda was in grade school.
"They asked if I lived in a teepee or a log house," he said. Later, in a Publix, he saw his father, the director of financial aid at FSU, shoved by a customer and told to "go back to the country you came from."
The trio believes that such behaviors are the result of a lack of accurate information, and the divisiveness in the nation today can be ameliorated when many can speak and all will listen.
Recently, following their Go Fund Me campaign, Generation Z Media presented checks to Echo Outreach Ministries, The Greater Bond Community and plans to gift software to a selected youth interested in editing and infographics. The group has already developed "branches" in Tampa and Miami with the same goals as Tallahassee.
The capital city has good reason to be proud of the champions of Generation Z Media.
Generation Z Media
A key part of the advocacy group's mission is to understand challenges confronting today's youth by consulting activists, directors of nonprofits, public officials and others. See thegenz.org.