Prose that Flows
Award-winning author Doug Alderson shares his well-documented trips along moving waters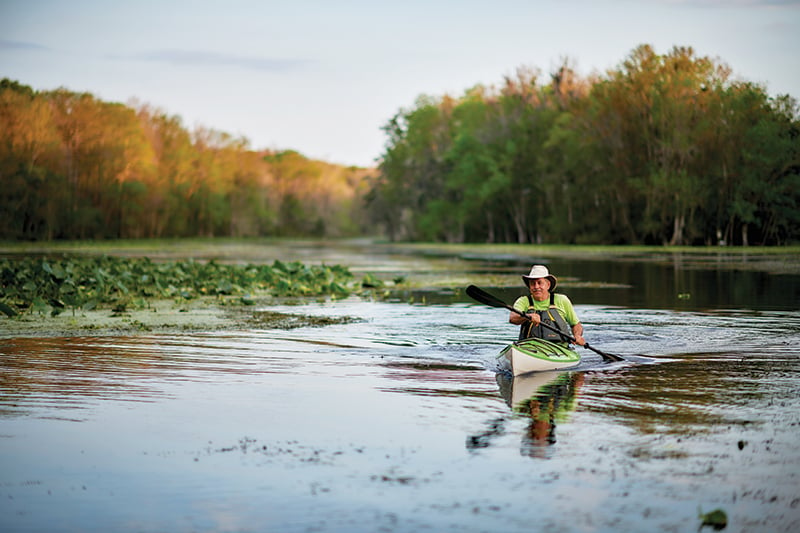 "Florida rivers are seductive. Imagine gliding along a clear watercourse beneath a leafy canopy of maple, cypress and gum. The current swirls eelgrass in undulating patterns as schools of silvery mullet shoot past. Ahead, a manatee's snout breaks the surface in a loud whoosh, its gray body lumbering slowly along and showing little fear as you pass by. A red-shouldered hawk cries and soars over treetops while a black anhinga stretches long wings to dry while perched on a cypress knee. This is Florida, and the scene plays out daily in the Sunshine State."
— Doug Alderson, Florida's Rivers
On any given sunny Florida Monday, Doug Alderson meanders down Wacissa River in his trusty kayak, his notebook at the ready and his camera in his dry pack. Inspiration strikes at every bend of any river in the state. And Alderson wastes no opportunity to bring the beauty of Florida to the page for readers.
Only years of exploration downstream could have resulted in one of Alderson's latest accomplishments, Florida's Rivers, an account of the natural beauty and history of more than 40 of the Sunshine State's waterways. It's also the Florida Authors and Publishers Association 2022 gold medal awardee for both adult general nonfiction and coffee table books.
Alderson's prose speaks to Florida's environment as vividly as his photography, with historical accounts weaving in and out of the storylike narrative. This is not so much a guidebook as a piece of inspiration, a collection of words and images that tempt you toward riverbanks.
"The best feedback I enjoy is when people will say, 'I read your book, and that's how we planned our vacation because your book inspired us,'" said Alderson.
Across his 15 books published since 2005, including his latest, Discovering Florida's Coast, Alderson rewrites Florida's reputation of being little more than a Disney World, beach-bum, swamp haven. But the writer hat is just one of many he wears.
Alderson has worked as an environmental lobbyist, a naturalist for the Tallahassee Museum and as the outreach and advocacy director for the Apalachicola Riverkeeper nonprofit organization. He spent 15 years at the Florida Office of Greenways and Trails, where he is employed again now, maintaining the area's kayak and canoe trails. Despite that full-time career, he's found that diligence in the evenings and on weekends has served him in producing published works many times over.
"It's kind of like hiking a long trail, like the Appalachian Trail," said Alderson. "You just do one step at a time, one day at a time. You don't think about the end; you think about that day. It helps you get to the end."
Nature has always been the greatest wonder for Alderson, who, in 1975 at the age of 18, hiked the entire Appalachian Trail over the course of five months. "That was kind of a life-changing event," he said.
He wrote about that experience, and it was published in a 1976 issue of Campus Life magazine. That gave him his first taste of national recognition.
Alderson credits his initial environmental intrigue to Tallahassee. A transplant from Chicago at age 11, he was seduced by the moss-draped oak trees of the historic capital city and has maintained that appreciation. It would seem only fitting that he is now at work, in conjunction with Visit Tallahassee, on a book about the city's upcoming bicentennial in 2024.
Alderson is a creature of Florida habitats. This is where he learns and grows, where he finds inspiration and where he feels most at home.
"Since I first started writing, it always ties in with the environment or the outdoors in some way. It's just part of my purpose in life, I guess. It's nice. Some people go a long time in their life before they find their purpose. I was just fortunate to find mine at a young age."
---
Good Reads
Florida's Rivers and other works by Alderson can be found in Tallahassee at Midtown Reader, My Favorite Books, Barnes & Noble or ordered online.
---
---