Promoter Scott Carswell Reflects on The Moon, Showbiz and Finding Joey Ramone Sleeping Under a Table
A Self-Made Niche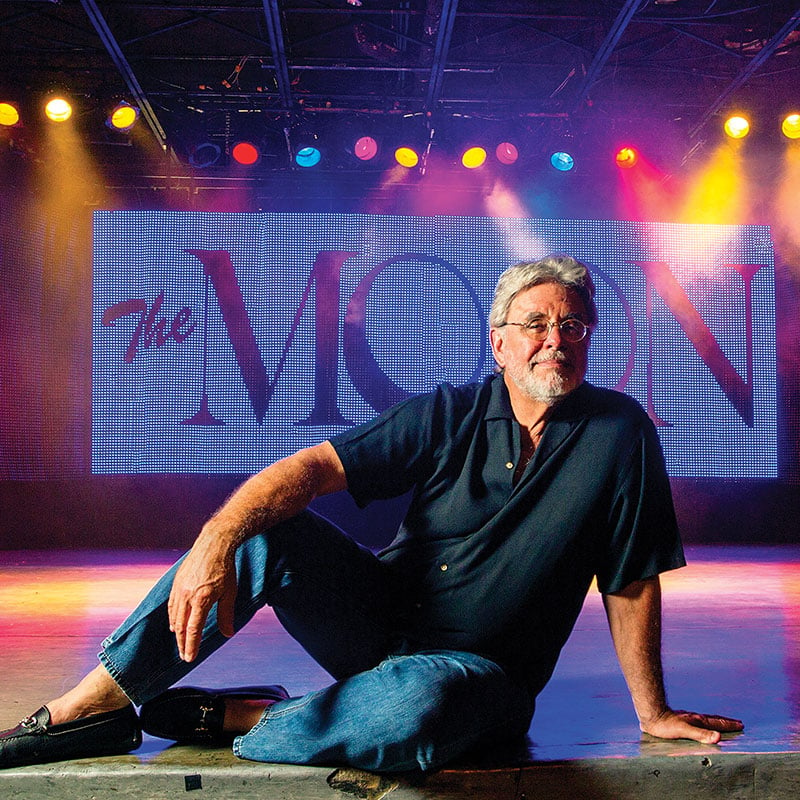 Scott Carswell looked around Jake Gaither Auditorium. Nearby, girls from Florida A&M University were falling like logs at his feet. But it wasn't the 16-year-old's charm and good looks causing the mass swooning. No, it was the crazy dude on stage, a guy named James Brown, streaked with sweat, shouting into the microphone and doing his trademark splits that drove the ladies wild.
It was 1967 and Carswell was at his first concert ever, in a packed college auditorium with no air conditioning. He remembers the scene vividly to this day, 48 years later.
"It was hot, women were fainting everywhere — the only security issue I had being the only white guy in the room was dodging these women who would faint when James did his split," he said. "They'd come down like a live oak. When James hit the stage, nobody was sitting down. It was a great show, and I've been a James Brown fanatic ever since."
Since then, it's been a long and winding road for the man who runs The Moon, Tallahassee's premier music venue, which first opened its doors 30 years ago in 1985. Although a music lover who's played in his share of small bands and brushed shoulders with some talented entertainers over the years, Carswell didn't exactly chart a clear course in that direction. Nor did he actually plan on making a big impact on the cultural landscape of Tallahassee. It just sort of happened that way.
"It provided me a job doing just what I wanted to do, but I kind of fell into it and just invented my own job. But in terms of the town, I just filled a niche," he said. "Anyway, I'm just thankful Tallahassee has supported us for 30 years. There's been some highs and some lows, that's for sure; but all in all, we've been very lucky and happy to be doing what we're doing."
It was little experiences here and there that led to the creation of The Moon. In his early days, the Tallahassee native and Florida State University graduate worked as an accountant for a Nashville nightclub owned by renowned saxophone player Boots Randolph (of "Yakety Sax" fame), recorded ambient sounds for Walt Disney World, ran his own recording studio in nearby Monticello and enjoyed playing R&B. His biggest inspiration, though, has to be his involvement with Boots Randolph's venue.
"By virtue of doing that nightclub, I always wanted to have a music room," he said. "I think another thing that really influenced me was Studebakers," a large, popular nightclub on Apalachee Parkway located where Olive Garden now stands. "A friend of mine here in town was very instrumental in all the Studebakers, and they had this ('50s and '60s music) theme, and I wanted to have the opposite of that. I wanted something that was not the same every night."
But back then, that just wasn't done. Every "music room" was themed. Venues either had a '50s theme or catered to disco or the country music crowd. None of them flipped back and forth. Carswell challenged that conventional thinking.
"Why couldn't you have country, and why couldn't you have R&B? And why couldn't you have jazz, and why couldn't you have folk music? Why couldn't you just do everything? The room should be neutral," he said. "Everybody said, 'You know, that just won't work. Nobody has a club that jumps from white people to black people, black people to old people, or old people to kids.' In the early to mid-1980s, nobody had ever had a room that went back and forth. You had your theme, and that's what it was seven nights a week. And I'd say one of the most interesting things that will go down about The Moon, forever, is that it was the first club in the country to ever do it."
Scott Carswell with Willie Nelson
Courtesy The Moon
It was just crazy enough to actually work. But where would he put this new concert venue? Oddly enough, in an abandoned grocery store. The empty A&P building on Lafayette Street, to be exact. The structure was renovated and the interior engineered to recording studio quality, a wooden dance floor was installed and 130 tons of air conditioning was added. ("With that air conditioning system, I can drop it to 59 degrees before we open the doors. In the summertime, we sell air conditioning," he said.) The only thing needed was a name. Actually, they had part of a name but couldn't come up with the rest of it. That all changed one night in October 1984, in the form of an astronomical event as he sat in his car in the parking lot. It would come to symbolize the neutrality of the venue.
"Right up over the A&P came the biggest harvest moon you ever seen. We had the name; we liked the name 'Musical something' but I could never get the last name," he said. "And then I was sitting in that car looking and here came that moon right over the A&P cupola and that was it — Musical Moon. And then we dropped the 'Musical' years later, just called it The Moon."
It was the perfect name for a generic, non-defining and neutral music venue.
"Everybody has stories about the moon, of a feeling of the moon. It's not young people, old people, black people, white people, Chinese people, Latin folks — everybody has a moon story or moon songs, all races and genders. It's cross-cultural," he said.
So, too, is the diverse selection of acts that have graced the stage at The Moon. And not flash-in-the-pan groups, either. We're talking legendary performers like Willie Nelson, Bonnie Raitt, John Prine, B.B. King, Gregg Allman, George Clinton, Dionne Warwick, Hall & Oates, The Temptations, George Strait, The Judds, Joe Cocker, Pat Benatar, Tab Benoit, Merle Haggard and hundreds of others. On top of that, every Wednesday is Ladies Night, followed on Friday night by country dance club Stetsons On The Moon, and Grown Folks Night on Saturday night.
Three thousand shows later, The Moon is still in business, and Carswell has plenty of great stories to tell. One of the funniest involves The Ramones, a group he said was known to be "kind of whacky." Anyway, right before curtain time, lead vocalist Joey Ramone turned up missing.
"When it got time for The Ramones to go on stage, somebody comes screaming, 'We can't find Joey!' I'm like, 'My God, you can't find Joey? What do you mean? He's the star of the show! He was just here, I just saw him five minutes ago,'" Carswell said. "Everybody is frantically looking all around. Well, I go back in the dressing room. We had a table in there with food that had a tablecloth on it. And I just happened to pick up the tablecloth … and there he was, sound asleep. I had to wake him up, drag him out of there, for him to get to work. So, that was a funny night of panic — we had to find the star under the food table."
Carswell's 30 years of experience with showbiz — including marketing, promotion and all other forms of production — recently propelled him into the role of show producer at the new Capital City Amphitheater. In 2013, Leon County put out an RFP request for proposal for the position, which he applied for and won.
"I am the contractor that puts on the shows in the park," he said. "We do the ticket sales, I buy the acts, sell the tickets, settle the show, promote the show, soup to nuts. Everything. Sound system, gatekeepers, ticket makers, security, cleanup, the whole nine yards."
Aside from his showbiz connections, another factor in the company's favor is his longstanding relationship with the Tallahassee community. The Moon has hosted booster events, charity shows, banquets and fundraisers for such causes as Big Bend Hospice, United Way, Red Cross, Boys & Girls Clubs, Pyramid Studios and more. Carswell said The Moon hosts about 30 nonprofit benefits a year.
"We try to donate the building and help everyone that we can," he said. "Somebody told me there's more nonprofits in Tallahassee than any other town our size in the country. There are a lot of good things going on in Tallahassee. And it's hard to turn any of them down because they're working so hard to make something right happen."
Meanwhile, the neutral, nonpartisan venue provides a great location for politicians to gather.
"We try to give the building as much as we can to all people. It doesn't matter if I agree or disagree with them. If they want to have a crowd and tell their side of the story, then I need to let them do it," he said. Unlike other venues such as Ruby Diamond Concert Hall or the Civic Center, Carswell can waive rental fees if he wants to. It's his place, and he can do what he wants to help out.
"If I want to give somebody the room and help out with a cause, that's my decision," he said. "I'm lucky to be able to make that decision. If I was working for a public venue, of course you can't do that. So it gives me a lot of flexibility that I enjoy, because I enjoy people."