Prom Goes Posh
Body-Hugging Gowns, Simple Hairdos and Dating Role Reversals Highlight the Special Night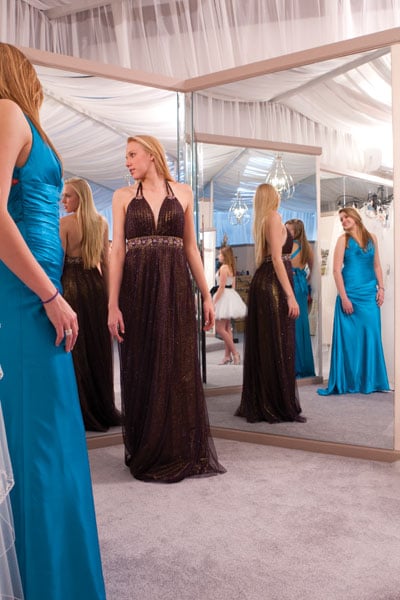 Visions from the Ghost of Proms Past: big hair, bright-colored dresses, cheesy photos and the drama of finding a date (because you absolutely could not go alone). While the cheesy photos are likely to be an artifact that lives on in eternity, fashion and dating rituals have certainly changed since the days when poofy taffeta sleeves were all the rage.
This year, local high school girls favor a more polished, understated look. Brooke Eubanks, a junior at Leon High School, describes the trends as "long and strapless, usually silky, with an abstract pattern or sweetheart neckline. Jewels are kind of tacky."
The girls' dress shops of choice range from stylish boutiques such as Narcissus and The Studio to bigger department stores like Dillard's and Macy's.
Dana Steele, owner of Belles N Beaus Bridal and Formal Wear (located three miles north of the Georgia state line on Highway 319), says tighter-fitting dresses are in vogue.
"A lot of girls are looking for a pretty back or front, and the majority are going for slinky, floor-length dresses," she says.
Roberta Fiorito, another junior at Leon High, says Nicole Miller is the designer for girls to keep in mind this year.
"As far as dresses go, it's muted colors like blues and greens and purples — things that don't look like everyone else," she says. "You want to be original."
Eubanks says hair and nails are also a must, and generally reflect the clean, uncomplicated dress trends.
"We usually get our hair done — a lot of people go to the same places — but nothing too complicated, just simple and pretty."
In terms of dates, creativity and planning are key, but there isn't necessarily a boys-ask-girls rule. Many girls forgo the drama of asking or being asked out by a particular boy and instead choose to spend the evening with one of their close guy friends.
"Things have kind of changed," Eubanks says. "Girls have started asking, if they know there's a guy they want to go with."
Fiorito agrees, explaining that "a lot of girls try and get their dates way in advance and plan everything."
Despite this moderate role reversal, there is still plenty of pressure on the gentlemen to impress the ladies.
"Usually the guys write on their car with car paint or try to think of different ways to ask girls," Eubanks says. It's also not unheard of for "singletons" — whether male or female — to go stag.
The hours just before the prom are generally a flurry of activity, when girls and their dates gather at their friends' houses to exchange flowers, pose for countless pictures and head off to dinner together. From there, Eubanks says, party buses are the preferred mode of transportation to the prom.
"Limos are fun," she says, "but they're kind of cramped because there are usually big groups."
After the dance, many students take buses to the beach, "usually St. Theresa or Alligator Point," according to Eubanks, to chat and exchange stories about the night's excitement. In other cases, savvy parents plan a post-prom party or breakfast to safely wrap up a fun evening.
Hair
Annie Myers, a stylist at Haute Headz Salon, says hairstyles this year lean toward a softer look, rather than very done-up and pinned-back. Following magazine trends, she says girls are going for "more of a classic look than an out-there type of thing. Soft curls, a little more body — everything's kind of airy."
Tuxedos
In terms of guys' attire, it's all about coordinating with the girls. Hayley Mann, owner of Vows Tuxedo, says, "As far as tuxedo vests go, most guys are trying to match colors with the girls' dresses. They'll bring in swatches, and there are so many different shades and colors that most of the time it's not difficult to match what's going on." Mann says classic black tuxedos are the most popular, though she does receive the occasional request for a white tuxedo or Zoot suit.
Flowers
For corsages and boutonnieres, Rebecca Sheffield, manager at A Country Rose Florist and Gifts, recommends spray roses — a smaller, daintier kind of rose. "They make it a lot more petite and not as heavy. Then of course, there are also dendrobium orchids, for something a little more different." She says wrist corsages are typically the way to go, and they can be jazzed up with pretty silver or iridescent wristbands, ribbons, or even tiny rhinestones.