Private and Public Sector Come Together to Benefit Refugees
Hurricane season unites sectors to promote community resilience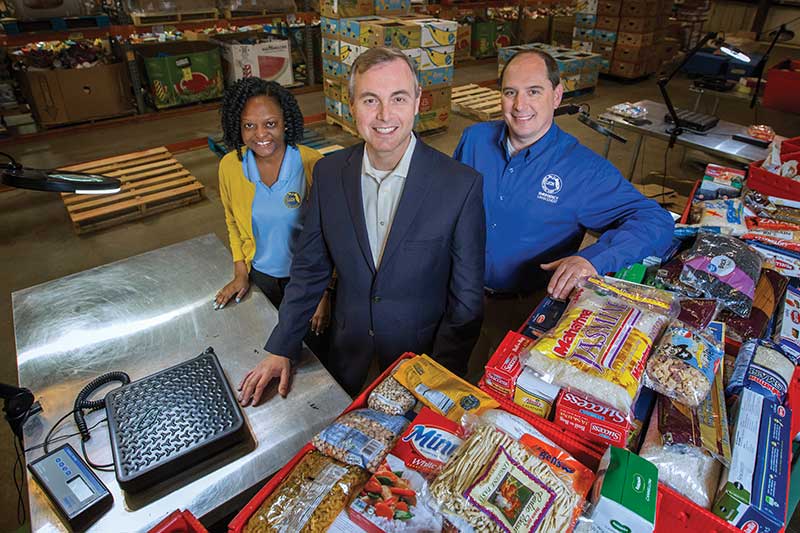 Last fall, a group of local volunteers distributed 100 parcels, each containing three days' worth of emergency food supplies to some of Tallahassee's most at-risk residents: refugees.
Refugees new to this area typically have no experience with hurricanes or with preparing for a power outage in their new homes.
Certainly, many of them had lived without power in refugee camps, but living without power in an urban environment is very different and requires different behavior.
The volunteers, including translators, met with Mathieu Cavell, assistant to the Leon County administrator for Community Relations and Resilience, who gained permission to have the county's Disaster Survival Guide translated into Swahili and Arabic and to prepare 72-hour emergency food kits for recently arrived refugees.
Second Harvest of the Big Bend was enlisted to supply ready-to-eat foods for the project at a very low, by-the-pound cost.
"The project of supplying Tallahassee's refugees with emergency food supplies and a Disaster Survival Guide aligned well with our preparation and resilience message," Cavell said. "With a little forethought, we were able to equip people to prepare for a disaster. We want people to be proactive, instead of reactive."
Rick Minor, CEO of Second Harvest of the Big Bend, attended the food-kit distribution event, which took place a week before Hurricane Irma knocked out power throughout much of Tallahassee. He was struck by the surprise the refugees showed when they were given their kits.
"It's almost like they couldn't believe that anyone could be so generous to them," Minor said.
People who are food-insecure are the most vulnerable to disasters, he added.
"It typically takes them much longer to recover, too," he said. "For example, if I lose the food in my refrigerator due to a disaster-related power outage, I can go to the store and restock my fridge as soon as the power is restored.
For a family living in poverty, though, it can take weeks before they're able to fully replace the food they lost. That's why it's so important for us to help them prepare for an emergency.
If provided with sufficient food and water, they can more quickly regain financial self-sufficiency after a disaster. This, in turn, accelerates the rebound of Florida's economy, which is a benefit to all of us."
Cavell and other members of the Community Relations and Resilience team are eager to implement the Emergency 72-hour Food Supply Project into their regular hurricane-preparedness schedule, and the Disaster Survival Guide is now available online in several languages.
Cavell said interest from private citizens who speak up about needs and possible solutions helps make the area more resilient.
"Engaging the help of citizens with issues that we face together is an important way to find solutions to those issues," he said.
Be Prepared
Hurricane season starts June 1 and ends Nov. 30. The Leon County office of Community Relations and Resilience aims to prepare residents, visitors and businesses for hurricane season and to facilitate recovery after a disaster. There are opportunities this spring for the public to take part in disaster preparedness.
May
Citizen Engagement: Citizens engage in activities and discuss emergency-related topics with nonprofit partners, preparedness experts and Emergency Management staff.
June
Multi-Agency Hurricane Exercise:  Throughout the month, Leon County tests the abilities and capacity of a joint response and recovery effort.
Hurricane Season Kickoff Press Conference: County staff convenes a press conference with local government, emergency management and emergency response agencies to promote disaster preparedness.
4th Annual Build Your Bucket Event:  Students in grades 4–6 participate in a webinar that covers hurricane hazards, forecasting, preparedness and more.
Disaster Survival Guide Distribution:
The annual Disaster Survival Guide (found online at
haveahurricaneplan.com
) is distributed at key sites for the public.
Use Your Resources
The Citizens Connect
 mobile app, available for iPhone and Android devices, provides users with a single source of up-to-date emergency information that has been verified by public safety agencies, emergency management professionals and crews in the field.
The information includes shelters, evacuation routes, road closures and power-outage reports from the City of Tallahassee and Talquin Electric.
It includes time-tested advice needed in disasters including hurricanes, tornadoes, floods and wildfires.
It also includes instructions on removing debris after a disaster, avoiding hazards such as downed power lines, and avoiding price gouging.
Learn more: Leon County Emergency Management at (850) 606-3700 or Leon County Community and Media Relations at (850) 606-5300