Prepare to be Amazed by Branson's Natural Wonders and Out-of-This-World Entertainment
Wholesome Homeland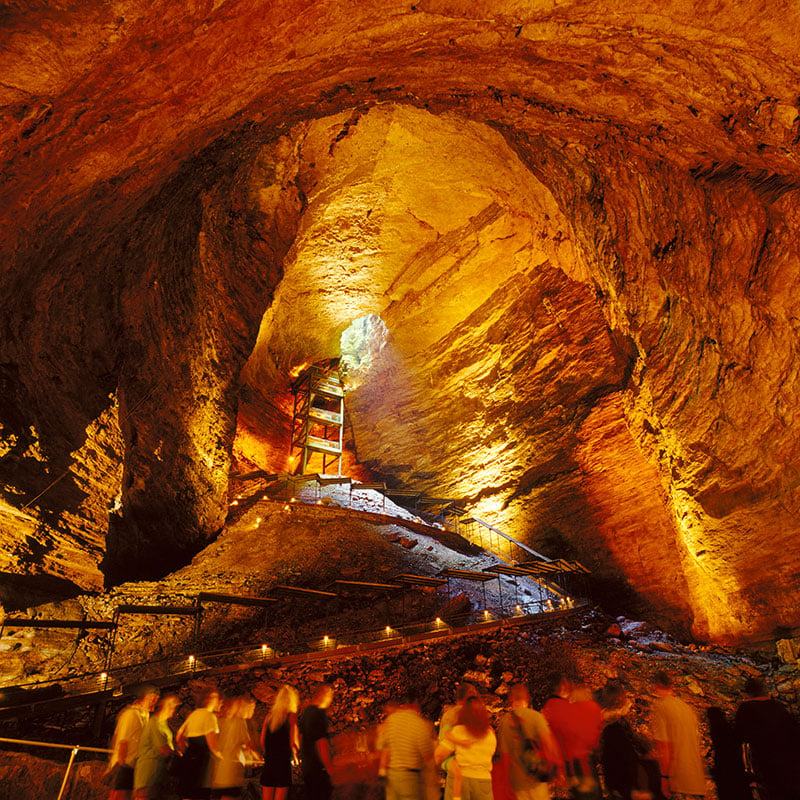 We've all heard of the Las Vegas Strip and its loud, flashy and sometimes racy shows. An exciting experience, but maybe not ideal for everyone, especially families. Now I want you to picture the excitement, talent and entertainment of the Vegas strip, but far from the Nevada desert and without the more tawdry aspects.
With bright lights and pure talent, tucked away in the mountains of Missouri is a booming natural-wonder tourist attraction — the city of Branson. On the fast track to becoming the entertainment capital of the Midwest, Branson is a hotbed for mature musicians, skilled craftsman and talented stage performers, all vying for your attention.
Flying from Tallahassee, you'll land in Springfield, Missouri. It's about an hour's drive from Branson, so make sure you find some good music to listen to for your ride into town. If you consider yourself a scenic-route lover, you will enjoy just about every ride you take on this trip.
The road curves, up and down through the limestone. Gigantic mountains hover beside you, almost as if you're slicing right through them with every glide of the next turn. Pine trees replace skyscrapers, and every passerby is a golden ticket away from stardom.
From cozy bed-and-breakfasts to impressive mountainside log cabins, your stay in Branson is guaranteed to be comfortable. I lodged at The Village at Indian Point in a five-person cabin nestled amongst the pine trees on a small lake. A full kitchen and living room really made it a home away from home. A large outdoor balcony overlooking the mountain with chairs for relaxing and a fire pit was an incredible addition; however, the Jacuzzi was my personal favorite touch. The cabin was located about 30 minutes away from all the hustle and bustle of the Branson strip, so it was very much a relaxing retreat.
A Little History
Back in 1869, Henry T. Blow discovered a massive cave in Branson. Nearly 20 years later, another set of explorers entered the cave and thought it was filled with tons and tons of marble. After this initial discovery, people began to migrate to Branson to view this "marble cave," and from all the activity emerged The Marble Cave Company. Unfortunately, the company would later discover there was no actual marble. No matter. People started to sojourn to the small town to experience the cave. Silver Dollar City purchased the cave another 50 years later and began offering guided tours for visitors, earning it a new name — Marvel Cave. This was the turning point of development and entertainment in Branson.
With more and more traffic coming through Branson, the city began to expand. The burg's only attraction was the cave, and locals would stand aside its entrance to entertain the tourists in line. This was the birth of the entertainment industry in Branson.
On the Strip in Branson
Fast-forward to today: Route 76 is a booming entertainment cornucopia. Venues are packed next to each other, enormous show halls surrounded by all different types of exhibits, with flashing lights and marquee signs guiding you down the strip. There are 50-plus live shows and exhibits within a 5-mile radius. Route 76 is the new lifeline of fresh talent in the Midwest. It's hard to believe all this is housed in such a small town, but here lies the mecca of Branson's entertainment industry.
Within a 24-hour period, I was able to enjoy many different types of Branson entertainment. I started with a chilling exhibit of the Titanic with real artifacts, including actual life vests from survivors of the accident, and moved on to electric live-musical performances cast completely of family members. Another highlight was a duck boat tour through the Ozarks, a local area in Branson, and splashdown into the Ozarks River. The opportunities for fun and excitement are endless.
The spectrum of entertainment is immense, with shows from The New Shanghai Circus' Acrobats of China, a high-flying Cirque du Soleil-style show, to a live game of "The Price is Right." It's easy to find something you'll enjoy.
And this doesn't even begin to cover the musical performances. Branson has a heart for country music. Missouri locals display their musical talents at some of their biggest shows: The Baldknobbers Jamboree Music Show, The Duttons and SIX. These shows run year-round, and in their busy season (March through December) will sell out. Luckily, I got to see SIX perform live. This six-man a cappella group uses nothing but their voices to create songs and music. They performed popular country songs and hits from the 1970s, '80s and '90s. The whole auditorium was singing along, a truly powerful musical experience.
Unlike any live shows or tours I've experienced before, Branson really made me feel at home. All the performers and guides make an effort to connect with you, and because of this you really feel connected to the city itself.
One show that resonated with me was The Haygoods. A live musical performance composed of five brothers and a sister, it features 15 different instruments and mind-blowing special effects and pyrotechnics. Their music style varied from traditional country, to rock, all the way to electronic. I was in no way expecting this — and when the show's finale began, I was truly in disbelief.
When the show ended, their instruments lit up with neon lights and the pyrotechnics took off; lasers, fog, cannons shooting fire, LED full-body light-up suits, the works! I forgot I was in Branson and felt like I was in Hollywood! You could feel the connection of the performers; they were so captivating, and you genuinely felt a part of the family.
Branson Off the Strip
Strap in and tighten up, because we're going off the strip.
Outside the entertainment district is an entirely different side of Branson. I spent an early morning trekking out to the depths of the woods to zip through the treetops of the enormous pines at the Branson Zipline and Canopy Tours. Heights aren't my favorite, but the tour is crafted to bond group members together to really make it an unforgettable experience.
My afternoon was spent at Branson's most famous theme park, Silver Dollar City, home to The Marvel Cave. I was upside-down on all different types of rollercoasters and captivated by live showcases of different arts and crafts such as glass-blowing, candle dipping and farm-fresh cooking classes. Silver Dollar City is a must-see.
Silver Dollar City also hosts the Showboat Branson Belle, a 278-foot-long, 2.5-million-pound, 700-passenger riverboat. We got to enjoy our dinner and a show afloat the Ozarks River, aboard the Branson Belle. During this season, they were showcasing the talents of the ShowMen and Janice Martin.
The ShowMen are a talented group of young men — and, might I say, easy on the eyes — performing Top 40 songs with lighting production that was out of this world. They were followed by Martin, the world's only aerial violinist. I never thought I'd see the day when I witnessed a violinist perform upside-down from an aerial silk, but, hey, this is Branson!
For the long-awaited Marvel Cave tour, we ventured 300 feet below the surface, traveling a whopping 600 steps (yes, 600!) to enter the main area of the cave, The Cathedral Room. It was an incredible view. Just to give you an idea of how large this room really is, to celebrate the cave's birthday in 2010, Silver Dollar City inflated seven hot air balloons inside the cave. They had the capacity to fit 10 but didn't want to endanger the wildlife.
The 200-foot-wide entrance of the cave is the only source of natural light. During the tour, the guides turned off all the installed lights to show how dark it naturally was on the inside, and it was delightfully terrifying. A solid stream of light shining through the roof of The Cathedral Room filled me with awe.
There's something about being so far below the surface that inspires you — you realize how big and how small things really are. This was a compelling moment for me, and it's something everyone should experience in his or her lifetime. It makes perfect sense now how this cave brought all that it did to Branson.