Power Couples
Couples With High-Profile Lives Share How They Balance 
Work, Family and Marriage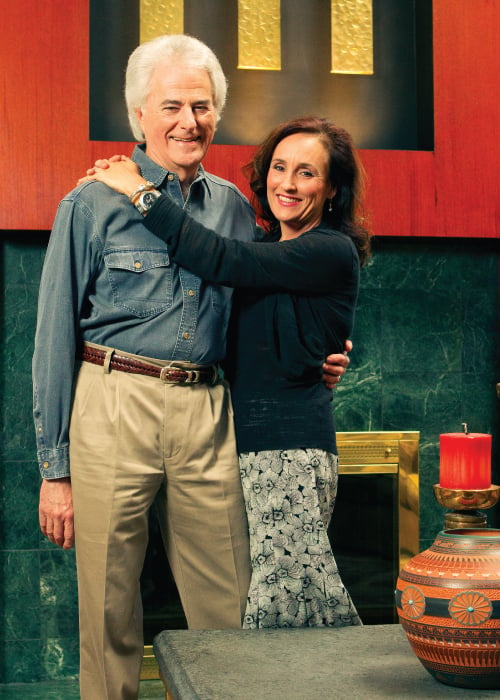 It just makes sense that an intelligent, ambitious, accomplished man would be attracted to, and ultimately marry, a woman with similar qualities. And vice versa. But can each half of a couple find professional fulfillment while enjoying a happy married and family life? Four local couples answer with a resounding "Yes!" They've invited us into their private lives for a look at how they manage to keep the balls in the air, the plates spinning, the trains running on time, all systems go — choose your metaphor — when trying to balance personal lives with high-powered careers.
HIS "Kids can suck all the air out of the room. If you don't make a point of finding time for each other, the kids will grow up and leave home and you'll find you have nothing in common anymore. You haven't talked to each other in 20 years."
HERS "We show support of each other … When we talk about each other, we talk very lovingly and supportively … . 
I think if I said I needed to go to the moon for some reason, Barry would help me find a way to do it. And the same goes here."
Barry and Allison Tant Richard are big on family. They like to say it's probably a good thing they didn't meet earlier in life, or they might have a dozen kids. They have dinner every night as a family, spend most weekends as a family at their place at the beach and take family vacations that provide educational opportunities, often in conjunction with one of Barry's speaking engagements.
"She is a totally devoted mother who is here for the kids 24-7," Barry said. Whether it's cheering on Jonathan at a crew competition or reading Nancy Drew books with Danielle for a homework project, Allison is immersed in her children's lives. "And that relieves me of feeling guilty, because she's taking care of the important stuff."
She was a working mom until the twins, born six weeks early, were 3. Jeremy, who has Williams Syndrome, required seven surgeries, including open-heart surgery at 23 months. Ultimately, Allison has put her skills to use not only on her son's behalf, but also to help other families who might not have the resources and support their family does, or the experience in dealing with bureaucratic governing boards and committees. "It wasn't easy," she acknowledged. "I didn't want to have to come into this world."
Their philanthropy is an extension of Allison's desire to create a network of resources for people with special-needs children. They support the Children's Home Society, where Jeremy got early intervention services which "absolutely enhanced the quality of his life and ours as a family," Allison said. "I started the KEYS (Keys to Exceptional Youth Success) to ensure post-secondary schooling opportunities for children like my son, and I am on the TCC Foundation board because this institution is so deeply committed to our community. We are building an entire program of learning for kids like my son."
They believe that the way to keep a family strong is to keep their marriage strong. They make time for each other every day, even if it's just an hour after the kids are in bed. They have date night once a week. "We both feel it's important not to let all the romance and intimacy in our relationship disappear," she said.
They know they're fortunate to have help, including a housekeeper, a personal chef who cooks a couple of nights a week and college students who help with getting the kids to afterschool activities, homework and Jeremy's therapeutic needs. Allison's elderly mom lives with them, too, she said, so "there are six people under our roof and the laundry, errands, needs for attention never stop."
Curtis & Nina
Curtis has worked in various capacities in education and is currently director of school improvement for Gadsden County Schools. He's a former member of the Leon County School Board and a former state representative. Nina, an attorney, was elected to a Leon County judgeship in 2008. They've been together 20 years, married for 16. "We had a long courtship," she said. They have two daughters.
His "I could not have achieved the success I have without her support. When the opportunity came for her to pursue her dream of being a judge, I was happy to support her. She has always given me that kind of support."
Hers "When you start your day praying together and you end your day the same way, it strengthens you and your marriage. It gives you a foundation."
Curtis and Nina Ashenafi Richardson are so in synch about how they arrange their priorities that they answer the question almost in unison: "God, then family, then community."
"That's how we've managed to keep things in perspective," Nina said. "We had to step back and align ourselves and our actions with our values."
HIS "I could not have achieved the success I have without her support. When the opportunity came for her to pursue her dream of being a judge, I was happy to support her. She has always given me that kind of support."
HERS "When you start your day praying together and you end your day the same way, it strengthens you and your marriage. It gives you a foundation."
Photo by Scott Holstein
It doesn't hurt that they truly like each other. Sure, they're in love, but the happiness they feel being with each other is apparent. Having children has enriched their lives, they said.
Before Nina became a county court judge, she and Curtis regularly took turns staying home from work when one of their daughters was sick. Now that she's on the bench, the court calendar dictates who leaves work for parenting duty. "My schedule is a little more flexible when it comes to doctor's appointments and dental appointments," he said. "There are times when she's able to stay home, but sometimes she just can't."
Some people might find Curtis' willingness to play "Mr. Mom" surprising, but not Nina. Her father, a Florida State University music professor, was a single parent, so very involved fathers are just how it's supposed to be. They laugh about how a teacher once said she knew when Nina had an early court appearance, because Curtis did a better job fixing the girls' hair. "He's a strong man, and he's not threatened by my being a lawyer."
With two children, busy careers and various community organizations seeking their support, the Richardsons are constantly juggling. "You have to have an outstanding calendar and very good time management skills," she added. They keep everything on one big calendar, including work schedules, their daughters' events and appointments, social engagements — anywhere one of the family members needs to be.
"When I was in the Legislature, I was driven to do a good job for the people who elected me to be there, and things got a bit out of balance," Curtis said. "I'm still very involved in the community, with the Boy Scout Council, for example, but there's more balance now."
Both have volunteered with numerous organizations in the community, and each has a special cause to support. For him, it's advocating for children and adults with disabilities. "I feel like they need a voice," he said. For her, it's access to the courts for everyone, particularly battered women and their children. "All people, regardless of race, rich or poor, deserve their day in court," she said.
How do they resolve disagreements? They talk. "If Nina is angry, she'll walk away and come back when she's calm, and then we continue to talk," Curtis said.
"You have to be transparent," Nina said, "and let yourself be vulnerable if need be."
HIS "(Marriage) is a God-ordained covenant between two people who should be constantly trying to make it work. And it is a lot of work. Every day you have to cultivate it. It's too easy to take each other for granted."
HERS "Les has gotten so much better about asking me specifics about my day.  And, to any of you manly men reading this — it's never too late in your relationship to offer to stop at the grocery store.  Les has only recently started finding his way around Publix, and he even cooks occasionally! That's always a treat for me. He also gives a great foot massage."
Photo by Scott Holstein
Les & Ruth
Les went right into the car business after graduating from Florida State University, and he still owns a Ford dealership in Palm Beach County in addition to being co-owner and general manager of Tallahassee's Legacy Toyota. Ruth was teaching at Palm Beach Community College when they started dating and now teaches music history at FSU. Come July they will have been married 37 years and have three grown children, none of whom live in town.
For Les and Ruth Ruggles Akers, their long marriage has been successful because it has always been a work in progress. Finding the right balance among work, the kids and making time for each other meant looking at things from the other's perspective, and sharing the thrill of each other's successes.
She taught piano in her home studio when the kids were young and was a part-time instructor at Florida Atlantic University, so she dealt with childhood illnesses and emergencies. "Ruth provides a wonderful refuge for me in our home," Les said. "She understands and gives support for the work I do. I'm gone a lot, and I wasn't always there for her when the kids were young.
"When events come up outside of business hours, I find that if I can think of my wife first and how it might affect her, I'll have a better chance of making the right decision," he said. "If I'm unsure, I'll call and ask her. I'm better at this now than I used to be."
"Yes, you are," Ruth said with a smile.
Their faith guides their philanthropy. They pray about which groups to support, and they try to balance their giving so they don't always donate to the same ones every year. They've both served on many community boards, but they give first to their church. They also support the Fellowship of Christian Athletes and A Woman's Pregnancy Center, and both have served on the board of Live the Life, an organization dedicated to promoting healthy marriages and families.  Les is a self-confessed
HIS "We're both pretty independent individuals and we try to recognize each other's need for space.
We work out schedules so that each of us has our own time to exercise, or even just read or work quietly without disruption.  We have a partnership. It is not easy working, raising three kids and managing a household — we do our best to lift each other up so we achieve our personal, professional and family goals."
HERS "We do recognize that we lead really busy and full lives and, especially as our children get older, it seems we have less and less time to just hang out with each other. We try to remember and appreciate that; sometimes an open calendar is equally important as a full one."
Photo by Scott Holstein
John & Pamela
John recently joined Partners in Association Management as executive director of the Florida Cemetery, Cremation and Funeral Association, after 18 years of association management experience at the Florida Association of Counties. He is a Certified Association Executive (CAE). Pamela is executive vice president and chief operating officer of the Florida Bankers Association, a position she has held for six of her eight years at FBA. Both hold master's degrees in public administration; she also has a master's in social work. "John sometimes jokes that my work allows me to travel to better destinations, and he's probably right about that," Pamela said. They have three children, daughters who are 6 and 11 and a 9-year-old son.
John and Pamela Ricco started out at rival universities — she got her bachelor's degree at Alabama and he at Florida — but it was graduate school in public administration at Florida State that brought them together. Together, they approach life as a management team that plays to their individual strengths.
"A good friend told us when we first had kids that parenting could be a 'management challenge,' so that perspective has helped us a lot," Pamela said.
When one of the kids is sick, they determine who stays home by what each parent has going on at work. "It totally depends on what each of us has going on at work. If one of us is traveling, the other one works it out."
"Sometimes we switch off half-days where one of us stays home in the morning and the other will take the afternoon," John added. "We both have been very fortunate to work for family-friendly employers."
Their children attend Trinity Catholic School, and they have a regular sitter who picks them up after school, oversees homework and gets their uniforms ready for the next day. When she's sick or out of town, the parents take on her duties.
"We talk about the list of things that needs to get done and each of us takes a task," Pamela said. "One of us will help with homework while the other helps get their things organized or cleans up — we just try to recognize our strengths and go with it."
Vacations and philanthropy both have a family focus. Pam's sister, who lives in Atlanta, has children near in age to their own kids, so they usually spend a week each summer with them at the beach. "We love the tradition of vacationing with cousins at the beach," John said.
They have a strong commitment to Catholic education, supporting Trinity and Pope John Paul II High School, as well as their church, Blessed Sacrament.  Big Bend Hospice is also important to the family, having played what John describes as "an immeasurable role" when Pam's dad and mom died in 2007 and 2008, respectively. Pam is also on the board of Florida House in the nation's capital. "She's hopeful that one day, every Floridian visiting Washington, D.C., will know about this fantastic resource," John said.
They acknowledge it's a challenge to balance careers, kids and time together. "We don't go out a lot or participate in a lot of social events because we just feel like we need as much time at home as possible," Pamela said. "One of our favorite things to do is hang out on our front porch with our kids and our friends and neighbors. Oh, and have a glass of wine, or two … ."
They approach disagreements the same way they deal with everything else, as part of a management team. "We each lay out our position on the topic," Pam said,  "and try to look at it from another perspective and see if there is some middle ground, which we usually find (except when John's dead wrong)."