Potter Nancy Jefferson Finds Inspiration in Nature
Inspired by the glories of nature all around her, she fashions art by working with her hands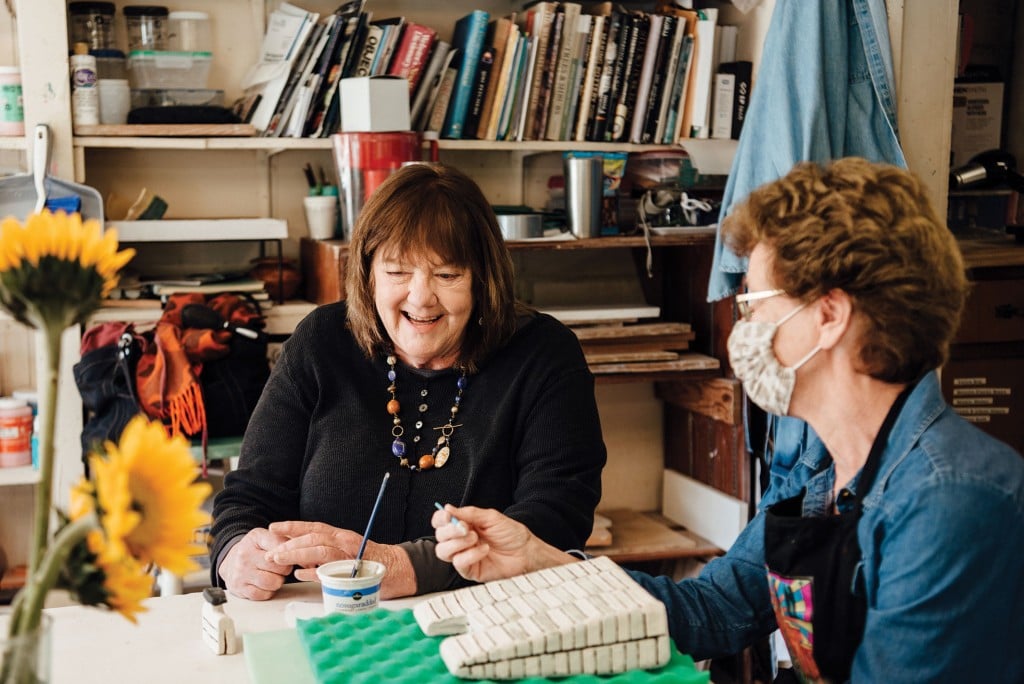 It happens to the lucky ones, those who are tapped on the shoulder or slapped upside the head with an announcement by a muse that they've been selected to make music. Or to string together beautiful words. Or perhaps, as in the case of Nancy Jefferson, to fashion art by working with her hands.
Jefferson would not escape shaping clay and reaching into fires, and she would be inspired by the glories of nature all around her. She had been chosen by the Muse of Ceramics to become a potter.
Some 50 years later, Jefferson, whose work appears in galleries all over Florida and not infrequently in museums and outdoor art exhibitions in Tallahassee, continues to create art that is cherished for its elegance and whimsy. Since 2012, she has been the sought-after ceramics teacher at the LeMoyne Museum where she supports the vision of a wide range of students.
Jefferson lives in Wakulla County on a wooded property owned by dear friends Adrian Fogelin and Craig Reeder, who tempted Jefferson from the Keys by building her a working studio. She said that, long ago, her parents would never have believed she would enjoy a productive and gratifying career doing what she does.
"If you can imagine the life lived by the people in the Mad Men show — money, ambition, a society life, that was the environment I grew up in," Jefferson said. "Everyone was accomplished. My great, great, great grandfather was Thomas Jefferson. There is a concert pianist in the family, and we would wake up to my father playing on his own baby grand."
Jefferson said her mother was worried she would become a "flower child" if she pursued the life of a potter.
"What she didn't realize was that I was already one."
Jefferson attended the University of Kentucky and majored in art with an emphasis in ceramics. Then came the shift to the locale she called home for the next 24 years, Islamorada, in the Florida Keys.
"There was a wonderful atmosphere there in the '70s — artists helping artists, a real community." She apprenticed for two years with famed potters Dorothy and Lee Shank, and after attending the Penland School of Crafts and Haystack Mountain School of Crafts, she became the center's resident potter. Her reputation grew.
Today, as she discusses the kinds of pottery she teaches and favors, Jefferson's voice lights up.
"Well, I like fish," she laughed.
Many of her plates, vases and platters are formed into fishy bodies with perky fins, their coloration ranging from pastel to variegated, pixelated hues.
"I teach raku," Jefferson said, "a 16th-century Japanese style, in which the piece is heated until the glaze is molten, then placed in a sawdust-filled trash can that catches fire. When brought out, you'll see a beautiful crackled surface." She described "smoke-firing" involving an open pit, fire, leaves and a pottery surface rubbed and burnished with a stone. And, she employs "saggar firing," in which a piece is placed inside another container before firing. She uses more traditional kilns, as well.
With so much fire and heat, there are bound to be surprises.
"It was a big mistake," Jefferson recounted. "I put a birdbath that had been outside in the rain and needed refiring into a kiln with about 100 other pieces ready to be fired. The explosion was huge. The pieces that survived had these huge burn marks on them. I had a 'fire sale,' and oddly, people came back wanting more!"
Jefferson doesn't only deal in dinnerware and vases. Her larger pieces include 16-foot murals that portray creatures from the sea in bas-relief. They are so large that she has to set up sawhorses and a wooden table in her yard to handle the massive clay "canvas." She has created a piece that surrounds a fireplace opening.
Today, Nancy Jefferson sees her pottery evolving, but as always, attached to nature.
"Recently I was stopped by this beautiful seed pod that inside cradled something precious," she said.
About 10 years ago, Jefferson's signature mark was born — a small red dot that now appears on everything she does.
"We were kayaking early, just before the sun rose over the horizon," she said. "And there it was, that one beautiful red circle when everything else was dark. Some see a red fish, others a ladybug."
But for Nancy Jefferson, the dot surely represents a sunrise personally sent to her by her muse.
What is Raku?
Raku is a style of firing developed in the early 16th century in connection with a Japanese Tea Ceremony that celebrates the human spirit. Forms are based on the idea of the beauty of imperfection as found in patterns of nature. After the kiln reaches around 2,250 degrees Fahrenheit, pieces are pulled out with tongs and placed in a reduction can containing combustible material, such as n ewspaper and sawdust, which ignites. The bucket is then tightly closed so the work can cool slowly in carbon-rich smoke that infuses the bare clay and the glaze, producing a crackle effect. The whole process takes about an hour.