Postscript: The UnVacant Lot
A once lifeless space now pulses with creativity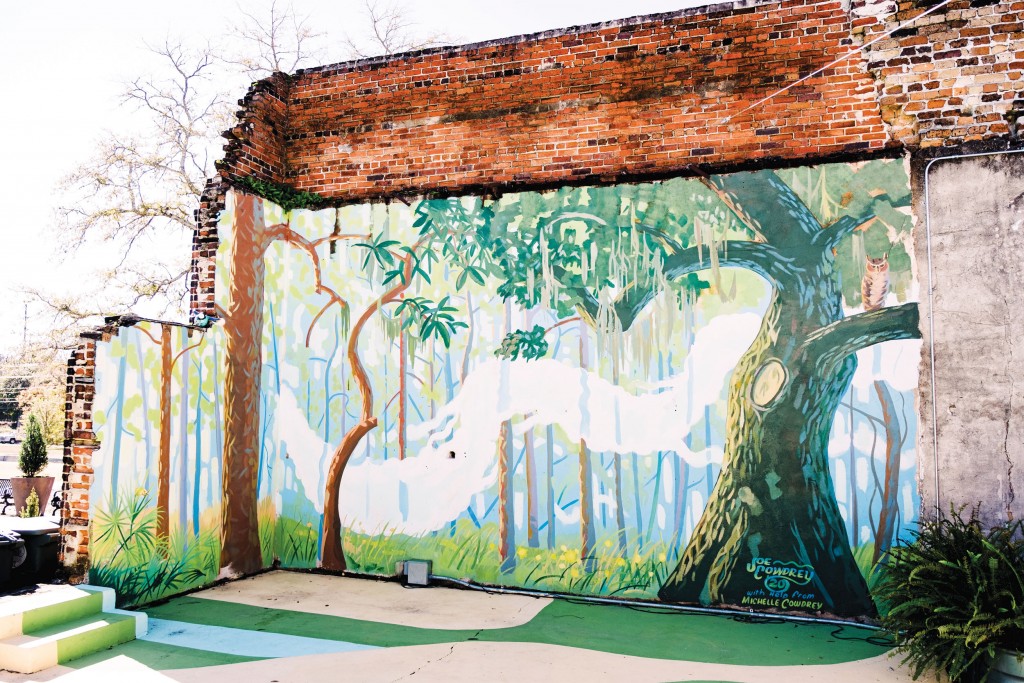 What happens when an incredibly creative community and aspiring entrepreneurs mix ingenuity, paint, sweat and talent with determination? You get the kind of success that results in a place where creatives can gather with scholars, exchange ideas and freely collaborate on work that causes you to stop, look, and think.
In 2011, Thomasville Center for the Arts made the decision to take art to the public and created experiences in the heart of our historic downtown, challenging our community to re-think the way that they view art. We believed that by having our own presence in the Creative District, we would be in a position to actively engage our neighbors through experiences that featured unexpected ideas.
Because of this, in 2015, the Center adopted a vacant lot located adjacent to a new amphitheater and trailhead facility on the West Jackson Street corridor, with the blessing of the property owners, Mr. and Mrs. Melvin Stone. We decided to test our thinking about the possible impact of public art on people and neighborhoods.
We discovered that we were onto something.
Six years later, at what has come to be known as the UnVacant Lot, we have installed 17 exhibits, hosted 13 events, partnered with nine nonprofits, exposed both public and private schools to this creative design laboratory, created and supported new job opportunities, collaborated with independent groups including Brookwood School's Foundations of Innovation class and Florida State University's Public Art, Interior Design and Design One teams, received a grant from the National Endowment for the Arts and garnered the support of the City of Thomasville.
Thanks to forward-thinking community leaders, sponsors and our presenter, Hurst Boiler, this space, which is accessible to everyone both day and night at no charge, is equipped with furniture, WiFi, power and shade sails.
  The Thomasville community has embraced public art in The UnVacant Lot as a conversation-starter that leads to collaborative thinking, both local and regional, and this experience is what makes our town unique. We make sure to pay homage to the former downtown businesses, including enterprises operated by African-American, Jewish and Greek residents, which once populated West Jackson Street and give the Creative District its historical backdrop. We want to hang on to the spirit of those neighbors and how their diversity added to their interests. 
As an arts community, we gather, we communicate and we do.
This year, despite the challenges related to COVID-19, we will keep going. Our presence in the Creative District is and will remain strong. Our plans to have a stronger virtual and community presence will engage more people. We will embrace and mentor young and emerging artists, both local and regional. We will touch more families.
We are proud of our past, and we look forward to our future. We are grateful for this incredibly creative, regional community that is supportive of arts and culture, and we welcome its input. What will you do here? How will you be a game-changer in our neighborhood? We are excited for another decade of artistic expression with you.  
Darlene Crosby Taylor is the public art director at Thomasville Center for the Arts. Learn more about the Center's UnVacant Lot public art experience by visiting thomasvillearts.org/public-art/. Or stop by the Center's historic home at 600 E. Washington Street in Thomasville.