Post Cards from the Past
Having a Great Time. Wish You Were Collecting, Too.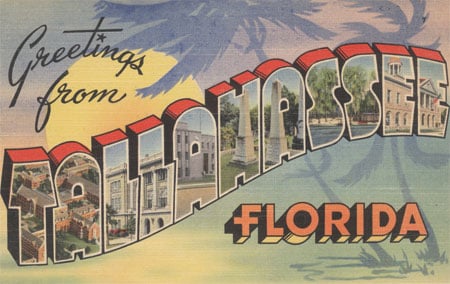 While a student at Florida State University in the early 1980s, Andrew Bachmann would accompany a friend to a shop in Tampa's Ybor City, where he would buy old postcards. At the time, "I thought that my friend was insane spending 10, 20, 30 dollars for a postcard," Bachmann recalls.
A quarter-century and well more than 10,000 postcards later, Bachmann, a Jacksonville mortgage banker who has worked on Wall Street and as an investment adviser, is singing a very different tune.
"He was collecting in the '80s and the cards were much cheaper, so the cards he was paying five and 10 and 15 dollars for are now worth one and two and three hundred dollars," Bachmann says of his college friend.
"Unlike stocks, I think collectibles, as an investment, are a fantastic way to go. I've never lost money on a postcard."
But the joys of postcard collecting aren't limited to making money, Bachmann says. The hobby also offers pleasures that make the hobby part history lesson, part detective work and part treasure hunt.
Bachmann says his postcard epiphany started about 10 years after his initial introduction, when he and his wife moved to Jacksonville.
"As a way to learn the city, we just started looking at vintage postcards that we found at an old bookstore," he says. "The images intrigued us, and then our goal soon became 'Let's collect every postcard that was ever made from Jacksonville.'"
Once they had made inroads into gathering Jacksonville images, Bachmann decided to branch out and start collecting cards from his alma mater. He currently owns about 180 images from FSU, the oldest a shot of the front entrance dated 1906, from the earliest of the postcard eras. (See the description of postcard eras on the next page.)
The FSU postcards run from the iconic (the Westcott Building, aerial views of Doak Campbell Stadium) to the odd (the Geology Building), and Bachmann has scanned them all to a photo CD that he sells on eBay and at flajax.com. (He has similar CD compendiums featuring Florida, Jacksonville and University of Florida postcards from his collection.)
Several FSU postcards show the same buildings at different points in their history.
"I may have four shots of the same building over four different decades," Bachmann says. "(Other) buildings pop up around the one center point that was a constant in all the images. And then (some show) a building that's totally knocked down, and then there's another (card showing a) building right on top of the same spot."
For example, Bryan Hall is shown in black and white and in hand coloring, with ivy-clad walls and silhouetted in the moonlight.
"I have a preference for the hand-colored cards," he says. "To me, they look like a miniature painting."
Bachmann enjoys sleuthing for clues that can date the images. The easiest is a postmark. As long as the postcard isn't bent and creased, a postcard that was mailed won't lose its value, he says. However, "if they do have writing on the front, a lot of people don't like that."
Don't count on the stamps being valuable when you buy a used postcard, though.
"The stamps were at 1 and 2 cents for 30 or 40 years, and there's billions of them out there," he explains. It is interesting to read the messages — on the FSU cards there are several reports back home to relatives — and many got to their destinations with an address that only included a person's name, town and state; no street address or ZIP code was required.
However, the postmark can be valuable to certain collectors.
"Some collect just the postmarks," Bachmann says. "Sometimes the postcards that were mailed from trains or ships … make the card worth a lot more because they don't have that type of postmark anymore."
The look of the postcard also offers a hint as to when it was created. For example, the divided-back card — with space for a message on the left and an address on the right — didn't exist before 1907. Cards with a white border were made between 1915 and 1930, and those that had a linen-like texture were made over the next 15 years.
The appearance of cars and people in the picture are another way Bachmann zeroes in on a date; his postcard of Strozier Library is obviously from the 1960s based on the buzz cuts and khaki paints of the three young men who are walking in front of it. Another of his notable cards is a street scene in Jacksonville that had to be from about 1911, because it showed strings of light bulbs, which one wouldn't see in the days before electricity.
Bachmann paid more than $50 for a card showing the landmark Sweet Shop restaurant adjacent to FSU's campus, but it is far from being the most expensive acquisition in his collection. That would be a rare "Alligator Border" postcard featuring a scene from Palatka that cost him $250. A German company produced a series of the distinctive embossed cards in 1908, with scenes from Florida's major cities (there were about a dozen at the time, and Tallahassee wasn't one of them) surrounded by a border of three alligators. Bachmann now has all 165 cards in the series, and he says complete sets have been sold at Sotheby's for $30,000.
One of his favorite places to find cards is at the Orlando International Postcard Show Auction, held in early January each year.
"There'll be 100 dealers with millions of postcards … all with dividers and everything labeled and categories that would make a librarian jealous," he says. "The postcard show is like Christmas Day for a kid … you get an adrenaline rush because you just don't know what good card you're going to find."
Bachmann also frequents garage sales and antique shops, but his habit has taken on a new dimension with the advent of eBay for both buying and selling.
"You've got the whole world brought to your fingertips by just typing in your particular city or topic, and then it's great to sell the card because all it takes is two people who want it to bid up the price," he says.
Bachmann says it can actually be thrilling to participate in the online auctions.
"I've gotten some cards for a dollar or two that I would have easily paid $100 or $150 for," he says.
To novice collectors, "I would say to pick something that means something to you," Bachmann advises. "Most people, I find, like to collect what they consider their hometown."
But beware: "Postcard collecting is very addictive, so you may start collecting one category and then you find another category that you like," he says. "My wife's from Huntington, Long Island, so we've started collecting Long Island postcards. I used to work on Wall Street, so I have a collection of Wall Street and financial-related postcards from New York City. My twins and I love to go bowling, so I have a collection of bowling alleys across America."
While the bulk of Bachmann's collection stops in the 1960s, he has discovered a use for modern postcards.
"When we go on vacation, my wife and I will address a postcard to ourselves," with the date and the highlights of their trip, he says. "The kids love picking out something that represented what they did in that town. In our old age, we could look back at all the trips we took in our lifetime. A hundred years from now, our great-grandkids could be going through a shoebox filled with our travels. And maybe they'll mimic some of our road trips and see some of the same sights."
Vintage postcards can be a thoughtful, and often inexpensive, gift, according to Bachmann.
His collecting friend sent Bachmann a card from his hometown of Hoboken, N.J. A $3 card of his mother's Waterbury, Conn., high school is now "hanging in her kitchen, and she loves it." The subjects that can inspire a fond memory — a college, a city, a restaurant, a sport, an alma mater — offer possibilities for a sentimental postcard present, he says.
While Bachmann has parlayed his postcards into commercial enterprises — selling cards; the archive CDs; a picture book he coauthored with his wife, Maria Mediavilla, about historic Jacksonville; and selling enlargements — all of the profits he makes are plowed back into the quest for more cards. He slips his latest acquisitions into plastic sleeves and sorts them into storage boxes, to be riffled through with pleasure.
"I would say I buy nine cards for every one I sell," Bachmann admits. "I have people who have found my Web site and contacted me to see if I was interested in buying their old postcards. I'm always game to make a drive over and visit and make an offer of what they think is outrageously high, but what I think is an incredibly low price, so everyone's happy."
Where else, he asks, "can you get an antique for 10 bucks?"
---
Postcard Eras
Pioneer Era (1893–1897)
The first full-color souvenir postcard was created for the Columbian Exposition in
Chicago in 1893. The beginning of the "Golden Age" of postcards, their heyday would last until World War I, when the
supply of fine lithographic cards produced in Germany were cut off.
Private Mailing Era (1898–1901)
An act of Congress in 1898 allowed printers and publishers to create their own postcards, but they were required to use the words "private mailing card" on the back. This was also the advent of "real photo" cards, which were actual photographs printed on film stock paper. Many of these are prized by collectors because they are unedited historical representations of a place and time.
Postcard Era — Undivided Back (1901–1907)
On Dec. 24, 1901, the U.S. government authorized private companies to print the words "Post Card" or "Postcard" on what were previously known as private mailing cards. The back was still reserved for the address, so any message had to be written on the front.
Divided-Back Era (1907–1914)
On March 1, 1907, postcards with a divided back were approved by the Postal Service, allowing senders to jot a message on back, along with the address, so that the entire front could be used for a picture. In 1908, Americans sent nearly 678 million postcards, when the total population of the U.S. was only 88.7 million. By the end of this era, the postcard craze would be over.
White Border Era (1915–1930)
Most postcards were produced in the United States and were of lower quality than before. A white border was left around the image to conserve ink. Hand-tinted cards were produced in France and Belgium, but production ended when the women who worked on them became poisoned after licking the lead paint off their brushes.
Linen Era (1930–1944)
The images once again went to the edge of the card and were printed on a distinctive textured paper with a crosshatched surface, which allowed for printing in bright colors.
Chrome or Modern Era (1945–Present) Derived from the word "photochrome," these are the picture postcards we're used to seeing today.