Port of Interest: Shedding Light on 19th Century Apalachicola
Lou Hill hopes to establish a historic and archeological museum for the Apalachicola area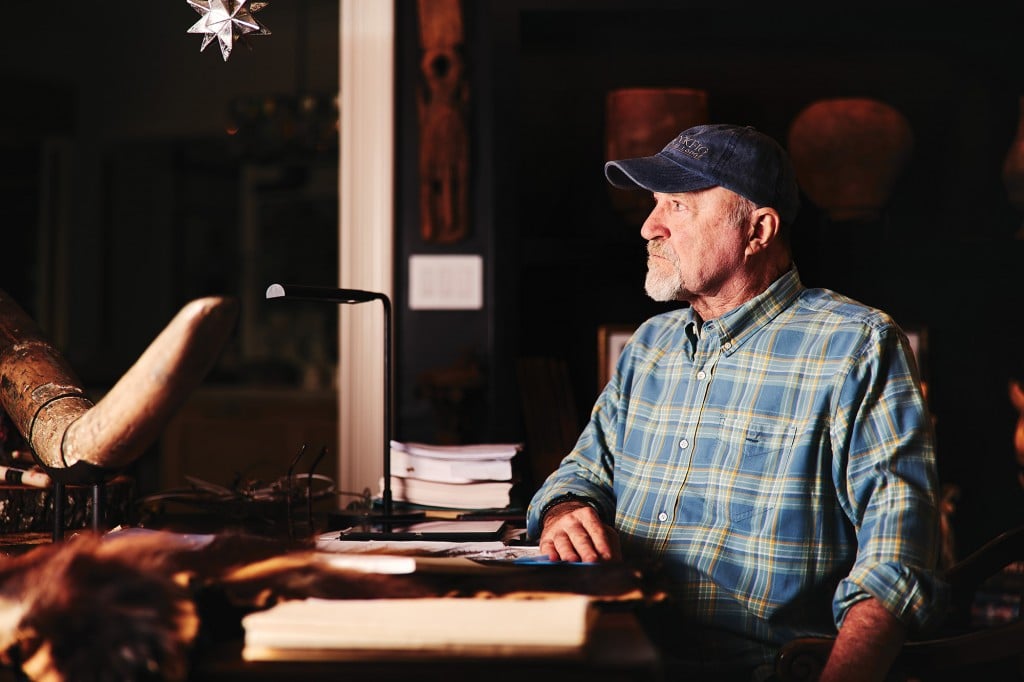 Lou Hill used to display the skull of an extinct cave bear upon the table at the threshold of his home, expecting to startle visitors.
As the maw of the cave bear skull greeted guests at the door, Hill observed how many of them passed by the mouthful of carnivorous teeth without even noticing the skull.
"It's amazing what people don't see and what they do see," he said.
These days, Hill mostly sees Apalachicola because that's where his interest in archaeology has taken him.
His keen eye for hidden treasures began in high school, scouring river bottoms for arrowheads.
Dr. Lou Hill, a familiar Tallahassee name, is more known for his career as a plastic surgeon. Now retired, he credits his surgical work as a means to fund his lifelong archaeology passion.
Hill and his wife, realtor Calynne Hill, now fill their home with an extensive collection of art, artifacts and oddities. In one corner, a trove of Catholic artwork lines the walls. An assortment of traditional African masks gathers in another.
A menagerie of skulls and teeth from extinct and extant animal species litter the shelves. The cave bear skull, and former doorman of the Hill home, currently rests on a display stand with his fellow critters.
A visitor might find these artifacts, bones and other pieces from far-reaching lands and distant times awe-inspiring, yet Hill highly values the pieces he finds closer to home.
During a 10-year excavation of Apalachicola plots that began in 1996, he found anthropologic value in shop relics and drugstore ruins from the 19th century.
With consultation of professional archaeologists and his friend Lee Willis, who passed away in 2009, the crew uncovered heaps of artifacts in the Apalachicola area.
In the 1830s, Apalachicola served as the third-largest cotton port on the Gulf of Mexico, Hill said, noting that the Civil War and railroads that bypassed the port sparked its downfall.
Former antebellum shops and businesses would hold great archaeological and historical insight to his question: "What happened to the pre-Civil War buildings on the city's once-busting waterfront?"
His answer: hurricanes, particularly one in 1851, and fires from 1844 and 1846 — long before Apalachicola's devastating fire of 1900. "When you add them all up," Hill said, "they destroyed all but two buildings that are there now."
The effects of time covered the shop ruins, and the artifacts inside laid waiting for a plucky archaeology hobbyist to discover them almost two centuries later.
"I call it a 'poor man's shipwreck,'" Hill said in an interview with Tallahassee Magazine. "It gives you an isolated window. It was not stuff that was thrown out — it was the stuff that was there." Retail items imported via the waterways were buried without an inkling of their future as historical artifacts.
Among his collection of patched-up pottery, apothecary jars, shot glasses, cologne bottles and other signifiers of the mundane, Hill trumpets the historic and archeological importance of these findings.
"This predated electricity," he said. "It predated, for part of the time, ice. These were sailing ships. There were no roads down there. This was an isolated backwater port, and yet they were shipping goodies from Boston, New York, Liverpool."
Shortly after their excavations, Apalachicola saw developments that would cover these sites and cease further archeological exploration.
"We were very fortunate to have a period of time before that really occurred to get to find some of these sites and excavate before they were destroyed," Hill said.
It has been about 200 years since the Florida Treaty, which declared it a U.S. territory. Hill saw the bicentennial anniversary as a moment to bring these collections to the public eye.
"The general goal is the analysis of this material and to make it available for the public as well as other professionals," he said.
Hill aims to establish a historic and archeological museum for the Apalachicola area to display his collections and other findings.
He works with Florida State University and the University of West Florida to help properly analyze and write on these pieces. One Florida State University graduate student is basing her master's thesis on one of these Apalachicola sites.
Hill said he looks forward to providing his collections for further education and findings on this period.
"I think it's a general desire of people to know about the past," he said.