Pioneer History Meets Modern-Day Comforts in Fredericksburg
Texas Hill Country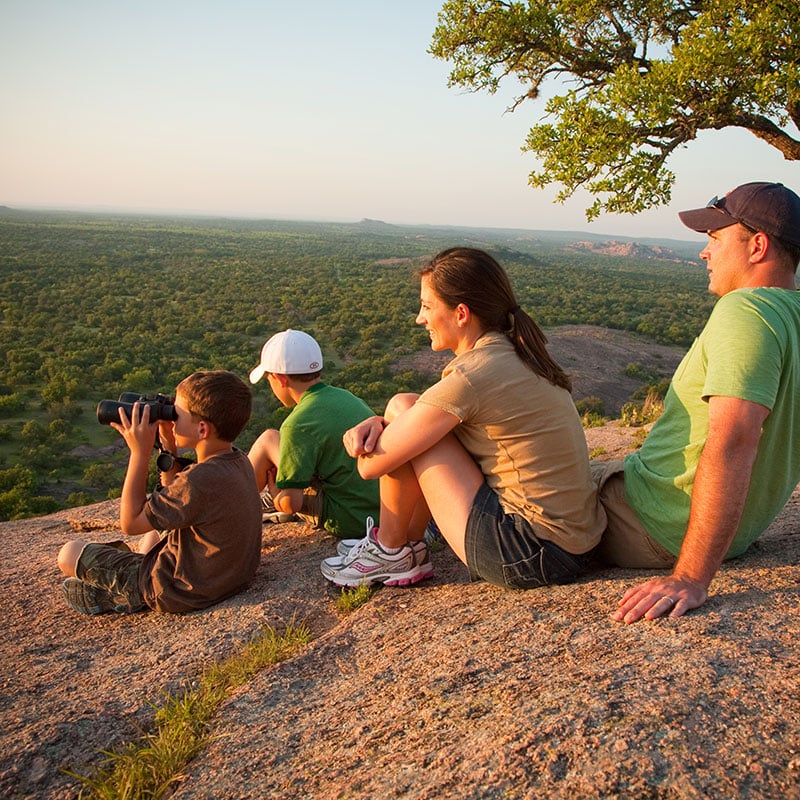 In the early 1840s, a small group of German aristocrats created a society dedicated to encouraging emigration to the newly created Republic of Texas, selling "packages" that offered would-be settlers passage to the U.S. and a plot of land when they arrived.
Unfortunately, it was ill conceived, underfunded and the land was in the middle of hostile Comanche territory. Crossing the Atlantic took two months and, after landing at Galveston, the immigrants faced a dangerous and deadly overland journey to get to the homesteads they had been promised. But 120 souls who overcame hardship and disease were able to create a new city in the heart of Texas Hill Country.
Today, Fredericksburg (named for Prince Frederick of Prussia) is a charming town with a penchant for its pioneer history that has become a weekend getaway for Texans, as well as an enjoyable attraction to tourists from other states and countries. Located about an hour to the west of both San Antonio and Austin, the county's population is just 10,000, but it attracts well over a million visitors every year.
They are drawn to its historic Main Street, home to more than 150 unique shops, restaurants and galleries; as well as the town's nearly 400 bed and breakfasts and guesthouses; and a fast-developing art, food and wine culture.
The Main Street Historic District is a great jumping-off point and very walkable. The Visitor Information Center is located here and screens a short movie featuring history and points of interest. Smack in the center of town is the Marketplatz (the German heritage still runs strong here,), where you'll see the Vereins Kirche and Maibaum. The first is a replica of the settlement's first community building, a hexagonal shaped landmark that now houses a museum. The "Maypole" traces the city's history with folk art symbols.
For a very hands-on history lesson, consider a visit to the Pioneer Museum, a collection of buildings from Fredericksburg's past. One of them is a structure ubiquitous to the area called a "Sunday House." When the town was created, settlers were granted acreage as well as a small lot in the town center where they would build tiny, usually single-room houses. After spending the week working on the farm, they would travel to town on Saturdays to trade and socialize, spend the night and then go to church on Sunday.
Fredericksburg continues to attract weekend visitors. Most houses near downtown are used as guest accommodations — some modernized Sunday Houses and historic buildings, while others are of more recent construction. There is a wide variety of styles, from the gingerbread charm of the Victorian Mansion, to a more modern take on the Sunday House at Fredericksburg Herb Farm, which features 14 cottages, as well as a beautiful day spa, the Farm House Bistro (actually an elegant fine dining experience for lunch, dinner and brunch) and the eponymous herb farm.
Two more recent favorite sons of the area are immortalized with attractions that shouldn't be missed.
Located in the middle of downtown Fredericksburg is the National Museum of the Pacific War ­— actually several buildings and areas dedicated to telling the story of the Asiatic-Pacific Campaign of World War II. The centerpiece is the George H.W. Bush gallery, which takes you through time from the seeds of the conflict to the Japanese surrender in a 33,000-square-foot gallery. Nearby is the Admiral Nimitz Museum, named for Fleet Admiral Chester W. Nimitz, born here and a member of one of Fredericksburg's prominent families. The complex also includes a memorial courtyard, Japanese Garden of Peace, an outdoor "combat zone" which hosts re-enactments and a Plaza of the Presidents. In all, 10 American presidents, from FDR to Jimmy Carter, played a role in the war.
While it's not exactly in Fredericksburg, just a short drive away in the Hill Country is Lyndon B. Johnson's hometown and Texas White House. There are not one, but two, parks dedicated to our 36th president. The Lyndon B. Johnson State Park and Historic Site needs to be your first stop, because it serves as the reception point for the driving tour of the nearby LBJ National Historic Park. The State park includes the Sauer-Beckman Living History Farm, representing a typical Hill Country farm at around 1915, when Johnson would have been 7 years old. The living was primitive — no electricity or running water. While his upbringing was relatively privileged, the difficult life he witnessed as a child and young man would serve as the impetus for his championing of such things as rural electrification, education and national parks during his political career.
The National Park includes his ranch and home, an important part of presidential history. LBJ served five years as president — one year of which was spent at his western White House. The ranch is bisected by a long runway, used to land the presidential jet, a Lockheed Jet Star he dubbed "Air Force 1/2," which is on display at the museum. The Johnsons had a sense of history, and their home is remarkably well preserved. Unlike other museums which offer "period" pieces on display, pretty much every chair, couch, toss pillow, knick knack, appliance — even the clothes in the closets — belonged to the family. Look at a photo of a meeting taken in the '60s, and the dishes in the picture are the same ones sitting on the dining room table.
Park Superintendent Russ Whitlock gave a very intimate tour of the home because much of the history he shared came from personal conversations with Johnson's daughters. His anecdotes included tales of LBJ's frugal nature — his Secret Service protection and communications crew were housed in military surplus trailers — and of his aspirations to be a gentleman farmer. His cows, said Whitlock, weren't Texas Longhorns, but English Herefords, that got primped in the show barn before visitors arrived (you'll see several as you drive around the ranch).
Lady Bird Johnson's contributions to Texas — and the nation — are also on display. While she's most often associated with beautification, Mrs. Johnson worked hard to assure that each state preserved the natural aspects that made them unique. Driving through the Hill Country in the spring, you're sure to be struck by the abundance of wildflowers, most notably the bright Texas Bluebonnets.
If you'd like to see wildflowers up close, a colorful attraction just outside the town is Wildseed Farms, with 1,700 acres of flowers producing seeds that can be ordered from a catalog or online, in mixes created to thrive in particular areas of the U.S.
Shopping is eclectic, running the gamut from an old-school five-and-dime to Whistle Pik Galleries, with original art that can cost north of $50,000. Some of the shops that cannot be pigeonholed include Red (modern/vintage/graphic products for the home), Chocolat (self explanatory) and Vaudeville on Main (an attractive mix of high-end furniture and décor on the main level and a downstairs bistro that you can miss if you're not looking — so be sure to look). One of the most intriguing shops is Carol Hicks Bolton Antiquities. It's actually a warehouse that contains a multitude of curiosities for sale that the owner has collected during visits to Europe, including garden ironwork, linens and oddities including some worse-for-the-wear stuffed animals and glass bottles of chemicals that my scientifically inclined brother warned me not to pick up.
Several art galleries are interspersed with the shops on Main Street including the aforementioned Whistle Pik, as well as InSight Gallery, with an impressive display of Western art and bronzes; Good Art Company, where you'll find fine examples of up-and-coming artists working in many different genres; and the Artisans at Rocky Hill, featuring a diverse collection of local art and craftsmanship at prices that let you to bring home original art as a souvenir of your visit.
Foodies will delight in the abundance of restaurants in and around Fredericksburg, where they can enjoy the best pecan sticky buns ever at Mahaley's Café or a kolache, a local specialty that's pretty much a sausage-in-a-blanket, at Java Ranch. The dining is casual at The Pink Pig, but owner Rebecca Rather (who has created a national following for her delicious desserts) is adamant about locally sourcing her food. There's plenty of fine dining too at the Cabernet Grill, or August E's, decorated in a neutral palette of grey and white which serves as a showcase for the work of local artists.
A relatively recent addition to Fredericksburg's attractions is the proliferation of wineries that have popped up nearby — so much so that a group of 11 wineries has rechristened the local state highway as Wine Road 290.
Texas is the fifth largest wine producer in the U.S. and the No. 2 wine destination in America. Surprised? You've probably never sipped Grape Creek Vineyard's Bellissimo Super Tuscan or The Texas Tempranillo from Perdnales Cellars, because the vast majority of the wine produced in the Lone Star State stays there. The reasons are twofold: There are only enough grapes harvested in the state (mostly from around Lubbock, about six hours from Fredericksburg) to produce small quantities in "boutique" wineries and because of the vagaries of interstate shipping. So a drive along 290, with stops for sampling and cellar tours, is a treat you won't find anywhere else.
One of our traveling companions was The Wine Curmudgeon (aka blogger Jeff Siegel), and he offered this advice for finding the best Texas wine:
Leave the chardonnays, cabernets and merlots to the vineyards of California and the Northwest, he suggested. Warm-weather friendly grapes — reds such as tempranillo and sangiovese or whites like viognier and roussanne — may not have as high a profile as the others, but grape varieties such as these, native to Southern Europe, are better suited to the Texas heat.
And as a not-so-grand finale to your visit, drive down the highway a few miles to check out Luckenbach, Texas, immortalized in song by Waylon Jennings in 1977. It has a "post office," but no permanent residents, just the honky-tonkiest of beer bars with a guitar-picking circle every night of the week. There are concerts in the huge dance hall just about every weekend and a vibe that's reminiscent of Tallahassee's Bradfordville Blues Club — if it were about 10 times bigger and made out of wood instead of concrete block.