Pink Martini with China Forbes at Opening Nights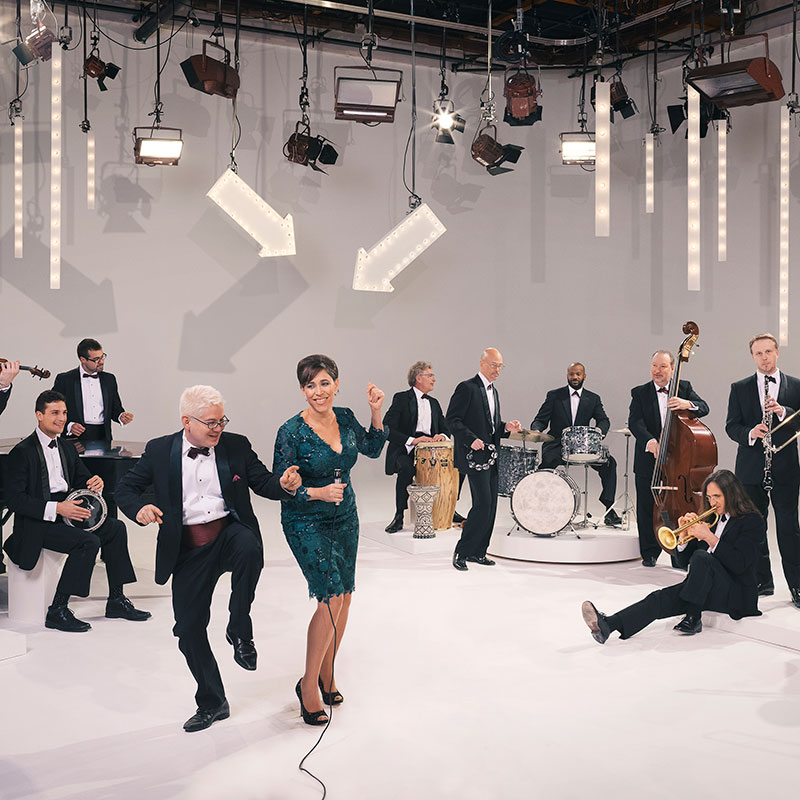 Sponsored by Opening Nights at Florida State University
Fans who helped make La La Land an Oscar-winning blockbuster understand that memorable, well-crafted songs capture hearts.
Pink Martini, coming to Ruby Diamond Concert Hall courtesy of Opening Nights, performs memorable, well-crafted songs that capture hearts across the globe in25 languages.
"Everyone is starved for beautiful melodies," says band leader and pianist Thomas Lauderdale. "There's so much bad rock music. Where's the Breakfast at Tiffany's?"
Lauderdale, who studied history and literature at Harvard before launching his career in music, is serious about his band and its audiences — in a mischievous way. He describes Pink's multilingual repertoire and orchestral arrangements as the music of the United Nations if it had had a house band in 1962 (musically bridging troubled waters, while heroes such as JFK, Bobby Kennedy and Martin Luther King, Jr. were still alive.)
It's intelligent music that exudes beauty and grace, he said, not glamour, because grace is earnest and compassionate, and singing beautiful songs in numerous languages conveys compassion. It's also relevant, not just nostalgic. Singer Storm Large, who performs as occasional lead singer with Pink Martini, mesmerized the audience at Ruby Diamond last year with her cover of The Pixies' "Where Is My Mind?" In a lovely gown and Converse hightops, covering The Pixies in her opera-worthy voice … it wasn't Lawrence Welk.
Lauderdale said the band feeds on what is uniquely beautiful wherever it goes. Performing in Bucharest, he learned a gorgeous song dear to its people, and Pink Martini later recorded it, singing in the Romanian language — a first for an American band.
"We now live in a culture with very little empathy and very little listening," he said, lamenting distraction by devices and partisan hostility. "The music of Pink and the neighborliness of it, we hope, will allow people to coexist and keep a hopeful outlook without cynicism."
In a red satin gown, singer-songwriter China Forbes, Lauderdale's Harvard classmate, posed centerstage for a press shot with band members attired in tuxedos. She sings in French and Italian as easily as in English. The song she wrote with Lauderdale in 1995, "Sympathique," became an overnight sensation in France and remains popular. Pink Martini with China Forbes will perform it here, demonstrating again the band's "One World outlook: that all the world, in all its diversity, needs more beautiful melodies."
---
Want to catch Pink Martini and China Forbes on stage?
The performance will be at Ruby Diamond Concert Hall, January 22, 2018 at 7:30 p.m. For information on other performances, visit openingnights.fsu.edu/events. Tickets to Pink Martini with China Forbes are priced from $25–$75. To get yours, visit openingnights.fsu.edu or call (850) 644-6500.