Piney-Z Plantation
Nature, amenities and community keep Piney-Z in demand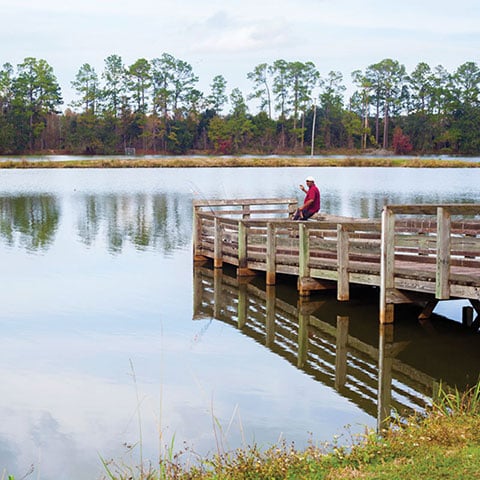 Just off of Conner Boulevard, two miles north of Apalachee Parkway, sits Piney-Z Plantation, a large, deed-restricted community marketed for its natural surroundings.
Once upon a time, this slice of land was a working plantation. Today, Piney-Z holds 755 family homes and a wide variety of amenities, though some of the early infrastructure does still exist — adding a touch of nostalgic charm to an otherwise modern community.
The neighborhood features a completely renovated historic lodge that was the home of the former plantation owners, a fitness center and pool, as well as a pavilion, gazebos and picnic areas.
According to Michael Lee, a broker associate at Frog Realty, who is also a Piney-Z resident and chair of the neighborhood's Community Development District, it's a combination of the amenities and Piney-Z's proximity to Tom Brown Park and Lafayette Heritage Trail Park that has consistently attracted buyers for well over a decade.
"From a real estate perspective, there are a lot of attractive things about living here," explained Lee. "We're still in the northeast part of Tallahassee, limited entrances make us a little bit quieter and (there are) just great amenities.
"People really like Piney-Z. If having parks and amenities in the neighborhood are important to them, then I think Piney-Z is very appealing."
In Piney-Z, large brick homes are intermingled with conventional stucco dwellings and tastefully constructed townhomes. Sidewalks connect residents to each other as well as to nature — winding from one scenic resting spot into the next. And as part of the Lafayette Heritage Trail Park, Piney-Z Lake sits directly against the community, providing continuous opportunities for outdoor adventures.
"We've enjoyed it," shared Jan Bridges, a long time resident and active member of Piney-Z. "It's worked out really well for us. We like the community out here. It's really a diverse, pluralistic kind of place. You've got everything from FSU and FAMU faculty who live out here to state employees and a significantly emerging retirement community, as well as young couples. It's diverse in every sense of the word, both demographically and socioeconomically. It's just an interesting place."
Another selling factor to this beloved community? Piney-Z's resident eagle population.
When construction first began in the mid-1990s, a pair of eagles were discovered in this heavily wooden region, causing an unexpected, though delightful, kink in the developer's plans.
Since no development can take place in any area the eagles inhabit, their immediate nesting grounds had to be maintained and a sanctuary established. Leon County and the City of Tallahassee are responsible for ensuring and preserving the longevity of the eagle's habitat.
"[The habitat is] located off of the appropriately named Eagle View Drive," joked Bridges. "[…] As long as they are there, there will be no development. And that is much to the pleasure of Piney-Z residents."