Pickleball For All
Players of all ages can handle the heat as long as they stay out of the kitchen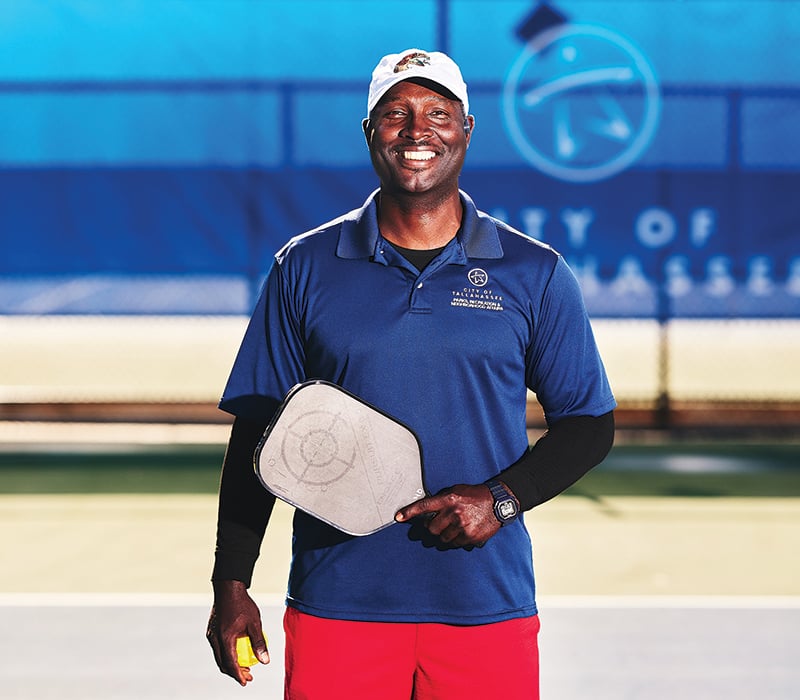 Pickleball. It's simple. It's fun. It's accessible. It's sociable. And it's widely recognized as the fastest-growing sport in the country.
The USA Pickleball Association (USAPA) has reported that the sport has grown nearly 40% since 2018, with 4.8 million players across the U.S. in 2022.
The game combines elements of tennis, badminton and pingpong, according to the USAPA, and is played — singles or doubles — on a badminton-size court with a modified tennis net. Paddles, larger than those for pingpong but smaller than a tennis racquet, are used to strike a plastic, perforated ball similar to a Wiffle ball. Players serve underhand and cross court. The serve must bounce once but never twice, and the "kitchen," or non-volley zone, is off limits. The game is typically played to a score of 11 or 15.
Although new to many, pickleball got its start over half a century ago in Bainbridge, Washington, as a backyard game created by a few dads with bored children.
So what accounts for its widespread popularity now?
Lenin Mongerie, the tennis and pickleball operations supervisor for the City of Tallahassee, said celebrity influencers including Serena Williams and LeBron James have been a factor; both have invested in their own leagues.
"If all of a sudden a pro football, tennis or any player or person that has stature does something, everybody sees it, right? And you want to try it," Mongerie said. "That has played a huge role in pushing the sport forward."
When pickleball was elevated via celebrity platforms, younger people became interested. But the sport first started gaining traction among the 55-plus crowd. Its ease of play and accessibility appealed to players as a healthy form of exercise that presented less risk of injury than games like tennis.
Pickleball arrived in Tallahassee when the city's tennis superintendent, Glen Howe, introduced pickleball to the local senior center.
"Without question, one of the biggest benefits is it allows people to get exercise," Mongerie said. "For people who may not have chosen another sport or maybe found another sport too difficult, it allows them to maximize their ability to enjoy a sport, at the same time getting the benefits of moving around and being social."
Mongerie said Tallahassee's USA Pickleball Association ambassador, Carolyn Allaire, has been instrumental in popularizing the sport and introducing it to longtime tennis players.
Mongerie, himself, caught the bug, finding that he enjoyed pickleball's social aspects.
"Very few people play singles in pickleball; the majority of the game is doubles," he said. "The socializing is a lot more in the sport than in tennis right now.
"I could go out there and play with you, and we'll have a fun time. You might not win, but we'll have fun," he joked.
For sure, Mongerie would be formidable. He played tennis at Florida A&M and is a United States Professional Tennis Association elite player who has worked as a tennis instructor for 17 years and is now a certified pickleball instructor.
The city recognized pickleball's growing popularity and adapted tennis courts for use as pickleball courts. Mongerie began overseeing pickleball along with tennis and hosted lessons, clinics and round-robin tournaments.
Now, the city has 47 courts across Tallahassee's parks and community centers.
Tom Brown Park stands to be the most popular, with four permanent pickleball courts available and regular open play sessions where anyone can come to learn, play and socialize with other pickleballers. Tom Brown also hosts leagues on Tuesdays and Thursdays for beginners, advanced beginners and intermediate advanced players.
The new Southeast Park at Tram Road and Four Oaks Boulevard will have six permanent courts. Winthrop, Jack L. McLean, Lafayette, Jake Gaither and Walker-Ford parks and the LeVerne Payne and Walker Ford community centers have outdoor tennis/pickleball courts. And a number of indoor courts can be found at other community and senior centers.
"There are a lot of grassroots programs that have sprung up that are really all about growing the sport in Tallahassee," Mongerie said.
Local groups like the Tallahassee Pickleball Association promote the sport through fundraising, volunteering and advocating for court improvements.
Mongerie anticipates that Tallahassee will host national pickleball tournaments.
"I think pickleball is going to be growing and continue to grow," he said.
---
Call a Friend and Grab a Court
» Tom Brown Park
443-557 Easterwood Drive
4 courts, reserve or first-come
» Winthrop
1601 Mitchell Ave.
6 courts, reserve or first-come
» Lafayette
501 Ingleside Drive
3 indoor and 3 outdoor courts, business hours only
» LeVerne Payne
450 W. 4th Ave.
2 courts, bring own balls and paddles
» Jack l. McLean Jr.
700 Paul Russell Road
3 indoor and 2 outdoor courts, bring own balls and paddles
» Walker-Ford
2301 Pasco St.
3 indoor and 3 outdoor courts, nighttime play available
» Southeast Park
300 S. Adams St.
6 courts, first-come
» Jack Gaither
801 Bragg Drive
2 courts, can reserve
» Sue Herndon McCollum
501 Ingleside Ave.
3 courts, indoor only
» Lawrence-Gregory
1115 Dade St.
3 courts, indoor only
» Tallahassee Senior Center
1400 N. Monroe St.
2 courts, indoor only