Pick Your Perfect Pizza
Adding Up the Things that Create a Pie You Can Sink Your Teeth Into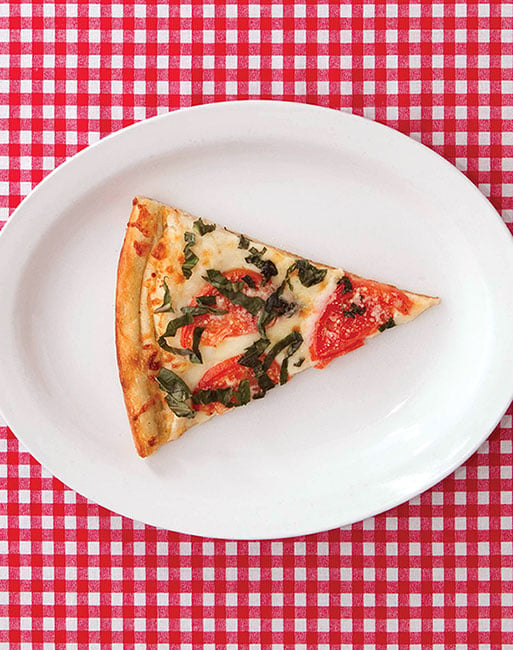 Pizza just might be the perfect food.
With the right toppings, it hits most of the main food groups. It's easy to portion, serve and eat. It's relatively cheap — and really, really delicious.
While the concept of a flavored flatbread goes back to antiquity, the tomato-and-cheese-topped pie Americans are familiar with started out as peasant food in Naples sometime in the 16th century, after Columbus brought tomatoes to Italy. (In an article in American Heritage magazine, food historian Hanna Miller said Sophia Loren, who had grown up thinking of pizza as poor people's food, pitied Americans when she first came to the U.S. after seeing the proliferation of pizza parlors here.)
Pizza landed in the big cities of the eastern seaboard in the early 20th Century, brought by Italian immigrants who settled there. Its popularity boomed after World War II, sparked by returning soldiers who developed a taste for the local fare while stationed in Italy.
"It's a food that fits the bill for people on a lot of occasions," says Kevin Keating, dean of culinary arts at Tallahassee's Keiser University. "There are so many things about it that work."
"Born and raised" in New York City, Keating claims that city's iteration of pizza is the best, calling it the "quintessential street food" whose goodness can be determined "by how much grease you have dripping down your arm." The Big Apple's traditional-looking round pie is Neapolitan-style. Chicago's layered deep-dish version, which is served in rectangles, is more like Sicilian pizza.
New Yorkers will tell you the city's water contributes to a perfect crust, and Keating says they aren't just blowing smoke. "It comes from the reservoir out of the Catskills and Adirondack Mountains. It's soft water, which means it has high sodium and low calcium and minerals," the chef explains. "The dough gets conditioned, and that's what gives New York pizza its characteristic texture and flavor." Pizza crust should also be made from high-gluten flour and it should be given "a good workout" to develop the gluten, he says.
New York pizza aficionados also credit wood-fired ovens for their pie's quality. It's not really the wood or the hearth-style oven that creates the proper crust, Keating says. It's the high temperatures — upwards of 800 degrees — that deserve the credit. At lower temperatures, "the crust doesn't cook the same way, so you kind of lose out on some of that crispness."
Pizza sauce is simple, Keating says, "just a basic tomato sauce flavored with oregano, garlic, salt … maybe some bay leaf in there too." It's not the ingredients, but the cooking time that makes a super sauce, he contends. "You need to allow the acidity to cook out of the tomatoes." He also cautions against too much sauce. "Spread it out to get that thin coating. Too much sauce ruins the crust."
A stellar pizza should also feature fresh, not processed, mozzarella cheese, Keating advises.
But when it gets right down to it, figuring out what combination of ingredients adds up to your perfect pizza is up to you. We've deconstructed the pies from 13 local restaurants and pizzerias and created a chart to help you pick a favorite. Mangia!
---
Pizza Pairings
Wine authority Lee Satterfield, owner of Lee's Wine Bar in Lake Ella Plaza, offers a few suggestions for pairing libations with pizza.
» "A red zinfandel is great, especially with pepperoni," he says, because the spiciness in both complement each other. If you're eating a pie topped with earthier flavors like mushrooms, a French pinot noir is a good choice. "I also love a nice shiraz," Satterfield says.
» Satterfield's surprise pick is a "nice, dry rosé" because "it's so cool and helps cut the spice."
» When it comes to beers, he advises, "you don't want anything too heavy." Belgian Stella Artois is "a great pizza beer," or consider Samuel Adams Boston Lager or a pale ale like Sierra Nevada.
---
Lighten Up Your Slice
With fiber in the crust, calcium-rich cheese and lycopene-filled tomato sauce, pizza can be a healthful and nutritious meal option. But your choices when ordering can make a huge difference in the ultimate fat and calorie count.
For example, a single slice of a Pizza Hut medium-sized, thin-crust Veggie Lover's pizza has 170 calories and six grams of fat, according to calorielab.com. The same-sized stuffed-crust Meat Lover's pizza clocks in at a whopping 410 calories and 17 grams of fat.
For people who want to watch their calorie and fat intake, nutritionist Dr. Freddy Kaye has this suggestion:
Start out with a green salad and light dressing on the side. Then, order a marinara pizza — that is, with sauce but no cheese — and load it with vegetable toppings. (For inspiration, Village Inn Pizza & Pasta's Florentine Pizza has fresh mushrooms, spinach, sliced tomatoes and garlic.) Grab the parmesan shaker and have at it — it punches up the flavor with only 22 calories per tablespoon, he says.
"The salad and pizza will fill you up when a slice won't do it alone," Kaye says. "Or, just eat slowly and enjoy the taste without the volume."
---
Barnaby's Family Inn
2331 Apalachee Pkwy.
Crust Thin and crispy with a homemade look.
Sauce Excellent. Not overwhelming, but you can taste the spices.
Toppings Very generous. They offer the usuals, plus things like pineapple and tomato slices.
You Gotta Try The pepperoni. It's the favorite.
Delivery/To Go To go only.
Ambience English pub décor with a visible kitchen so you can see your pie being made. Very kid-friendly, with a great game room.
Cost (for medium pie) $9.89
Commentary Comfortable and familiar, Barnaby's is still a family favorite — and little ones still get pizza dough balls to play with.
Brickyard Pizza
4819 Kerry Forest Pkwy.
Crust Very light, thin and buttery.
Sauce A simple, sweet marinara with basil and garlic.
Toppings Not too generous. Meat is crumbled rather than chunky.
You Gotta Try Brickyard Special. It includes pepperoni, mushrooms, onions, sausage, green pepper and mozzarella.
Delivery/To Go To go only.
Ambience Eclectic décor combining antique elements with a workshop and a traditional pizzeria.
Cost (for medium pie) $10
Specials Lunch special, a slice for $2.50. Also combos with slices and a drink for a special price.
Commentary They serve beer and wine some unusual toppings like eggplant and pineapple. The afternoon
we stopped by, service was really slow.
Brooklyn Pizza
2035 W. Pensacola St.
Crust Just one choice, it's dry and crispy.
Sauce Not a lot.
Toppings You're sure to find one or more you like — there are 32 choices.
You Gotta Try Supreme Pizza. It's the favorite of the restaurant's patrons.
Delivery/To Go Delivery and to-go.
Ambience Great location for college students and faculty. Outside dining under tents on the patio.
Cost (for medium pie) $8.75
Specials Choose from 10 lunch specials for $6. Also a pizza special every day.
Commentary A scary-looking guy takes your order, but the place gets comfortable. Service is average, but the pizza is top notch.
Cici's Pizza
1214 Capital Cir. SE # D
Crust Thick and fluffy.
Sauce Moderate amount, unremarkable flavor.
Toppings Standards, plus exotic choices including buffalo chicken, spinach, mac and cheese and jalapenos.
You Gotta Try The peach pizza cobbler.
Delivery/To Go To go only.
Ambience It's clean. The staff is friendly and kids are welcome.
Cost (for medium pie) $5.99
Specials Lunch buffet and a drink, $6.97. "Just for Kids" ages 4-10, drink and pizza buffet for $3.99
Decent Pizza
1026 N. Monroe St.
Crust Perfection. Not too thick, not too thin.
Sauce Slightly spicy, but pedestrian. The cheese outshines the sauce.
Toppings A lot of variety and oddities such as tempeh, broccoli, sun-dried tomatoes and gorgonzola cheese.
You Gotta Try The Ben. An olive oil base with gorgonzola, green pepper, red onion, roasted red pepper and pineapple with a garlic parmesan crust.
Delivery/To Go Yes for both.
Ambience Very grungy, like a bar or tavern.
Cost (for medium pie) $13.25
Specials two-for-one draft beers from 6-9 p.m., Sunday-Tuesday
Commentary Decent serves vegan pizzas. And salads too. They also offer large single slices that are less expensive than a full pie.
Leaning Tower Pizzeria and Ristorante
2475 Apalachee Pkwy.
Crust Thin and chewy.
Sauce Minimal.
Toppings 18 "traditional" choices and 10 "premium" toppings.
You Gotta Try The garlic rolls!
Delivery/To Go Both. Delivery Monday-Saturday within a three-mile radius.
Ambience Not much decor and what's there needs updating.
Cost (for medium pie) $8.99
Specials Thursday Night Special: 16-inch pizza with two traditional toppings.
Little Italy
111-17 S. Magnolia Dr.
Crust Thin, crispy and fresh.
Sauce Just the right amount of a mild tomato sauce. You'll need to add your own spices if you want to perk it up a bit.
Toppings All the standards, or artichokes and sun-dried tomatoes for an extra $2.
You Gotta Try White Pizza, with ricotta and mozzarella cheeses and garlic. It's very rich.
Delivery/To Go To go.
Ambience Very friendly servers and an nice outdoor dining area with a fountain that makes you feel like you're in Italy. Inside is pretty Italian restaurant standard, but it's quiet.
Cost (for medium pie) $13.10
Specials 15 percent off for everyone on Tuesdays, 10 percent off for students on Mondays.
Commentary The small size pizza is reasonably priced and perfect for lunch. The quality is the same, no matter when you go.
Red Elephant
1872 Thomasville Rd.
2910 Kerry Forest Pkwy.
Crust Thin, with a twisted edge that has a cornmeal crunch.
Sauce Simple and sweet with a hint of oregano.
Toppings Typical meat and veggie options.
You Gotta Try The Santa Fe. Southwesterrn sauce, chicken, onions, jack and cheddar cheeses, jalapenos, tortilla strips and a sour cream drizzle.
Delivery/To Go To go available, delivery by Capital City Food.
Ambience Very family friendly, with table amusements and a game room for the kids. Music is geared toward the 40-plus crowd. Cool original paintings by Georgia folk artist John "Cornbread" Anderson.
Cost (for medium pie) $8.99
Specials Lunch Special (actually available all day) one-topping individual pizza, side salad and drink for $7.99.
Commentary Since it's opening, Red Elephant has won Best of Tallahassee awards for pizza, casual dining and being kid friendly. The company also generously supports local charitable organizations.
Mellow Mushroom
1641 W. Pensacola St.
Crust No variety, just one fluffy, crispy crust with choice of seasoning or parmesan cheese sprinkled on. It's good while it's hot.
Sauce Pretty generous, but be careful when you bite in because it can be hot.
Toppings An abundance of fresh toppings from a list of more than 20 offerings.
You Gotta Try The House Special, Mellow Mushroom's version of the Supreme Pizza. It's pretty expensive, but all the ingredients are locally grown. And the fresh-baked pretzels.
Delivery/To Go To go only. The menu is online at mellowmushroom.com
Ambience Convenient location for students and faculty of all three campuses. Ample inside and outside seating. Good place to watch a game. Trippy wall murals incorporate Seminole and mushroom themes.
Cost (for medium pie) $12.10
Specials Lunch and Happy Hour specials daily. Also nightly specials Monday-Thursday and Sunday.
Commentary The variety of menu items, food quality, space and young, friendly wait staff make this one of the top pizza spots in town.
Momo's Pizza
1416 W. Tennessee St.
1410 Market St.
Crust Soft and thick.
Sauce Plentiful, but not so much that it overpowers the chest.
Toppings Close to 40 different toppings. Great for vegetarians and meat lovers.
You Gotta Try The BBQ Chicken Pizza. It's extremely tasty.
Delivery/To Go To go.
Ambience A funky hangout place for all ages.
Cost (for medium pie) $13, but the medium is a huge 16 inches that feeds two to four people.
Specials Lunch special is one slice, two toppings and a drink for $6.40.
Commentary Voted Best of Tallahassee by the readers of Tallahassee Magazine for pizza in 2010. The slices are colossal. The best and only way to eat it is to fold it up.
Rummy's Pizza Pasta & Grill
2887-1 Kerry Forest Pkwy.
Crust Thin, but the texture is bread-like and soft.
Sauce Very light and plain. Not very salty.
Toppings Some unusual possibilities such as spinach, pesto, Bradley's sausage, gorgonzola and feta cheese.
You Gotta Try Spinach Alfredo Pizza: Fresh spinach, basil, garlic, tomatoes, Alfredo sauce and mozzarella cheese.
Delivery/To Go To go only.
Ambience A sports bar with lots of TVs. Kid-friendly as well, with arcade games.
Cost (for medium pie) $15.49
Specials Monday-Friday, seven items under $7 from 11 a.m.-4 p.m.; Happy Hour, 4-7 p.m.
Commentary Very good, solid pizza. And you don't feel like you overate because of the thin crust.
Surf City Pizza
6753 Thomasville Rd,.
Suite 107
Crust Homemade, always fresh and baked perfectly. Gluten free is available.
Sauce Just the right amount with a fresh tomato taste.
Toppings Fresh toppings and plenty of them. Not greasy.
You Gotta Try Their homemade ranch dressing. Goes great with pizza and wings.
Delivery/To Go Both.
Ambience Friendly service, convenient parking.
Cost (for medium pie) $6
Specials Tubular Tuesday, buy one, get one 50 percent off. Wipeout Wednesday, 14-inch one-topping pizza, $7.99
Commentary Great pizza that's easy on the budget.
Village Pizza & Pasta
1400-33 Village Square Blvd.
Crust Nicely chewy. Whole wheat crust available for an upcharge.
Sauce Just the right amount, with a nice garlic flavor.
Toppings Generous. Your best value is to buy the combination pizza specials.
You Gotta Try Florentine Pizza. Fresh mushrooms, spinach, sliced tomatoes, garlic, tomato sauce and mozzarella cheese.
Delivery/To Go To go.
Ambience Looking at the wall "frescos" is a delight. The staff is friendly, attentive and happy to accommodate children.
Cost (for medium pie) $14
Specials Kids eat spaghetti and ziti free on Mondays. Daily lunch specials include soup/salad and garlic rolls.
Commentary Sicilian deep-dish pizza is also available as well as a full menu of pasta dishes and Italian specialties.