Photographer Randy Traynor Advocates for Alaska
In the midst of the wilderness, he found a trip of an extended lifetime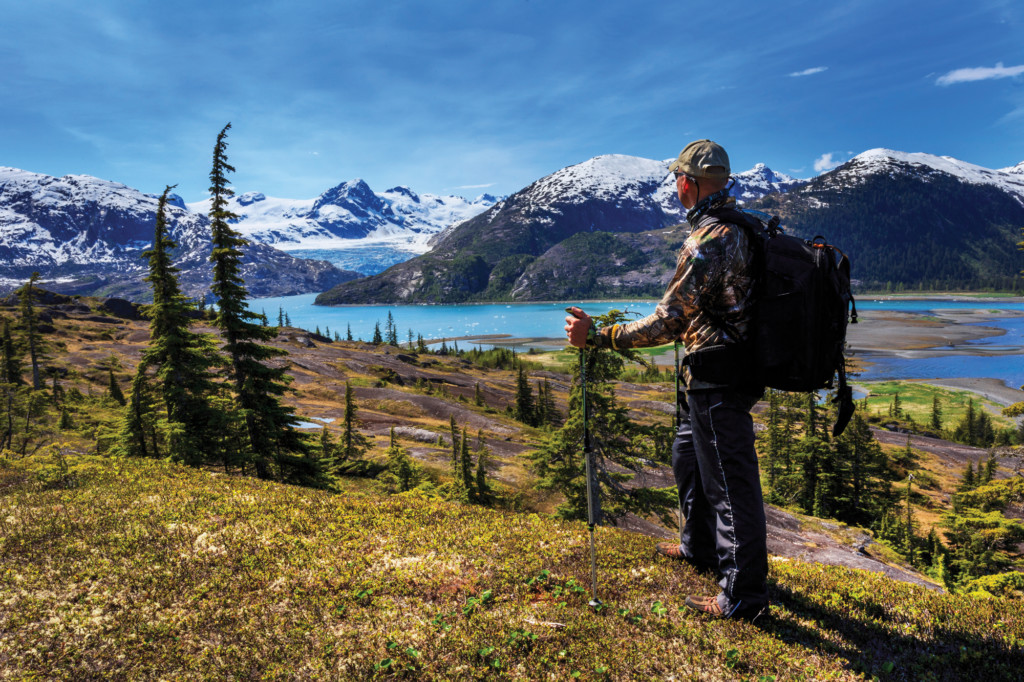 For 16 days, he was a latter-day John Muir, operating with equipment that his famous predecessor as a documenter of the Alaskan wilderness would have found inconceivable.
In March 2018, Randy Traynor of Tallahassee applied, not for the first time, to the U.S. Forest Service and the U.S. Fish and Wildlife Service, hoping to be selected for duty as an artist-in-residence in the agencies' Voices of the Wilderness program. He was among some 2,500 applicants who competed for just 10 slots in Alaska.
Each of the chosen few would be called upon to provide depictions — in words, artworks or photographs — of scenery and wildlife to be used in a U.S. Forest Service campaign aimed at fostering appreciation for the importance of stewardship of public lands. Applicants were required to submit a portfolio of their work and write an essay about how their residency would advance campaign goals.
"It was like applying to graduate school or writing a thesis," Traynor said. But, in that regard, he was in good shape. He had engaged in environmental advocacy photography before — in the Everglades for the Defenders of Wildlife — and could speak to that experience in his essay. He was optimistic.
Traynor's application was pending when he developed a pain in his leg severe enough to cause him to schedule an appointment with a doctor. The doctor referred him for an MRI. That test would reveal something potentially far more serious than the inflammation in Traynor's leg. There was a mass on one of his kidneys.
Accompanied by his wife, Traynor was back at the doctor's office for biopsy results.
"I got the diagnosis you never want to hear," Traynor said. "And when we were headed toward the car, I said to my wife, 'Just wait, this will be the year I get picked for Alaska.'"
Surgery to remove the malignancy already had been scheduled when Traynor received a phone call from Barbara Lydon, a manager with the Forest Service in the Prince William Sound region of Alaska.
Traynor had been chosen. The surgery was going to have to wait a while.
Muir — the philosopher, naturalist and early environmentalist — described in his writings glaciers that were growing. It would be Traynor's job to document what has been lost in Lydon's territory and what we stand to lose if climate change goes unchecked.
Today, lakes exist where none existed 30 years ago.
Areas that had been accessible only by trains have been opened to motorists and the attendant pollution produced by automobiles.
Emissions from cruise liners are killing the lichens that moose and other creatures depend on.
Rising temperatures are robbing streams of oxygen and effectively frying salmon fry.
Natural rhythms and timeless calendars have been disrupted. Berries now ripen at the same time migrating salmon head upstream, messing up the eating habits of bears.
Permafrost is no longer permanent. Diminished snowfall has lessened stream flows.
The acidification of seas is killing the tiny krill that sustain massive whales.
Waves of dandelions, an invasive plant species, are overtaking newly dry lands.
Alaska is more complex than it was in Muir's day. Now, it is a place both beautiful and sad.
Said Traynor, "I was taking pictures of glaciers that may not exist in 20 or 30 years."
Still, Alaska is a source of awe. Traynor and the rangers who were his companions during his residency visited places where they made their own trails, where moose and bears ignored human intruders and just went about their grazing and berry consumption.
In 1980, Congress designated roughly 2.1 million acres along western Prince William Sound as the Nellie Juan-College Fiord Wilderness Study Area, or WSA, believing that research might establish whether the area should be made a national park or otherwise protected.
Located in south-central Alaska in the Chugach National Forest, the wilderness features the densest concentration of tidewater glaciers in the world, some extending more than 10 miles from ice-capped peaks to cliffs towering above the sea.
Reports Traynor: "The history of glaciation is evident everywhere you look, from newly de-glaciated barren hillsides, to ancient moraines that are just below the water's surface."
Nearly 40 years after it began, the study continues. No designation aimed at preserving the wilderness's special character has been made.
Often, the government moves at a glacial pace.
Traynor calls his Alaska residency the trip of a lifetime, a life that has been extended indefinitely by the early — in Traynor's case, accidental — detection of a renal mass and successful cancer surgery.
He entered Alaska cognizant that countless photos of glaciers and mountaintops and moose and black bears and sea lions had been taken before. He worked, then, to take photos from angles not usually considered.
"I tend to shoot low," Traynor said. "I may be prone on the ground. I like to take pictures of animals, even birds, at eye level. I want you to feel like you have walked into the photo. I am less likely to take a shot from the water's edge than from the middle of the stream."
Traynor's self-taught education as a photographer began when his father bought him his first camera, a Kodak 110. Now, at age 50, the Florida boy looks forward to seeing his photos displayed at galleries in Anchorage and at the U.S. Ranger Glacier District visitor's center in the tiny town of Girdwood, Alaska.
See more of Randy Traynor's photography at randytraynorphotography.com