Photographer David Moynahan Is a Documentarian, a Technician and an Artist
His mission as a conservation photographer is to inspire people in saving the natural world.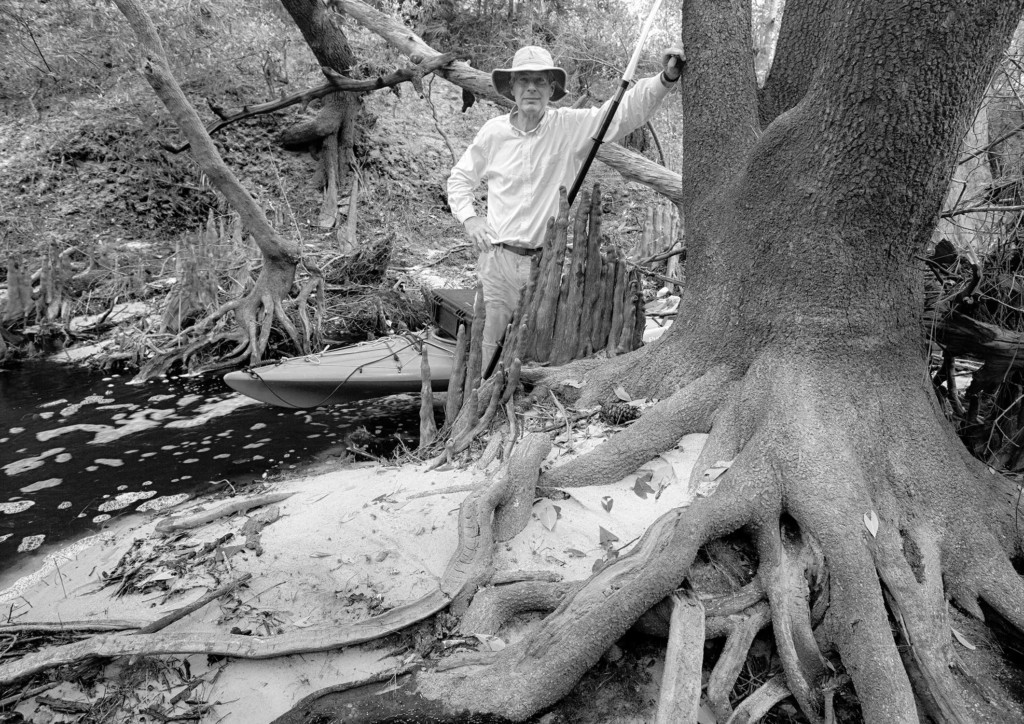 On a cloudless day, waters near a bank of Econfina Creek dimpled as if from large raindrops. Made curious, David Moynahan, for whom the natural world always has been a dear companion and a source of fascination, went to investigate.
He was surprised and delighted to discover a live stew of large tadpoles, future river swamp frogs.
Equipped with an underwater camera, Moynahan slipped into the creek and, shooting from the bottom up, captured images of an animated curtain of the outsized larvae, their heads the size of tennis balls, as they surfaced and submerged, surfaced and submerged, synchronized swimmers of a primordial looking sort.
The spontaneous tadpole shoot is among the first to leap to Moynahan's mind when he is asked to name a couple of his most memorable wildlife encounters. Too, there was the time that Moynahan, walking on a beach, spied a gull with a crab in its beak. Or was it a crab?
He felt compelled to chase the bird and did until, flustered, it dropped its payload, which proved to be a tiny sea turtle. Moynahan photographed the hatchling and then carried it out beyond the breakers, enhancing its survival prospects. He is a man who lives to give beasts a chance.
He got his first taste of photography as an undergraduate student majoring in biology when he worked for a professor who was writing a textbook and needed images of particular subjects. The prof supplied him with a camera. A fellow student introduced him to the darkroom.
"One Thanksgiving break, I literally spent four days and nights in the Bio Lab darkroom that I had all to myself," Moynahan recalled. "I had an ice chest of food and I stayed there experimenting and learning. All the materials were at my disposal free of charge and that was a big deal to a college student."
At the time, developing prints involved dipping photo paper in a series of baths — developer, stop, fixer. But the era of digital photography had arrived by the time Moynahan turned pro 15 years ago when he was contacted by a friend, Susan Cerulean, who worked as a writer for the Florida Wildlife Commission. The agency was looking for a photographer and Moynahan was encouraged to submit a portfolio.
For the state, Moynahan would make two or three trips a year around Florida shooting wildlife, landscapes, habitat and management projects.
"FWC made me more of a documentarian, but that has always been a leaning of mine," Moynahan said. His exhaustive database is meticulously indexed and organized by keyword. He can immediately locate a shot of a fire ant island, scallop or Blackburnian warbler with ease.
Moynahan has undergone no formal training in digital darkroom work. Rather, he's watched a lot of tutorials and has applied what he learned long ago, dodging, burning and adjusting contrast as he did in college, now with advanced technologies. He has become adept at applying Photoshop and Lightroom software to his work.
But, foremost among all that he is, Moynahan said, is his artist self.
"I have never been without a creative outlet," he said. "Photography provides a great opportunity to capture what I see as art. Not just the scenery, but maybe a piece of driftwood sculpted by the elements or a swirl of seashells on the beach.
"I am a photo naturalist, but I also look to nature for elements that aren't necessarily subject based: patterns in the hide of an alligator or the detail in tree bark."
Of the 14 galleries on his website (davidmoynahan.com), four are devoted to "photo art."
Over the years, Moynahan has become increasingly sophisticated in his approach. Having learned advanced lighting techniques from a mentor, John Moran, his nightscapes may comprise 50 or more layers of images. For five years, these compositions, which he concedes are "more surreal than real," have been a passion. And, within the last year, he has begun to experiment with high-contrast, black-and-white infrared photography.
But, always, he remains mindful of fundamental guidelines: the rule of thirds, effectively employing diagonals and horizon lines, avoiding excess clutter. And his photography is consistently and closely connected to a purpose.
"It occurs to me all the time that I may be photographing something that may not be around for long and that really makes me sad. Wakulla Springs is not clear anymore. The Tarzan tree is gone. But I try to focus on what is left and what can be preserved with good stewardship. My mission as a conservation photographer is to inspire people to play whatever part they can in saving the natural world."
See more of David Moynahan's work below: