Peter Schweizer Writes About Politics from a Conservative Point of View
The Right Perspective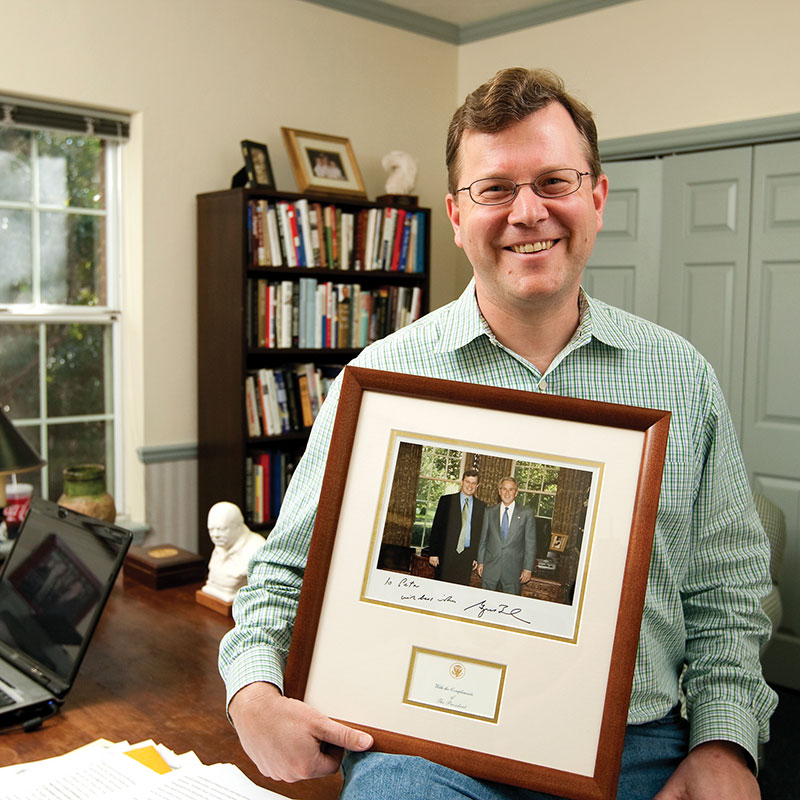 For a man who has written two well-known presidential biographies, met three American presidents, had his writing featured in most major newspapers in the United States and appeared on all of the major network news shows, Peter Schweizer is remarkably low-key and approachable. And he calls Tallahassee home.
His office, located in a complex on Capital Circle, reveals a similar lack of ostentation. Biographies and historical works spill out of a wall-sized bookcase (he reads three to four books a week), and papers are strewn about on his wooden desk, which is decorated with a small bust of Winston Churchill scowling as if deep in thought.
One can't help but wonder if a similar scowl marks Schweizer's face when he is wrestling with the book-writing process — something he's quite familiar with now, as he has written or co-written a dozen books. Some of his works are biographies on
political figures such as the Bush family and Ronald Reagan, others are conservative polemics decrying liberal hypocrisy, and still others are academic works with an emphasis on historical research. Schweizer has even written a novel. All of it is a bit unexpected for a man who says writing was not his forte growing up.
"Writing I don't think was one of my strengths as an undergraduate," he said. Schweizer, 44, earned his bachelor's degree from George Washington University and worked for a year in Washington, D.C., before going to Oxford University to get his Master of Philosophy degree in international relations.
"At George Washington you'd occasionally have to write a paper, or you'd occasionally have to write an essay question, but at Oxford I had to write 25 pages every week in an essay for a tutor, and I had to sit down and read it in front of the tutor," Schweizer said. "And that really led me to hone my skills in writing."
After graduating from Oxford, he married his wife, Rochelle, also a writer, whom he had met during his year in Washington. They moved back to D.C., where he started freelancing for various newspapers, including The New York Times. A New York book agent, Joe Vallely, ran across an op-ed Schweizer had written for the Times about the Russian military. Intrigued by the topic, Vallely called Schweizer and asked if he would be interested in writing a book on the subject.
"No," Schweizer told him, "but I'd like to write a book on espionage, on how foreign countries, many of whom are America's allies, are stealing our secrets right and left."
The idea pleased Vallely, and in 1993, the Atlantic Monthly Press published Schweizer's first book, "Friendly Spies." The book was successful and Schweizer kept writing, finding that he enjoyed the process of exploring a topic deeply. In the same year, he became a media fellow at Stanford's Hoover Institution.
In 1994, he and Rochelle moved to Tallahassee so he could head up the James Madison Institute, a conservative think tank specializing in issues of economic policy.
"We wanted a change because … there's a lot of overhead to life, not just financial, to living in D.C.," he said. "There are a lot of demands. I've loved it here, and since then have continued to write on a wide variety of subjects."
Since moving to Tallahassee, he has maintained his relationship with the Hoover Institution (currently he is a research fellow) and the institution supports his writing endeavors by paying him a salary and benefits. That helps a lot, he says, since he doesn't have to worry about finances the way many freelance writers do.
As an author, he has learned a few lessons along the way.
"I think the biggest challenge that a writer has, if I were to give advice, is to realize that you can't just write what you want to write about," he said. "You have to recognize that somebody has to be willing to buy the book. So I'm not just saying sell out and write what you think is marketable, but there has to be some recognition."
He must have done some things right, because according to his agent, Schweizer's publisher loves him.
"He's the kind of person you can rely on," Vallely said. "He's very much the gentleman, which isn't true of many journalists. And he has a point of view. It's important in the writing business to have a point of view."
Most of Schweizer's books deal with conservative politics, a perspective he attributes to his immigrant parents.
"My father's from Switzerland, my mother's from Sweden," he said. "I think they were typical immigrants. They were more patriotic than many Americans, so they, my mother particularly, would always tell us what was happening in Sweden and how socialism was making it very difficult for families."
Schweizer remembers arguing about politics over the dinner table and having lively discussions. And he developed an interest in international politics by traveling abroad when he was young.
"We went to Europe for seven weeks in a pop-up camper, and we'd see Europe and spend time with family members and relatives," he said. "So that exposed me to the world and sort of intrigued me."
Writing books continues that trend, allowing him to travel, meet new people and find out juicy historical details through his research.
"I love the research process, because it gives you a chance to discover things," Schweizer said. "And as you start to look through the masses of material and research, at least for me, patterns start to emerge."
And of course, there are always those "Eureka!" moments when he finds some nugget of information that helps everything fall into place. One of those moments happened when he was doing research in the Soviet Archives for his book "Reagan's War."
"I ran across a KGB analysis of Reagan, and it was fascinating because I looked at this and I thought, you know what, the KGB is basically Reagan's enemy, and they understand him better than a lot of people in the United States do," Schweizer said. "You have this image of Reagan as sort of this idiot buffoon. But they used this expression, 'Ronald Reagan is one for whom word and deed is the same.' If he says he wants to battle communism, he wants to battle communism."
And then there also are the humorous discoveries, like the time when he was looking through IRS forms while researching tax shelters for his book "Do As I Say, Not As I Do: Profiles in Liberal Hypocrisy" and discovered that gadfly filmmaker Michael Moore and his wife had set up a tax shelter.
"As I was going through these 990 IRS forms I realized that he has invested money through this tax shelter into all these corporations, and one of them was Halliburton, which was the big defense contractor that he has criticized and accused of being murderers," Schweizer recalled with a wry smile. "And that was sort of a humorous epiphany, because I thought this was so over the top, it was so ridiculously contradictory, that it was just sort of a great euphoric moment."
Several of Schweizer's books have received critical and popular acclaim. The New York Times hailed Schweizer's biography on the Bushes ("The Bushes: Portrait of a Dynasty"), which he co-wrote with his wife, as "the best" of the books on the Bush family. And his book "Do As I Say, Not As I Do" spent eight weeks on the New York Times' bestseller list.
Not everyone is a big fan of his work, of course. A quick scan of the comments about his book posted by various users on Amazon.com reveals both positive reviews ("To anyone who is interested in American history, this account of the Bush family is a must read") and negative comments. (One reviewer claims the book has "an almost cultist blind faith in the Bush family.")
Schweizer said he does receive angry e-mails, letters and phone calls from time to time.
"One of the interesting trends that I've noticed is that the Internet has made rage a lot easier, because you don't have to go through the (letter-writing) process," he said. "Now, with e-mail, you get the most horrific and horrendous sorts of obnoxious comments. And the big challenge is deciding how to respond."
He said his policy is to respond graciously and thank people for their "well-thought-out" replies.
He makes time to respond to letters and e-mails in between a busy schedule of writing and traveling. In January, Schweizer returned from spending six weeks at the White House, helping former President Bush's chief speechwriter, Marc Thiessen, to write an official White House account of Bush's policies and accomplishments while in office.
He and Thiessen have been good friends for the past decade, ever since Schweizer was asked to lend some of his book-writing expertise to Sen. Jesse Helms, whom Thiessen was working for at the time.
"I've tried repeatedly to pull Peter into politics, and I finally succeeded at the end of Bush's administration," Thiessen said with a laugh, joking that he has ruined Peter's record of never accepting taxpayer dollars for any of the work he's done.
Thiessen calls Schweizer "one of the most important conservative writers in America" and says his books have been "influential."
"He's an important writer and, more importantly, a good and decent man," Thiessen said.
Earlier this year, the two began a new endeavor together, launching a firm called Oval Office Writers, which will provide speech writing, ghostwriting and communications strategy services to corporate executives, politicians and others.
In addition to starting a new business, Schweizer is working on a book for Doubleday on the inability that many people have to think clearly about foreign policy. Future writing plans include a book on the War on Terror and a biography about Bobby Jindal, the Republican governor of Louisiana often named as a presidential prospect in the 2012 election.
As far as his audience is concerned, he said he has two goals.
"When you're writing nonfiction, I think you've got to entertain, and hopefully it will enlighten," Schweizer said. "And by enlighten, I don't mean to say, 'Well, you know, you've got it all wrong and I've got it all right,' but I hope when somebody reads one of my books, that they think, 'I've learned something that I didn't know before.'"