Peter Boulware Sells Toyotas and Promotes Healing
Boulware continues to give back to the community that launched him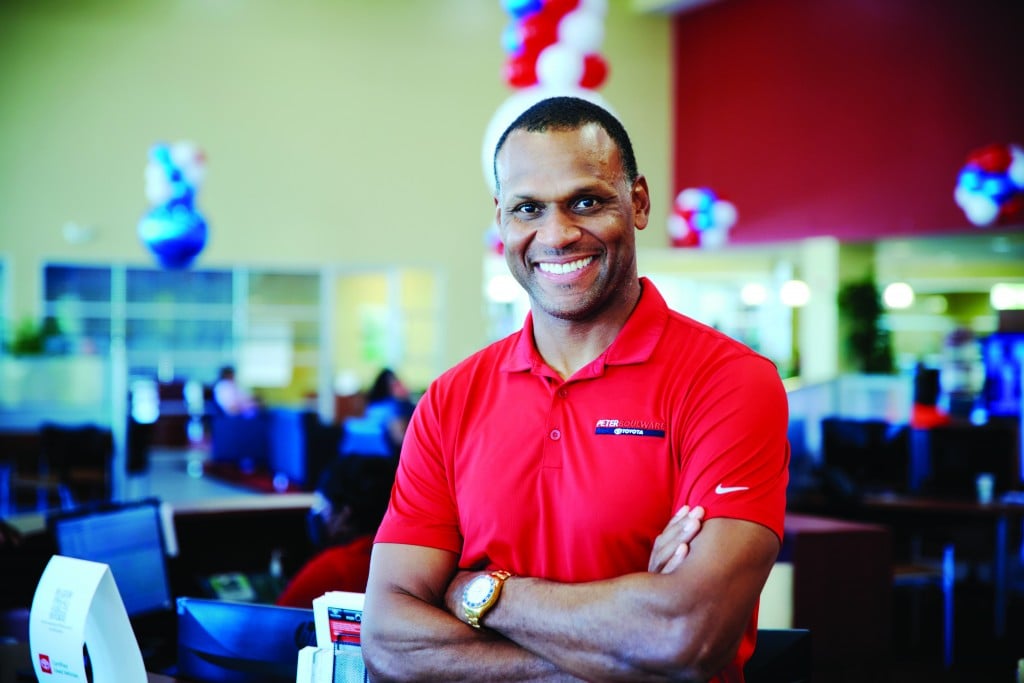 Peter Boulware believes that the simultaneous pursuit of excellence and godliness makes for a complete person capable of leading others by example.
Inspired first by his parents — he grew up in Columbia, South Carolina, where his father worked as a radiation oncologist after putting himself through medical school — Boulware has lived his life that way.
"True leadership for me is being great at what you do while also helping others realize their potential," said Boulware, a standout football player at FSU who went on to play nine seasons for the NFL's Baltimore Ravens. "It's not always about being the best or being the boss."
Leaders may emerge from unlikely corners.
"You don't have to have a football to be a good role model," Boulware said. "You can be a great mom, a skilled technician, any role that you play, big and small, you can be a leader if you have the heart of a servant."
Twelve years ago, Boulware and his wife Kensy founded the Community Leadership Academy, a private, faith-based charter school committed, per its vision statement, to "developing the next generation of godly leaders."
The school, which does not receive public funding, blends classroom instruction and homeschooling — to good effect. Its students' scores on standardized math, reading and language tests far exceed national averages.
Thirty students in grades kindergarten through 3 made up the academy's first class. It added a grade level each year, then paused for a couple of years as a K-8 school before deciding to serve high school students.
This year, the school, which is accredited by the Southern Association of Colleges and Schools (SACS), conducted its first commencement exercise.
"That was a special moment, to see kids who started with us in the first grade graduate and also get into the colleges that they most wanted to attend," Boulware said.
As a high school senior, Boulware took close looks at programs including Notre Dame, Georgia Tech and the University of Miami. Then, Bobby Bowden came calling.
"He had such a presence," Boulware said. "Mom and Dad were like, 'Oh, yeah, you're playing for that guy.' He was a great X's and O's guy, and he is a man of faith, character and integrity."
Boulware credits Bowden with bringing out potential in him that he didn't know he had.
"He saw to it that we worked hard," he said. "He didn't let us cut corners. He didn't tolerate a sorry attitude. His approach was 'I am not here for you to like me; I am here to make you the best you can be.'"
Boulware freely admits that he didn't always like what FSU practices entailed, and he didn't always like the men running them. But years after graduating with a degree in management information systems, he doubled back to Tallahassee and thanked Bowden, defensive coordinator Mickey Andrews and linebackers coach Jim Gladden for "being on me and staying on me."
Today's Seminoles, he said, are in good hands.
"I like Coach (Mike) Norvell, I like his staff," Boulware said. "The first couple of years in a coach's tenure, I don't really look at the wins and losses. To me, that's a poor gauge of what's happening. Sometimes, you have to go backward and tear some things down in order to build a foundation for going forward."
It takes time to build a culture.
"Coach Norvell is establishing standards and processes. How do we practice? How do we warm up? What are our drills? How do we train? If you establish a system and get everybody buying into it, then you can be a solid eight-win team year after year. But the reality in football is that if you want to win a national championship, you've got to recruit, you've got to get the studs.
"I want to win the national championship tomorrow, but that's not gonna happen. It's gonna take a few years, but I can see that we are pointed in the right direction."
COMING BACK, GIVING BACK
At the conclusion of his pro career, Boulware doubled down on Tallahassee.
"My wife (Kensy) is from Los Angeles, and I'm from South Carolina, and when I finished from the NFL, we could have gone anywhere, but we were close to people in Tallahassee, and it's such a good place to raise kids. We love that small-town feeling."
The Boulwares have five children, ranging in age from 10 to 18. The eldest, a daughter, was accepted into the FSU film school and was due to start classes there this fall.
Too, Boulware wanted to give back to the community that launched him.
"When I arrived as a freshman, this town embraced me and gave me the opportunity to come to college and live my dream," he said. "Now it is time for me to serve."
Boulware owns the Toyota dealership on Tennessee Street, and business is as good as can be.
"We are selling all the product that we have, and we're frustrated that we can't get more," he said in June, noting that he had customers on waiting lists.
"The Corolla flies out of the showroom. Our RAV4, our Camry, same way. The Highlander is a great seller for us. We can't keep the Tacoma or the Tundra in stock."
The high demand for Toyotas notwithstanding, Boulware works to make sure that today's sale leads to future sales.
"People are buying a car from us, but more importantly, they should be buying a positive experience," he said. "People can go out of town to buy a Toyota. We make sure every day that people really enjoy doing business with us."
Boulware, who drives a four-door Tundra — his wife drives a Land Cruiser — personally engages in as much customer contact as he can make time for. He may hang around the showroom or visit the service garage.
"Our customers are our lifeblood," Boulware said. "I want to be available and accessible to our customers whenever they need me."
Boulware ran as a Republican for a seat in the Legislature in 2008, losing by the equivalent of an extra point. He called his run for office a "good learning experience" that led to an appointment to the state Board of Education but doubts that he will get back into politics.
"My goal is to support good people with good ideas," he said. "I am not super partisan. I believe in good ideas no matter which side they come from.
"I hope they get it right in Washington, I hope they get it right in Tallahassee, but I am not going to wait or rely on elected officials. As an auto dealer and someone who runs a nonprofit, there is a lot of work that I can do to promote healing. We can do it ourselves. You and I or my neighbor and I can come together and do sensible, helpful things. If we all do our part, collectively the healing will happen."
Boulware said faith enables him to treat people nicely even when they treat him poorly.
But what if there is a mad scramble for a fumble and you're at the bottom of the pile and somebody is gouging your eyes out, it's hard to feel good about that guy, no?
"Absolutely. We're still human."