Personality: Vince Long
New County Administrator Vince Long Aims to Improve the Way Government Does Its Business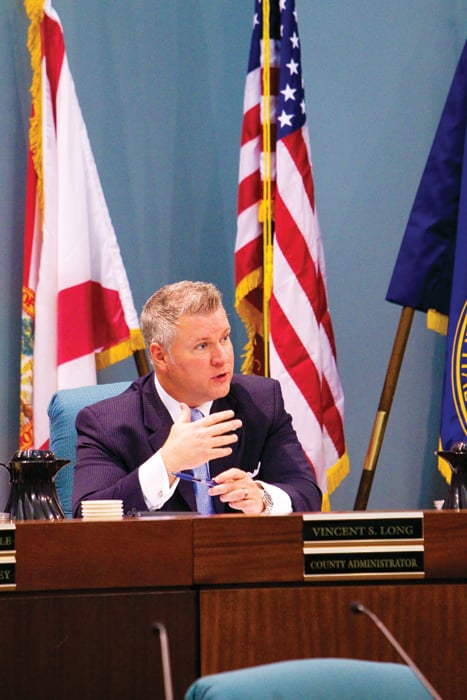 After spending the past 16 years in a variety of management jobs within county government, Long took over as Leon County administrator July 1. It was such a no-brainer that he would succeed Parwez Alam, whom Long describes as his mentor, that one county commissioner suggested a search be conducted simply to confirm that he was the best choice. The Board of Commissioners saved its money and instead voted unanimously to promote him.
To those who don't know Long, it would be a mistake to assume that hiring a guy from inside the organization meant things would keep purring along the way they had been. The new boss likes to say he has "a new model for the new normal," one that emphasizes effectiveness, stewardship and relevance.
"It's a culture shift," Long acknowledged, "but it's a formula that works. I'm proud to be a public servant. I'm passionate about public service. For years we've been brainwashed that efficiency is all that matters, and the part we've missed out on is the relevance."
Get him wound up talking about his vision for county government and see a true believer emerge, an evangelist worthy of a tent revival. Public servants can and should prove their worth to the taxpayers, he says, as stewards of the shared resources of a community. People who see themselves as disenfranchised taxpayers can be converted into engaged community stakeholders, he insists, and citizens can trust that government employees really are here to help. Just give public servants a structure that works and empower them to solve problems, and citizens will realize the value and necessity of what they do. That's the Local Government Gospel According to Vincent S. Long.
For a study in contrasts, look no farther than the state Capitol, diagonally across Monroe Street from the Leon County Courthouse, where the majority of legislators, as well as the governor, seem to think there's nothing that government does now that can't be done better by the private sector. That philosophical gulf stretches beyond, and beneath, the traditional liberal-conservative, less government vs. more government differences and gets down to the very core of what government should do for its citizenry, and how it should be doing it.
"The 'why' is the most important thing," Long said. "We have to demonstrate to the citizens — I think that 'citizens' is a better word than 'customers' — that they are the reason we are here, to be responsible and responsive in providing them high-quality services."
He wants to run county government more like a business, not put it out of business. In the strategic plan he prepared for the commissioners, and in the "My View" he wrote in August for the Tallahassee Democrat, Long repeatedly used the phrase "People focused. Performance driven." And while it sounds more like automotive advertising than government service, the core message resonates: If you create an organizational structure that makes sense and empower employees to help the citizens, they will.
Changes he has instituted are already drawing notice. Local businessman John R. Lewis sent an email to Long on Aug. 31 saying he had noticed a change in the "attitude air" at the county.
"I have had two involvements recently and have found the cooperativeness of the county staff to be noticeable (sic) different," Lewis wrote. "Instead of posturing for an assumed adversarial relationship, the new initial approach from staff is an amicable 'let's work this out cooperatively and as partners solving a mutual challenge.' Thank you for your leadership."
Both Commission Chairman John Dailey and Sheriff Larry Campbell also think Long is on to something.
"Vince is a people person, and many times citizens don't think of government as being customer-friendly," said Dailey, one of Long's former students. "I think people are going to see Vince take local government to the next level."
"That boy's sharp," Campbell said. "He's really smart, and he knows how to get people to buy in to what he's trying to build."
Kelly Otte agrees. She met Long in the 1990s, when he was fairly new to county government and she was the new executive director of Refuge House.
"Everyone knew he was destined for big things, for two reasons: He's super smart, and he's very much a relationship builder," said Otte, now executive director of Pace Center for Girls and founder of The Oasis Center for Women and Girls, Inc. "Leaders are leaders because people want to follow them, and all good leaders share the ability to develop relationships with all kinds of people."
His life path no doubt helped him hone that skill.
He holds a master's degree from Florida State University's Askew School of Public Administration and Policy, where he also taught graduate courses in local government for a dozen years, and he graduated from the Executive Program at Harvard's John F. Kennedy School of Government. Despite the advanced degrees and Ivy League burnish, Long describes himself as more of a blue-collar guy.
"My parents were poor Irish kids living in a tenement house in New York City, and they moved us as young kids to Central Florida, Inverness, because they wanted us to have a sense of community," he said. "My dad was a working man, a truck driver, a Teamster, and he could hustle and find work in the city but jobs weren't as plentiful in Florida in the '70s. It was farming or homebuilding."
After a couple of moves back and forth to New York, the family settled back in Florida and Dad stayed in New York to work. When he got old enough to work with him, Vince spent summers in New York. "Working on the back of a moving van convinced me that I wanted to stay in school as long as I could," he said with a chuckle. "That was all the motivation I needed."
He stumbled on to local government administration. He thought he wanted to be a policy analyst, maybe work for one of the federal investigative agencies, but he applied for an internship as a lobbyist for Pinellas County — only because it paid — and once he got it, he was hooked on local government. A fortuitous turn of events led him to Alam, who took him on as a six-month intern and promised to teach him everything he needed to know about local government administration.
That was more than 16 years ago. Like so many other FSU graduates, Long stayed in Tallahassee, realizing it is a great place to live and to raise a family. He met his wife, Julann, a math teacher at Florida High, at FSU. They have three children, sons Kellen, 11, and Jack, 9, and daughter Riley, 6, whom he describes as "the boss of all of them."
His sense of what government ought to be to its citizens was strongly influenced by what he learned of family obligation. "My parents had a tremendous role in shaping who I am," he said. "They taught us the importance of caring for people. If you're going to labor in this life, what better use of your talents than to improve the lives of people?"
Long gave up teaching at FSU two years ago to spend more time with his family, although he hopes to return to the classroom when the kids are older. He admits that headhunters contact him periodically about other job opportunities, but he says he's right where he wants to be. He has laid out a big task for himself: to inject a customer-service mentality into public service and create a government relevant enough and helpful enough to withstand economic and political crises.
"As long as I'm working hard and learning and being challenged every day," he asked, "why would I go anywhere else?"