Personality: Sylvia Ochs
Always There When You Need Her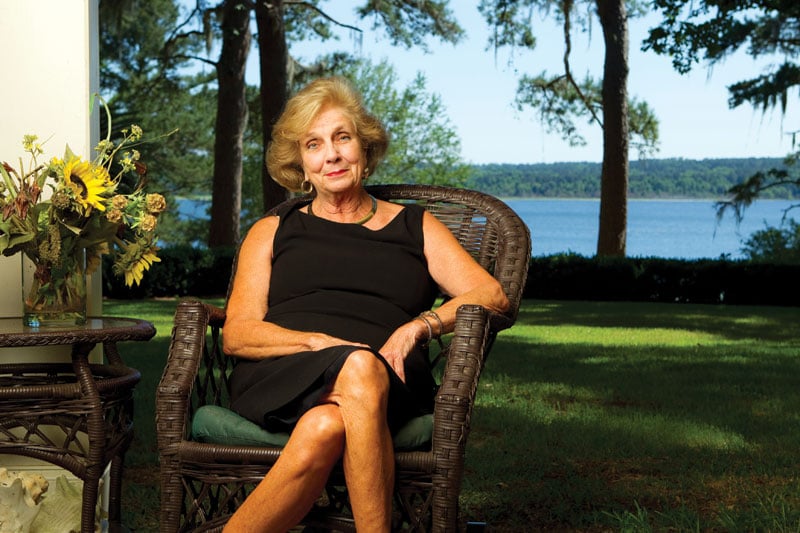 Sitting on the sun porch of her expansive home overlooking Lake Jackson, Sylvia Ochs has time now to reflect on a lifetime of amazing achievement.
She looks out on a vista that has calmed her through the years while she was in charge of so many diverse programs, people began to describe her as "the woman who can do anything." She has blazed a trail of "firsts" in everything from Tallahassee Memorial Hospital galas to Fourth of July celebrations to the Maclay Gardens Pops in the Park to the Red Hills Horse Trials to the Tallahassee Performing Arts Center.
A workaholic of diverse talents and enormous energy, Ochs (whose name is pronounced "oaks," like the tree) says she is on a self-assigned "sabbatical" now. She's taking a deep breath after all the lasting legacies she has helped to found.
But those who know her best say she has never considered her many achievements to be burdensome, anyway. Instead, she approaches everything with her signature sense of humor and copious amounts of joie de vivre because she feels, "if it's not fun it's simply not worth doing."
A woman of diverse talents and interests, Ochs is known for her ability to bring people together — her imaginative sense of adventure and her determined devotion to organizations and programs have made a lasting difference to the local community. No matter how big the program or the goal, when doors of opportunity appeared, she had the vision to open them.
"There is nothing she can't do," said her longtime friend, community leader Gayle Nelson. And the tall, slender Ochs lives up to her reputation. She is a pilot and former operating-room nurse. She has a beautiful singing voice and plays the piano, violin and French horn. She is a terrific tennis player and a gourmet cook. And she is a highly skilled accounting expert who has guided dozens of organizations to fiscal efficiency.
Prominent civic leader Paula Smith said she and Ochs have joined forces on several important community programs. Both previously served on the original board of directors of the proposed Florida Center for Performing Arts and Education and a long list of Junior League of Tallahassee activities (both are former League presidents). "Sylvia is someone I can always depend on for her good advice, knowledge, experience, complete thoroughness and dedication to the task at hand," said Smith.
Echoing the general feeling that Ochs can do anything she sets out to do, Smith said, "It would be hard to find a single phrase to describe her many talents. On a personal note, Sylvia and Gayle planned and directed our daughter Jennifer's wedding and reception. It was all perfectly gorgeous."
Tallahassee's Volunteer of the Year in 1981, Ochs has lavished her time and skills on many groups. She has raised millions of dollars for civic projects, having been on the front lines of the campaign to build a new public library, the creation of Maclay Gardens Pops in the Garden and Moon Over Maclay fundraisers, and the move of Tallahassee's 4th of July Celebrate America from tiny Lake Ella to its incarnation as a Tom Brown Park extravaganza. Her interests have included the Tallahassee Symphony Orchestra, Tallahassee Civic Ballet, Florida Heritage Foundation, Monticello Opera House, Tallahassee Museum of History and Natural Sciences and LeMoyne Foundation.
Although the hats in life that Ochs has worn are many, her love for horses has been a constant thread woven through most of those years.
Today, her name has become synonymous with the Red Hills Horse Trials (RHHT), which she and Sallie Ausley organized in 1998. The two have combined work and wits for decades, dating back to when their daughters were in the Tallahassee branch of the U.S. Pony Clubs, Inc., and they shared hauling a horse trailer to far-flung road adventures on horse show weekends.
"Sylvia is the most organized, hardworking person you will ever meet," says Ausley. "But she makes everything so much fun, you don't mind the work."
The Red Hills Horse Trials, a project that was to join them at the hip and consume their lives for the next 10 years, came about "like a lightning bolt out of the blue," Ochs recalled. "Sallie and I heard that Tallahassee ecologist and horse enthusiast Colin Phipps was building a cross country course on his property called 'The Farm' off Meridian Road. He had asked Captain Mark Phillips (Chef d'Equipe and Technical Advisor for the United States Equestrian Team and a former member of Great Britain's Olympic team) to design it and Scotland's Hugh Lochore to build it.
"Sallie and I had a lot of experience with horse trials, and we thought this was a great opportunity to establish a quality event in Tallahassee," said Ochs. "Colin was very receptive, and Sallie and I began to twist every arm, bend every ear and look in every nook and cranny to find financial support."
It took about two years for everything to be in place for the first RHHT in 1998. Since its inception, it has become one of the premier equestrian eventing competitions in the United States. Held annually on the beautiful grounds of Elinor Klapp-Phipps Park in northeast Tallahassee off Meridian road, riders from 11 countries and 28 states competed in the prestigious United States Equestrian Association (USEA) Adequan Gold Cup event this year, including Olympic competitors.
Named for the sloping terrain and rich red earth of the region, the Red Hills community embraces this nationally recognized event with support from more than 400 volunteers. "Each year, we literally build a city in a few weeks," Ochs observed. "We must lay out the course for four dressage rings, the stadium jumping and cross country course, stabling, the 'Red Hills Avenue of Shops', 'Saddlers' Row', the food court, and a variety of exhibits, educational demonstrations and park and botanical tours. It's a huge undertaking, but we put it all up and take it all down in a remarkably short time."
More than 25,000 spectators come out to enjoy the competition of the top riders. "We initially feared we would be seen as a little elitist," Ochs said. "But we haven't seen that in the people who come. I continue to be overwhelmed by the number of people who come out who aren't horse people."
Red Hills Horse Trials gives back to the community, donating $325,000 to its charitable beneficiaries, Elinor Klapp-Phipps Park and the Tall Timbers Research Foundation, Inc., over the years.
Ochs and Ausley were volunteers the entire time they spearheaded RHHT, accepting no salaries for their fulltime work. When they resigned from their posts with the organization in 2006, a staff had to be hired to replace them.
Although she no longer rides and she has "retired" from day-to-day operations of RHHT, she still pitches in to help as needed. "I can't seem to say no," she says. "I love being around horses."
Although none ride horses today, all of her now-adult children liked to ride growing up and were active participants in the Tallahassee branch of the Pony Club. Her daughter, Lisa Perry, has carried on her mother's traditional love for horses by currently serving as RHHT Event Administrator, a title that covers anything and everything to do with the organization's operations. Her other grown children are Karla Newton, who now lives in Jacksonville, and George, a podiatrist in Albuquerque, N.M.
Perry says of her mother, "She's a fabulous lady and a great role model, always there when you need her. And both of us enjoy living in the same community with lots of the same interests."
Ochs taught a generation of Tallahassee youngsters the basics of horse care and safety as a Pony Club instructor, and the family became regular riders at the late Arvah Hopkins' Double D Stables on Miccosukee Road. She rose through the echelons of Pony Club to eventually become a member of the organization's national board of directors.
But those activities weren't all for kids. She gets a mischievous grin on her face when she remembers that early on she taught an adult class of prominent super-achievers at Double D. All Scorpios, the women had been celebrating their birthdays together for years, and one year they decided they wanted Ochs to teach them to ride.
The group included women who are now considered her lifelong friends: Nelson, then a Leon County commissioner; Mary Pankowski, then Florida State University assistant vice president for academic affairs and director of the Center for Professional Development; FSU sociology professor Pat Martin; and Margaret Lynn Duggar, then Florida Department of Aging and Adult Services Secretary.
After months of lessons, Duggar fell off her horse during a jump session. "Get right back on," Ochs commanded, and Duggar meekly complied. That night, though, Duggar learned that her arm had actually been broken. The accident interrupted the routine of the classes, and they never resumed.
Born in Walton, N.Y., Ochs graduated with honors from New York University's Bellevue School of Nursing. She moved to Tallahassee in 1969 with her husband, Dr. David Ochs. Later divorced, after many years she went back to Walton to take care of her elderly parents and reconnected with an old schoolmate who still lived there, Peter Murphy. They were married, and Murphy, an electrical engineer, moved to Tallahassee and became associated with the National High Magnetic Field Laboratory (Mag Lab). He died in 2005.
After her mother died, she brought her dad back to Tallahassee to live with her. Now he also is deceased, but he taught her to fly airplanes, and that became just one of her skills in reaching great heights in so many aspects of her life.
A friend summed up this woman of determination and imagination by saying, "Impatient and irreverent, Sylvia is a role model for the rest of us. She invites people to not only think outside of the box, but to tear it apart, repurpose it into something fabulous and stand on it to reach for the stars. She's equally as comfortable working the nitty-gritty as she is in a leadership position."