Peace, Love and Flow
Valerie Scoon prefers clothing that adapts to her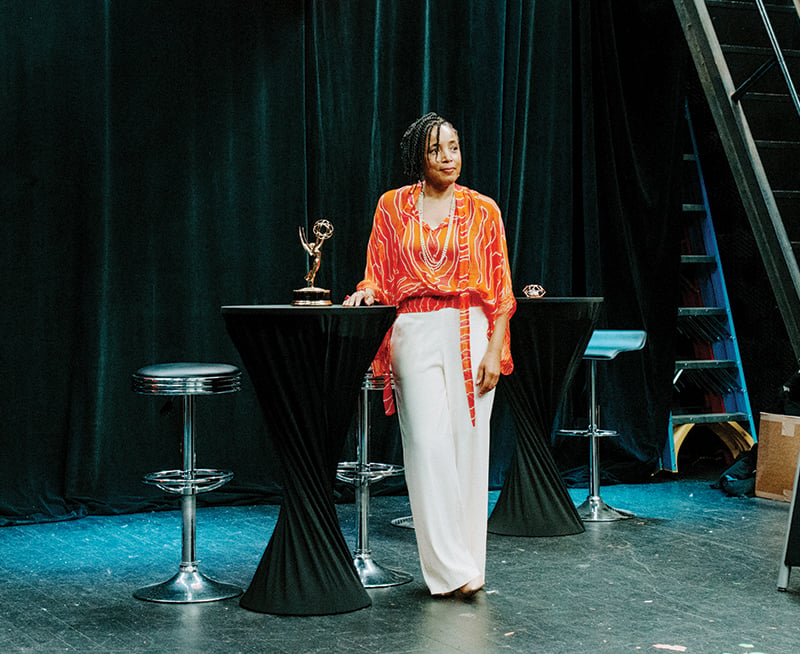 Valerie Scoon is not one for frequent shopping trips. She cares about her wardrobe, sure, but believes she may lack a knack that others possess.
"I'm not really a super-avid shopper," Scoon said, "but when I do go, I take a friend who is skilled at shopping, and I buy a lot at once."
Scoon, a filmmaker and owner of True Visions Film, struggled to find the right words to describe her style.
"My sister would tend to say it has a bit of elegance to it but is understated," Scoon said before adding, "Elegant isn't really the right word."
Comfort would appear to be an important aspect of Scoon's clothing. She worked for a time in Hollywood where casual outfits weren't always appropriate.
"My clothing style remains relaxed and not overly busy," Scoon said. She likes to reflect the environment she's in while being true to herself. "In Hollywood, sometimes you may have to dress up for the premiere of a film, which is fun, but I still keep with my core style of flowy dresses and things that suit me."
Having grown up in the Caribbean where her father served as a director with the Peace Corps, Scoon favors clothing consistent with an island lifestyle.
"Peace, love and free-flowing outfits," Scoon said of her preferences. "Not being determined by what we wear. I think that relaxed cultural comfort describes my style."
Scoon's husband, Keith Bowers, the director of the Tallahassee Office of Economic Vitality, has a reputation as a dapper dresser. He tends toward suits but prefers classy to flashy.
"We are similar in our fundamental values but not in our approach to clothing," Scoon said. "Some people have that gift of style. His is truly elegant, and I think mine is maybe more artistic, a little bit more subject to artistic impulse — more reflective of my being an artist."
Scoon is an artist and a documentarian. Her company has produced films including Grenada: Colonialism and Conflict, Daring Women Doctors: 19th Century Women Physicians and her latest documentary, Invisible History: Middle Florida's Hidden Roots.
"As I become interested in history that's unknown to me and I delve into it more, I become interested in sharing my educational journey on film," Scoon explained. "If I'm interested, other people might be, so my instinct is to put it on film and share it."
Scoon's father is from Grenada. In producing her film about the island, she felt driven to explore the history of colonial influences there.
"My curiosity led me to put together a documentary team," she said. "The best sources I could find were members of the brain trust of Grenada. I relied on Grenadians and Caribbean sources for guidance and told the story through their eyes, not mine."
Scoon was inspired to make her film about early women physicians when she visited the Jack Hadley Black History Museum in Thomasville, Georgia.
"I became curious about women's ability to go to college," Scoon explained. "I became interested in looking at how the Women's Medical College of Pennsylvania started and how the women's rights movement helped give women the ability to go to medical school."
Scoon has worked as an executive at Oprah Winfrey's Harpo Films, as a studio executive at Warner Bros. and as an associate director for news and public affairs at PBS. In addition, she is a professor at Florida State University in the College of Motion Picture Arts.
"I tell my students that characters in films have emotional journeys," Scoon said. "Characters start unhappy and end up happier because they come to understand themselves emotionally, and that allows them to determine their fate."
Her students have done well in awards competitions.
"In my documentary class, we have two student Emmy nominations, and we've had a few semifinalists for the student Oscars," Scoon said. "The competition is pretty stiff, so I am proud of my students."
Scoon and Bowers have a son, Wynton.
"He is a very good chef," his mother said, noting that he recently made crab bisque for his family. Scoon supplied crab cakes, but the bisque was better, she admitted.
As a chef in the making and a musician (guitar, steel drums, piano), Wynton is on his way to becoming a Citizen of Style in his own right.
---