Paul and Alana's Wedding Blog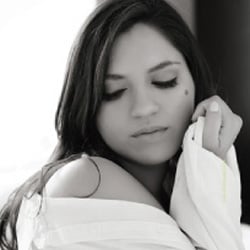 Finding the Perfect Dress 
Vocelle's
There were so many dresses that I didn't know where to begin. It was so hard to pick favorites! We finally narrowed it down to three beautiful gowns. I looked at the last dress on me a final time and decided that was my dress. My sister, Alison, was showing up later to see the dress, so I left it on to surprise her.

A Day for the Bridesmaids 
Vocelle's
It was so fun to watch the girls come out in different dresses, almost like watching a fashion show. It was a tough decision but we agreed on one, which was one of my favorites from the beginning.
Creating the Perfect First Impression
Karmano's Printing and Graphics
We had ideas of what we would like, since Paul designed our first invitations. I was thrilled to see that [Amanda Karmono's] design looked almost identical to what we had planned before. She handled everything with ease and had so many ideas to decide from.

Documenting Our Love 
Kay Meyer Photography
We had never taken professional pictures together, so we were really looking forward to [our engagement photo session]. Maclay Gardens was the spot we chose for the session and fortunately the sun was out that day. Kay Meyer was professional and fun at the same time. Paul had some crazy ideas, and she was all for it. We even climbed a tree!
The Groom's Attire 
Nic's Toggery
It was that "Oh my God, you're really getting married" moment. Picking the tuxes was fun and easy. We joked around a lot about some of the more "out there" options and how funny it would be to show up to the wedding in a zoot suit.

A Matron of Honor Dress and Bride's Rehearsal Dress 
Narcissus
[Juli Downs] showed us her favorite picks for Abbie and then her favorite picks for me as we searched through the massive amount of dresses. The dresses that I tried on all fit so nicely and were all so different from one another. It was extremely hard but I finally came down to one, and I am very pleased with my decision.

Planning Our Rehearsal Dinner 
The Space at Feather Oaks
Our favorite part of the venue was the outside area. Once you step outside, there is a stone area covered by a pergola. We immediately noticed a huge oak tree that had a wooden stage around it where the band would play. Near it was a fire pit with four benches surrounding it. We were giddy with joy when we saw everything.

Registering for "My Favorite Things" 
My Favorite Things
Everyone was so helpful. They showed us new ideas for our china while mixing and matching different patterns to create the perfect place setting. Paul, of course, was the jokester and was all for all of the buck stuff. However, he did help pick out a lot of items that went on our registry.

The Boudoir Photo Shoot 
She Boudoir
This past Sunday was a treat for me … and also a treat for Paul! Our session took place at Hotel Duval. Kira Derryberry did an excellent job with showing me what to do and what to keep in mind when posing for the pictures. When I picked them up I was thrilled with how they turned out. I really did look and feel like a model!

Bringing Ideas Together 
Missy Gunnels Flowers, Designs by Darin, Silver Lining Linens and Hotel Duval
Missy Gunnels brought a few flowers for some ideas that she was pitching, and I loved what she brought! I knew I would have many options to choose from but didn't realize how many different combinations of flowers would give different looks, shapes and effects to the overall look.
Next, Darin talked a little bit about what he was envisioning for our decor. He couldn't tell us too much since there are some parts of the wedding that are supposed to be a surprise for us. But from what he told us, it is exactly what I was aiming for and then some.
Terri Gross showed us some of the linens she thought would look best with our themes and colors for both the wedding and our rehearsal dinner. We loved the textures and elegant colors she brought into the mix.

Rehearsal Dinner Planning
John Gandy Events
John Gandy and Pam Monnier talked to us about our rehearsal dinner. They loved our suggestions and I let Paul get what he really wanted from this wedding … to include some of the
color green.
Marc Bauer with Hotel Duval also had some wonderful suggestions for the setup of the rehearsal dinner. All the pieces are coming together and forming a wonderful picture for us.

Planning the Sweetest Part 
Au Peche Mignon
There were so many possibilities. He wanted to know what kind of design I liked, so I showed him the picture of the cake that I had been dreaming of. And just like that he said it could be done. He showed me some of his past cakes, and I feel very confident he will deliver my dream wedding cake!
Setting the Scene 
Woodland Fields Photography and Terri Smith Photo
[At our meeting,] we discussed details about the wedding such as what time it started, when to do pictures and the number of bridesmaids and groomsmen. That took about 15 minutes out of our two-hour-long conversation. Paul and I had such a wonderful time with them that we felt like we'd been friends forever.
Pre-Wedding Outings 
Summerbrooke Golf Club and Avenue Eat & Drink
As part of our wedding weekend festivities, both Paul and I were able to enjoy our own outing with our wedding party. On Saturday, Paul and the groomsmen headed to Summerbrooke Golf Club for a "bachelor golfing day." I am still not sure who won … Paul always says he did! While the men golfed, my bridesmaids and I enjoyed brunch at Avenue Eat & Drink, an upscale restaurant located downtown. My mom and Paul's mom joined the girls and me for a delicious and special brunch with mimosas. We both loved being able to hang out with our closest friends before the big day.
Rehearsal Dinner 
The Space at Feather Oaks,
Simply Entertaining,
Lucy and Leo's,
On the Rocks Bartending and Pure Platinum Band
The Space at Feather Oaks staff (Kim and Sarah) had beautifully prepared the barn area for dinner, and the outside looked even more gorgeous at night than when we had our first visit during the day.
Robin Lewis from Simply Entertaining Tallahassee prepared a tasty barbecue dinner that complemented the ambiance of Feather Oaks perfectly. For dessert, we had delicious cupcakes from Lucy and Leo's that also went along nicely with the casual theme. On the Rocks Bartending kept everyone hydrated while Pure Platinum Band provided musical entertainment throughout the night. It almost made me forget that there was still a wedding to come as well!

The Day of the Wedding 
Hotel Duval,Top Hat Limousine and Sedan Services, Green Peridot, Magnolia Rose Quartet, Unique Video Creations, Blue Manhattan and Robert's Jewelry
Throughout the entire wedding planning process, there have been so many times that I have been pampered and "done-up" that I'm starting to feel like a princess. Getting ready on my wedding day was by far the most glamorous I have ever felt. It all began when Skip and his team from Top Hat picked up my entire bridal party at Hotel Duval to be chauffeured in style to Green Peridot where we met Katie and her wonderful stylists. The girls from the salon created such elegant hairstyles for my bridesmaids and myself. They beautified us even more by providing Aubrey and Krista, who did our makeup. My bridesmaids looked gorgeous, and we all felt so confident thanks to our pampering.
After our appointment at Green Peridot, we returned to Hotel Duval's Mahogany Room where we relaxed and enjoyed snacks from LeRoc Bistro. Aside from the usual pre-wedding jitters, I was not the least bit stressed out or flustered, because everyone else had everything under control.
After saying our vows, Paul and I exchanged rings generously donated by Robert's Jewelry. The rings were the perfect symbols of our commitment to each other as a married couple.

Off to the Honeymoon 
Hotel Duval, Capital Eurocars, Emerald Grande, Silver Sands Factory Stores, Florals by the Sea and Grand Boulevard.
The night of our wedding we stayed at the hotel in the gorgeous Diamond Suite. The next morning we got up bright and early because we were so excited to start our honeymoon! Capital Eurocars allowed us to use their Mercedes M-Class SUV for our honeymoon — and, boy, was it nice. While we were driving in Destin and searching for Emerald Grande, we spotted a huge hotel in the distance and it turned out to be the place where we were staying. Director of Sales Frank Sandro, was there to greet us and show us our room. We got in the elevator and went all the way to the top to our amazingly enormous penthouse suite with rose petals provided by Florals by the Sea on the bed and champagne, fruit and cheese for us to celebrate with. The view of the pool, bridge and beautiful water was to die for.
Our very own photographer, Jacqueline Ward, came with us on a couple of our fun honeymoon activities. Frank planned some great things for us to do while we were there. He scheduled a couple's massage for us — something we've always wanted to do but never got around to. That was the best massage we have ever had. I'd go back to Emerald Grande for the massage alone. It was great!
The next day we went on a catamaran to go snorkeling. I had never been, but was eager to try it out. We saw a couple of small fish while swimming around. The rest of the time we rode around and checked out the boats and had a group of seven or eight dolphins show off for us around the boat. They were so playful!
We also enjoyed a sunset dolphin cruise. Paul and I got to see our very first baby dolphin while there. The baby was so cute, and his mama and a group of dolphins followed us around. We also got to see deepwater dolphins. The captain said he had never seen them in that area before, and they followed our boat almost to the dock!
We were also surprised with a shopping spree at the Silver Sands Factory Stores. The mall is huge and there were so many stores, we were worn out by the end of the shopping trip.
Paul and I had an amazing time and would like to thank Frank and the rest of the Emerald Grande staff for treating us so well. We also wanted to thank the Hotel Duval Exquisite Beginnings Team again for making this possible. You all have been so great, and we cannot thank you enough!