Passion Play
Members of Tallahassee Winds play for the lifelong love of music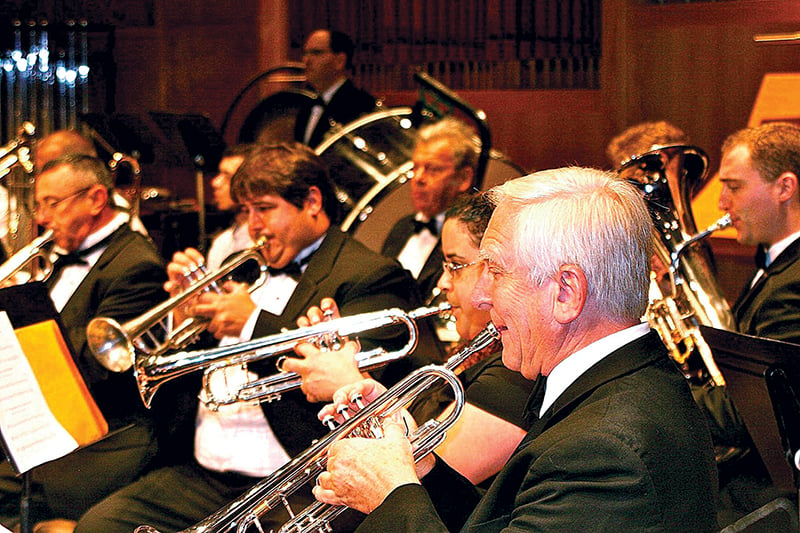 Some begin as small children. Others come to it in middle school, as an elective class. And a few pick it up as older adolescents or even adults. But no matter when or how they get to musical performance, from the moment certain people first pick up their instrument, they are hooked.
Dr. Patrick Dunnigan describes the desire to create and engage in music as a lifelong addiction — something that musicians just can't give up. And Dunnigan would know: He's the director of bands at Florida State University and is a co-conductor/co-director, with Dr. David Plack, for The Tallahassee Winds, a community outreach program under the auspices of FSU's College of Music.
The Winds began in 1997 under the direction of former School of Music associate dean Dr. Bentley Shellahamer as a way for FSU faculty to give back to a community that nurtures their school's musicians, and as an outlet to the musical talent that percolated among Tallahassee's former band and music students. Dunnigan and Plack were both witness to the impact that Shellahamer's early Winds group made in the community, and when he retired, they realized that if they didn't step up and fill his shoes, the group would fall away.
In spite of their busy schedules as full-time band directors at FSU and the fact that their positions with the Winds are unpaid, Dunnigan and Plack are committed to providing a quality musical outlet for the community — in part because they know what it's like to have the musician's itch.
"People don't think of music as a lifelong skill, vocation, or what have you," Dunnigan says, "but (musicians) need to keep playing. They have to. They want to. They must."
Today's Tallahassee Winds is the musical home of 70 musicians — including many local high school band directors and several who are retired from the profession, as well as lawyers, engineers and a variety of other professionals. Together, they comprise a standard concert band with wind instruments ranging from flute to euphonium.
The musicians' ages are all 18+, and Dunnigan describes their skill level as "very advanced high-school level" through professional-level musicians. Many of the Tallahassee Winds musicians are involved in church or other community musical groups, and individually, all practice from 4–10 hours per week, with some working on the craft even up to 20 hours per week. They also attend formal rehearsals on Tuesday evenings at FSU.
For Plack, "providing this service to some really good people" is what makes the evening rehearsals (after a full day of practices with students) worthwhile.
One Winds musician is Gary Zirin, a clarinetist who spends his days as aide to Leon County Commissioner Kristin Dozier. He grew up playing music and studied the art at FSU. After graduation, he began to look for an outlet for his "musical thinking" and heard about the Tallahassee Winds.
"Music is something that was a part of me for so long," he says. "I missed it after I got out of school."
Another clarinetist, Ginny Densmore, is a retired music teacher at Florida High. She says she feels "lucky to have a place in town to play really, really good music."
But perhaps the most fervent evangelist for the influence of the Winds — and adult community bands in general — is Helene Linn, who has played bass and alto clarinet with the group for the past 12 years. She's an accomplished musician in her own right, having attended the University of Miami's Frost School of Music.
"I've been playing the clarinet since I was eleven," she explains. "Music is the core of my soul. I experience the most incredible amount of pleasure when I play. … It's wonderful to be given the gift of music, and to be able to give it back to the community is very important to me."
---
Tallahassee Winds concert series
All concerts free and open to the public
Four concerts per season
Casual attire
Held in Opperman Music Hall, 7:30 p.m.
All ages welcome
Dates for 2017–2018 season available online:
music.fsu.edu/ensembles/music-in-the-community/tallahassee-winds
Open auditions for seats announced through Facebook and word-of-mouth:
facebook.com/TheTallahasseeWinds