Parting is Such Bittersweet Sorrow for this Empty Nester
Fly Little Birds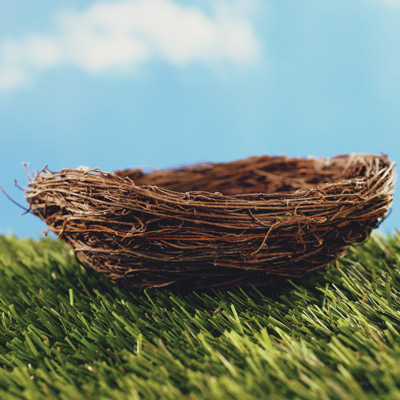 After giving birth to the first of my two daughters, I remember thinking, "This is why I have been put on earth — to procreate and be a mother." Boy, those endorphins are dangerous chemicals. There is no way to explain the feeling of pure joy and contentment that comes with becoming a parent, quickly followed by 18 to 60 years of worry, aggravation, pride, love and consternation.
I'm in years 25 and 20 of co-parenting two daughters, and I'm pretty sure the smug "I told you so" years are just around the corner. For the sake of pseudo-anonymity, I will refer to my girls as "Daughter No. 1" and "Daughter No. 2." Anyone who knows us will appreciate the "No. 2" reference since bodily functions have been the cornerstone of so many Brady laugh-till-you-cry moments. We are not a proud people.
Much to my astonishment, my husband of 27 years and I are on the precipice of becoming "empty nesters." With one daughter graduated from college and working in a professional capacity and daughter No. 2 (snicker, snicker) starting her third year of college, we find ourselves contemplating our lives untethered by daily parental obligations. Caribbean vacations! Time for workouts! Long walks on the beach! A naked room! OK, we can scratch at least one of those bucket list items.
I remember only five short years ago, the husband and I dropping off No. 1 in front of her dorm at FSU. Intellectually, I completely understood this rite of passage and implications. I felt emotionally prepared and kept the process upbeat and nonchalant. The day of the drop-off was dark and windy as a tropical storm approached. It was hard not to consider this as some kind foreshadowing as the unstable weather bore down on us. 
We all kept it together in the car as we pulled up to the dorm drop off point, and then the skies opened up. And by skies, I mean the three of us — father, mother and daughter — began bawling like babies. As we got out of the car I tried to offer words of encouragement through my blubbering, but all we could do was hug and sob. I probably would have been embarrassed had it not been for the compassionate nods and clucks of understanding from the other moms and dads. 
Thank goodness for Skype. We Skyped No. 1 as soon as we got home to Destin and we all felt better, tears dried. 
Two years ago, with No. 2, the drop off in St. Augustine was not so dramatic since we had been through it once before. The college transition for No. 2 was a bit bumpy and I wavered for a moment, but she quickly found her groove and all was well with our "baby." Now, the husband I enjoy driving over to Flagler, ostensibly to visit No. 2, and then making a weekend of it.
With daughter No. 1 getting ready to fly the coop to have her own place and daughter No. 2 attending summer school and two more years of school, the hubby and I find ourselves contemplating our home without the kids. Based on preliminary testing, the house is much quieter and the remotes remain where I left them. Dirty glasses are not on the countertops and flip flops are not strewn about. When folding laundry, the husband is not furrowing his brow contemplating the designated purpose of the colorful string of material in his hands. The grocery bill is much less, and there is no longer the daily ceremonial moving of the cars in the driveway.
It's bittersweet, and it is as it should be. And now, about that trip to the Virgin Islands …